buchachon - Fotolia
Cloud Partners 2015: Vendors roll out new incentives, tools and products
Vendors launched new, partner-focused promotions and tools at this week's Cloud Partners conference; plus, more IT channel news.
At the Cloud Partners 2015 conference held this week in Boston, public speakers and panelists discussed developments in the cloud computing marketplace, as well as issues affecting channel partners that are looking to transition their companies to the cloud.
Among the keynotes highlights was advice from Jonathan Feldman, CIO for the city of Asheville, N.C., on how to overcome customers' skepticism toward cloud. Carolyn April, senior director of industry analysis at CompTIA Inc., based in Downers Grove, Ill., summarized the trade organization's latest research on managed services from the end users' perspective, revealing improvements among customer attitudes toward the service. Attendees of Cloud Partners 2015 also learned about selling cloud to the C-suite and the chief marketing officer, in particular. Verizon's Janet Schijns spoke about the rise of the chief marketing technologist, a position she holds at the telecommunications provider.
Cloud Partners 2015 featured numerous vendors, many of which had a variety of news and information to share with partners.
Several of the vendors, such as cloud communications company Voxox Inc., announced new incentives for its channel. Through a new promotion, Voxox said its partners can now double their standard commission rate to 40% to 50% commissions for the first year of a 12-month or longer contract on any Voxox Office hosted PBX or SIP trunking sale. The promotion expires at the end of the year.
Other vendors introduced sales performance incentive funds (SPIFs) to entice partners:
Bigleaf Networks Inc., an Internet redundancy and optimization company, based in Portland, Ore., introduced a Fast Track program for qualified sales partners. The program offers templates for messaging and collateral, a free subscription to an email automation program, and one-on-one recorded trainings. Additionally, Quick Track participants receive unlimited presales support and a two-part SPIF.
Voice and data service provider TouchTone Communications Inc. announced an incentive-bonus program for partners selling its business voice over IP (VoIP) and SIP trunking services. The program offers a volume-incentive bonus and SPIFs.
Wireless Analytics LLC, a provider of enterprise managed mobility services, launched new Fast-Start incentives for engaging new prospects. The program offers partners up to $2,000 in SPIF incentives per qualified prospect.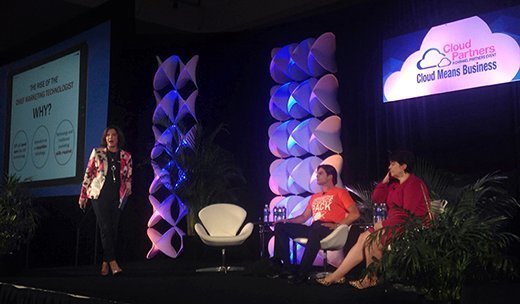 Vendors also had new tools in the works for partners to use. For example, Telarus Inc., a master agent in Sandy, Utah, announced that it has entered into a definitive agreement to buy the assets of LVM Inc., the makers of the VXSuite diagnostic tool for troubleshooting voice-over data networks. Telarus said it plans to incorporate LVM's software and other intellectual property into its cloud broker strategy and offer the acquired software to its partners. Telarus also intends to absorb LVM's channel of about 300 resellers into its own. The company expects the acquisition to close by the end of the year.
New tools included new partner portals and a mobile app for creating quotes:
Secure Infrastructure and Services, a managed services provider (MSP), said it will launch a partner portal on Sept. 21. Using the online portal, partners will be able to access deal registration, pricing tools, case studies, testimonials, white papers, email templates and more.
Broadview Networks Inc., a cloud-based communications and IT services provider, released MyOfficeSuite Agent, an online portal designed for the agent channel. Agents can use the portal to access and manage their customer accounts.
In collaboration with MasterStream, connectivity services distributor WTG introduced a mobile quoting application that provides real-time quotes for customers. The app is available for free to WTG partners through the Apple App Store and Google Play under MasterStream.
Finally, vendors at Cloud Partners 2015 announced the availability of new products for their partners:
Connectivity partner PlanetOne Communications Inc. joined Rackspace Inc.'s Partner Network. The partnership will provide PlanetOne's partners with access to Rackspace's portfolio of cloud services and products.
Cloud service provider Effortless Office released Effortless Defense, a comprehensive security product that the company will sell exclusively through agents, MSPs and value-added resellers (VARs). Additionally, the company announced it appointed Jason Stein as its new vice president of channel sales. In his new role, Stein will be responsible for overseeing Effortless' channel sales team, forging new partner relationships, and building programs and initiatives to enhance the company's sales strategy in the U.S.
Telarus signed a deal with Jive Communications to give its partners access to Jive's hosted VoIP and unified communication products. As part of the agreement, Jive will provide sales support to Telarus' partners.
IT channel news roundup from the week of Sept. 14
Here's a look at more news highlights from the week:
AVG Technologies launched AVG Business Managed Workplace 9.2, the latest version of the company's remote monitoring and management software for MSPs. New features include an integrated remote control capability from ISL Online, integrated backup and disaster recovery, and a Device Manager for Mac OS X. In addition, the product's Integrated AntiVirus component now lets MSPs' password-protect endpoints to prevent unauthorized modification or removal of the antivirus software by end users, the company noted.
Impartner, a provider of cloud-based partner relationship management products, unveiled a partner performance intelligence offering. Impartner Intelligence lets customers create bidirectional partner portals, which provide information on individual partner performance and channel-wide performance. The product, at launch, will integrate with Salesforce and will also link with other customer relationship management products by year's end.
A new distribution deal between flash storage vendor Nimble Storage and Avnet Inc. will expand the market reach of the Nimble Adaptive Flash platform and SmartStack integrated infrastructure products. Under the agreement, Avnet will offer the Nimble Storage products to partners across Austria, Belgium, France, Germany, Ireland, Luxembourg, the Netherlands, Switzerland, Turkey and the U.K.
Dimension Data and EMC formed the Catalyst Alliance, a strategic market development initiative aimed to help customers transition from private to hybrid cloud. Through the new initiative, the two companies plan to jointly market and deliver hybrid cloud products featuring flexible, consumption-based pricing models on storage, cloud and managed services.
Hybrid storage vendor NexGen Storage introduced a rebate program to its Priority Partner Network that enables VARs to double margins on NexGen N5 Hybrid Flash Array products.
Cosentry, a data center and cloud services provider, expanded its Midwest operations, adding about 32,000 square feet of colocation space in Milwaukee, Lenexa, Kan., and Omaha, Neb.