CompTIA ChannelCon 2015: Transform customer tech slowly
At CompTIA ChannelCon, partners reflected on how to best transition their customers to cloud, mobile and social. Are partners standing in the way?
CHICAGO -- Channel partners need to ease customers gradually through the digital transformation -- and make sure to take a dose of their own business-makeover medicine along the way. That was a key message from industry executives presenting here today at the CompTIA ChannelCon 2015 conference. The annual meeting has drawn about 1,000 attendees thus far, about half of whom are solutions providers. The conference features sessions for partners on topics from cloud marketing to mobility as well as a concurrent vendor summit geared toward product companies.
Cloud, mobile and social networking technologies all promise to dramatically alter the way companies conduct business in the digital era. But Todd Thibodeaux, CompTIA's president and CEO, suggested this technology transition will prove difficult for many companies, particularly those businesses channel partners are most likely to encounter. One the one hand, the adoption of emerging technologies may come naturally to a new venture that lacks entrenched IT infrastructure and long-established vendor relationships. But the number of startups in the U.S. has been declining, Thibodeaux noted, citing Census Bureau statistics.
That means most partners must rely on established companies for business. And those existing businesses don't operate with a clean technology slate; they have previous investments in infrastructure and vendor products. In addition, Thibodeaux pointed out that some business owners may be using their companies to put their children through school or save toward retirement; they are not looking to disrupt the market.
Such companies won't be given to rapid change and technology adoption.
"Transformation does not happen overnight," Thibodeaux said. "The idea that you can get people … from 0 to 60 in one step is a fantasy."
Channel partners, he added, need to get over the idea of instantaneous change and, instead, talk to customers "about transformation as a series of steps."
Mont Phelps, president and CEO at NWN Corp., an IT services and solutions provider, also supports an incremental approach.
"Transition is not such a good word, at least to me," Phelps said, speaking at a ChannelCon panel discussion.
Phelps said he prefers a "relentless day-to-day, step-by-step" program of continuous improvement. He said to pursue this type of improvement, a partner must maintain an ongoing dialogue with customers, understanding their current business needs and where the company is going over the long haul.
Gradual progress
"You have to make a gradual progression," added MJ Shoer, president of Jenaly Technology Group Inc., an IT services provider based in Portsmouth, N.H.
He emphasized that such a progression must be predicated on valid business reasons.
He cited the case of one customer that wanted to move to the cloud based on the endorsement of a professional association, but couldn't explain why it needed to make that transition.
"They had no answers, none at all," Shoer said.
Jenaly conducted a technology analysis of on-premises technology compared with the cloud for the customer and discovered that the cloud would cost three times as much as the on-premises option over a five-year period. Based on that assessment, Jenaly recommended a hybrid deployment: The service provider put the company on Office 365 but kept a server at the customer's location for line-of-business applications and other components that were not yet ready for the cloud.
The channel is holding them back from using cloud, because it doesn't fit their ... economic models.

Tiffani Bovavice president and distinguished analyst, Gartner
While transformation may involve adopting an entirely new technology, the seeds of change may be closer than they appear.
Tracy Pound, managing director at Maximity, an IT consulting firm based in Tamworth, United Kingdom, cited the case of a customer that took three days each month to mail out invoices and statements. The cost of this process in postage alone was in excess of 6,000 British pounds (about $9,300 U.S. dollars) annually. The client, however, had a system capable of emailing invoices, but company officials didn't realize it had that capability.
"In terms of transformation …, there was no need to take the system out and put a new system and a new infrastructure in," she said.
Pound said solutions providers may provide project management support up to the go-live date and then disappear. She emphasized that customers need post-implementation support as much as pre-implementation guidance. She suggested partners have an opportunity to go back to the customer three months or six months after implementation to check up on how the system is being used.
"I think there are a lot of businesses out there that don't make the most of the systems they have got," Pound said.
Taking their own advice
Channel partners may themselves lag when it comes to embracing emerging technologies such as cloud and mobile. Even older business lines such as managed services have been long in coming.
Thibodeaux noted that CompTIA began talking about managed services around 2008, but some companies are still making that particular transition.
The channel's failure to embrace the newer technologies may cause them to miss opportunities to help their customers adopt those same potential game changers.
Tiffani Bova, vice president and distinguished analyst at Gartner, said small and medium-sized businesses (SMBs), for example, are investing in the cloud and making cloud-first decisions. But partners may not be keeping pace.
An SMB adopter may be looking to the cloud for increased agility and responsiveness rather than cost savings.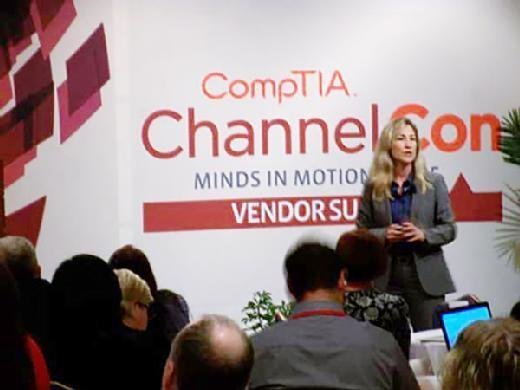 But partners, Bova said during the vendor summit's keynote address, may be viewing the cloud through outmoded financial metrics. Some partners, she suggested, may not see any value in providing Google Apps to customers at $10 per user per month. This attitude may actually impede their customers' adoption of cloud.
"The channel is holding them back from using cloud, because it doesn't fit their … economic models," she said.