News
Stay informed about the latest enterprise technology news and product updates.
Citrix partner program updated with specializations, sales collaboration rules
Citrix is adding specializations to its partner program and instituting new rules around how its field sales team interacts with channel partners.
LAS VEGAS -- Today's kickoff here of Citrix Summit 2015 -- the second annual combined event that put both Citrix sales teams and indirect channel partners in the same room at the same time -- proved to be about putting ideology into practice. The event included about 4,000 attendees, half Citrix sales and half Citrix partners.

Download this free guide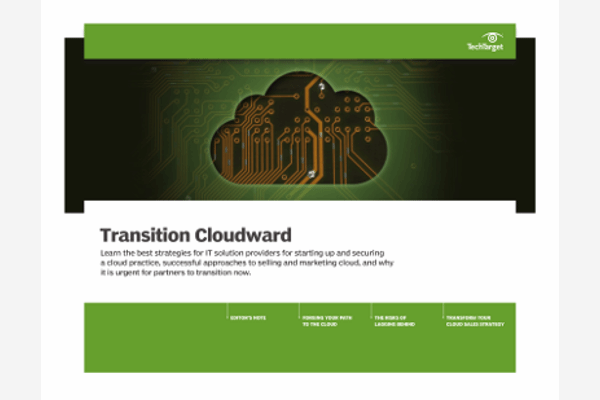 Could Securing Your Channel Business Be Easier? We Can Help.
Download our latest guide to the top strategies solution providers can leverage for starting up and securing a cloud practice, successful approaches to selling and marketing cloud, and why it is urgent for partners to transition now.
The vendor's key message highlights four pillars to deliver successful growth in what Citrix calls its high-growth segment. Those pillars include:
energized field collaboration;
a new Citrix Solution Advisor program with specializations;
strong partner enablement;
robust marketing demand generation.
Rafael Garzon, managing director for the Americas channel, said that rather than Citrix making broad statements about why partners should invest with the company, it must quantify the benefits, i.e. how to make money with Citrix, which includes why partners should invest in the new Citrix Solution Advisor program with specializations.
Citrix is rolling out four new specializations: Citrix Specialist in Virtualization, Citrix Specialist in Mobility Management, Citrix Specialist in Networking for Datacenter and Citrix Specialist in Networking for App and Mobile Security. Garzon's comments about specializations hark back to some predictions that industry analysts made for 2015, which emphasized the importance of specialization and greater sophistication.
At the same time, Craig Stilwell, vice president of sales for U.S. commercial at Citrix, laid out some plans for how Citrix will energize field collaboration between internal sales teams and channel partners.
Citrix announced some field sales changes in 2015, including:
All Citrix field sales managers will report under one organization;
Field sales managers will focus on growing their business with partners in 2015;
High-touch accounts are reduced from 900 to 500.
Stilwell was also clear that there will be a new tone in 2015 when it comes to Citrix sales teams working with partners, noting, "In the US commercial space, including the [field sales manager] space, we can be doing more, better, together."
About 90% of Citrix revenue goes through the channel.
Citrix Solution Advisor Program with specializations
The fundamental change to the Citrix Solution Advisor program in 2015 is the introduction of Citrix specializations that are designed to demonstrate competency and differentiation for partners that rise to the challenge.
"Partners asked for this and they asked that if we make this change that it was meaningful and not easy," said Tom Flink, vice president of worldwide channel and market development at Citrix.
The Citrix Specialist in Virtualization specialist will have technical and sales expertise in managing and virtualizing Windows workloads with Citrix XenDesktop and Citrix XenApp.
Stilwell acknowledged that this new guidelines 'will be tough for some people,' referring to the Citrix sales teams.
The Citrix Specialist in Mobility Management specialist will possess sales expertise in managing Citrix-developed, native mobile apps and data on mobile devices by leveraging Citrix XenMobile and Citrix ShareFile. These partners will also have documented customer projects that validate a successful implementation.
The Citrix Specialist in Networking for Datacenter specialist will possess technical and sales expertise in optimizing, securing and controlling the delivery of enterprise and cloud services built on Citrix NetScaler and Citrix CloudBridge.
The Citrix Specialist in Networking for App and Mobile Strategy specialist will have technical and sales expertise in optimizing app and mobile network performance and security with Citrix Netscaler MPS/VPX and Citrix NetScaler Gateway.
All of these specializations require documented customer projects that validate successful implementation.
Some partner program tiers will require more than one specialization, while others require none. This year Citrix has done away with the Silver tier, leaving three tiers in place: Partner, which is essentially program registration with specialization optional; Gold, in which one specialization is optional but highly recommended and/or there are annual revenue goals; and Platinum, which requires two specializations and has annual revenue goals.
Citrix said that more details will be coming but that current Gold and Platinum partners have until the end of 2016, to qualify for the new program. Silver-level and new partners will migrate to the new program, which is now in effect.
Flink said that partners with specializations can expect to see 50% higher profits compared with partners without specializations. Specifically, certified base incentives of up to 22% (10% upfront and 12% on the back end) are increasing to 33% with specialist incentives (15% upfront and 18% on the back end). Partners that get new advanced specializations can also expect incremental discounts and rewards and strengthened engagement with Citrix sales teams, he said.
Field engagement
Many vendors talk about tighter alignment between their internal sales teams and their channel partners, but at this second Citrix Summit that combined the vendor's two sales channels, Stilwell explained how Citrix plans on driving its alignment, and many of the points he laid out got applause from the Summit audience.
According to Stilwell, in 2015 Citrix field sales managers will:
always work with a partner;
present a proposal to a customer together with a partner on large deals;
have specific goals and metrics for enabling partners;
be "letting go" more often so that partners can manage deals their way;
be very involved on large deals (they'll be "hands on" on some things while letting go of other things).
In addition, sales engineers will have some specific enablement goals.
Stilwell acknowledged that this new guidelines "will be tough for some people," referring to the Citrix sales teams.
Stilwell had some equally significant requests for partners in the room. In 2015, field sales managers will expect partners to:
be available to be prepared to present proposals to customers for large deals;
work with field sales managers to break into new accounts, making introductions;
give frequent deal updates to field sales managers, where partners are the lead;
work together with field sales managers on large deals;
encourage engineers to get involved and learn more;
have patience as Citrix transitions to this new model.
Dig Deeper on Channel partner program news