buchachon - Fotolia
News
Stay informed about the latest enterprise technology news and product updates.
As SMB technology priorities change, so must VARs and MSPs
The SMB space has undergone a sea change, resulting in new business priorities, new types of IT buyers, and more. VARs and MSPs should take into account the many nuances, says Anurag Agrawal, CEO of Techaisle.
You've read about it and have likely seen the effects in your own business: Control of the IT budget is shifting away from IT and toward the lines of business. The shift means that your discussions with clients and potential clients need to focus on business needs rather than technology features, and that there are new buyers in the mix. Those two factors alone can represent a monumental change for VARs or MSPs. But there are many more critical nuances to the issue.

Download this free guide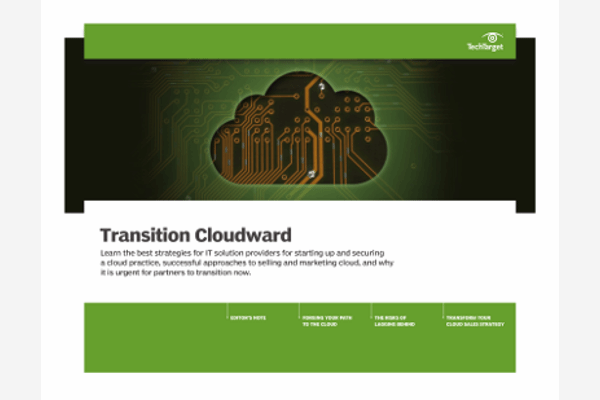 Could Securing Your Channel Business Be Easier? We Can Help.
Download our latest guide to the top strategies solution providers can leverage for starting up and securing a cloud practice, successful approaches to selling and marketing cloud, and why it is urgent for partners to transition now.
At the top of the list of issues is the fact that reducing operational costs is no longer the No. 1 business issue for SMBs, according to Anurag Agrawal, CEO of Techaisle LLC, a technology analysis and market research firm. At Continuum's Navigate conference in Boston last week, Agrawal presented results of a study of SMB technology trends among 1,455 U.S. SMB customers. Replacing reducing operational cost as the most important business issue is attracting and attaining new customers (cited by 56% of survey respondents) and then increasing business growth (cited by 53% of respondents), he said.
That change in priorities is having an effect on the types of technologies that SMBs are buying. "When you have these types of business issues, you start to realize that the solutions that [customers] would be acquiring would also be very different."
Whereas SMBs used to buy IT solutions that focused on enablement, such as PCs, servers, storage, security, networking, line-of-business applications, etc., today's SMBs are buying those technologies as well as ones that help empower employees, such as tablets, smartphones, business intelligence, cloud and virtualization, according to Agrawal.
You have to be constantly engaged with your SMB customers. … This ad hoc spending happens at the speed of light. … If you're not in the face of the SMB customer, that opportunity is gone.

Anurag AgrawalCEO, Techaisle
"In the past, SMBs adopted IT in a very linear fashion. … You always knew when to approach the SMB with what type of solution. Now with cloud, mobility and the underlying platform that enables all of this, managed services, it is all jumbled up," he said.
When it comes to what's driving cloud adoption, Agrawal points to business agility. Forty percent of respondents in Techaisle's study, which was conducted over the past seven months, said that their adoption of cloud technologies was driven by the need for business agility, while 36% said that they had chosen cloud because it allows them to introduce capabilities that would have otherwise been cost- or time-prohibitive, and 33% said they'd chosen it to reduce costs related to business processes.
Perhaps more surprising is that 80% of survey respondents said that cloud technologies will help their businesses grow, whereas only 20% said it will help improve their bottom line.
Managed services faces a similarly surprising dynamic: 47% of survey respondents said that managed services will help their businesses grow, while 57% said it will help improve their bottom line.
"You cannot just lead managed services offerings with 'I'm going to help you reduce costs.' You have to lead with, 'It will help you reduce costs at the same time as it will help you grow your business, improve agility, manage your workforce, improve productivity,'" Agrawal said.
Beyond the reasons why SMBs are adopting cloud and managed services lies the conundrum surrounding the new breed of technology buyer. In the past, IT solution providers typically had to sell just to IT management. Today's technology buying decision involves more parties: IT management; business management; the executives of the company; as well as what Agrawal refers to as the "IT specialists," those workers who report to line-of-business managers rather than IT and have a "reasonable amount of knowledge of IT." In companies that have an IT specialist, that person makes the buying decision about 30% of the time, he said.
Business people are involved in technology purchasing decisions because of the increased emphasis on business growth. "Business people are the ones responsible for the revenue. They are not responsible for cutting down the cost. They want the speed of response. They want to acquire IT very, very quickly. … The business cannot wait," Agrawal said.
While the balance of spending power between IT and business has shifted dramatically, Agrawal pointed out that that's not the case for all technologies. IT still leads the process when it comes to decisions around technologies such as virtualization, infrastructure as a service and managed services. The business leads the process when it comes to technologies like collaboration, analytics and social media. And the two groups share responsibility around technologies such as big data, mobility and software as a service, he said.
This last category is "the trickiest kind of sell," he said. "You have to have an equal amount of knowledge about how easy it is to deploy so you have to have a plan for IT: how to deploy, how to manage, how to integrate. At the same time the business needs to understand how it helps their businesses."
The shift of spending to lines of business has led to an increase, to about 15%, in what Agrawal refers to as "ad hoc spending," money that isn't accounted for in either the business budget or the IT budget. In the United States, that translates to about $25 billion a year, he said.
This ad hoc spending typically goes toward cloud and services. And because it's ad hoc and therefore not planned for, Agrawal stressed that it places new demands on how MSPs communicate with their customers. "You have to be constantly engaged with your SMB customers. … This ad hoc spending happens at the speed of light. … If you're not in the face of the SMB customer, that opportunity is gone."
Dig Deeper on Traditional and emerging business partner models