Klemsy - Fotolia
News
Stay informed about the latest enterprise technology news and product updates.
Navigate 2014: MSPs must learn to talk business, not tech
At Continuum's Navigate conference in Boston, managed service providers received advice on how to communicate with line-of-business managers and build relationships.
BOSTON -- At Continuum's Navigate 2014 conference here this week, several of the sessions focused on the new types of customers that managed service providers (MSPs) are likely to deal with today. As IT spending decisions shift from the IT department to line-of-business managers, MSPs are faced with a more business-oriented client with limited technology expertise. Session audience members took notes, pictures of PowerPoint slides, and asked questions, showing great interest in the challenges presented by communicating with these new IT buyers.
The underlying message was the language of IT may not have a place in MSPs' discussions with business-minded clients. Customers might not readily understand how technology relates exactly to their business agenda or improves business processes, so MSPs must translate technology expertise into a vernacular that a business-minded customer can understand.
The session, "Anatomy of an Effective Sales Process," led by consultant Gil Cargill of GiCargill.com LCC, examined how the buying process has changed and how MSPs can improve their sales process in response.
"MSPs, IT consultants and other high-tech organizations typically have a background in technology, not in sales," Cargill said. "As a result, we were very successful selling based on our expertise, our track record, our knowledge of technology, our certifications, etc. But as we move into the [21st century], I think we're really faced with the need to start solving business problems."
He pointed to a critical problem that coming from a technology background doesn't lend itself to building relationships with business-minded prospects. "They don't know what the heck we sell. And then we go in and make sure they don't know, because we talk in a language they can't translate," he said.
If you educate perpetually about business operating improvements, people will bond with you. [But] most of us educate with technology, which means you're educating someone like yourself.

Gil Cargillconsultant, GiCargill.com LCC
"We have to talk their language," he said.
For sales pitches, Cargill recommended developing a playbook with scripts for every step of the sales process. "What I want us to learn to say isn't, 'We can sell the same [technology] they can sell,' " he said. "The most important thing I think you can say is, 'My clients operate their businesses better as a result of us applying technology, expertise and our team to affecting permanent improvements in their business operating conditions. Now, I don't know if you qualify for that kind of service yet. … Should you qualify, you can anticipate a reduction in overtime, improved services to your customers and more profit. Our clients view our company as their partner in profit. My competitors can be your partner in technology. I help you make more money. Which would you prefer?'"
When meeting with prospects for the first time, he advised using your introduction as an opportunity for "educating and helping customers understand how their lives could be better."
"If you educate perpetually about business operating improvements, people will bond with you. [But] most of us educate with technology, which means you're educating someone like yourself," he said.
In another Navigate 2014 session, "Level Up Your Value: Evolving Past the MSP Basics," business coach Bryan Gilliom also explored the challenges of cultivating relationships with clients that generally aren't well-versed in IT. He focused specifically on leveraging quarterly or annual business reviews as a means for developing client relationships.
"The primary purpose of the business review is the chance for you to understand your client's business and to bring business value -- not necessarily technical value," Gilliom said.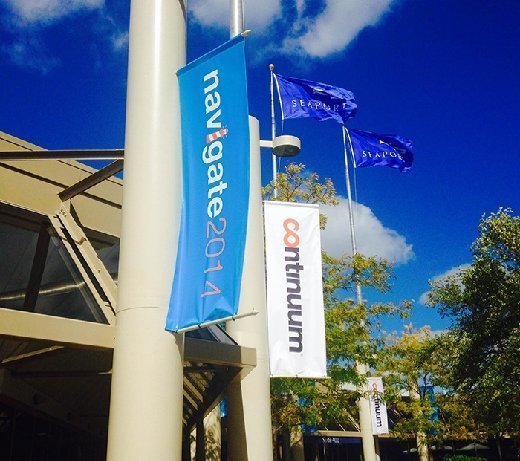 MSPs have to look at their role differently and deemphasize the technology, he said. "If you're an MSP, you're not in the IT business. … You're actually in the risk business, and IT is a tool to mitigate the risk, because what your client is paying you for is to take a risk off of them and take responsibility for it for a fixed amount of money. And at the end of the day, as long as you mitigate the risk, the client doesn't really care about how you do it," he said.
A business review demands MSPs take on a CIO-like mind-set: "The first and most important thing is you have to go into that meeting thinking like an executive and not like a technician … or worse yet, a salesperson." Any time that an MSP is thinking about an issue, whether it's staffing, a technology, a business process, he said, it's important to consider how the issue impacts what the client does to make money.
Gilliom offered a variety of business review tips in his Navigate 2014 session, which included:
Outline important upcoming events that the client should be aware of, "whether that be things that you're going to do or things that are coming in the industry that are going to change."
Gather information before the meeting "so that you can identify, at the user level, at the departmental level, what's working and what's not working."
"Don't limit your inquiries just to technology," but use a business review as a means for learning about their business.
Make the business review 80% forward-looking and 20% backward-looking. Devote 60% of the meeting on the client's business, 20% on upcoming technology and 20% on metrics and outcomes that you have.
"Remember that 80% of the impact … is probably going to come from 20% of what you say, so make sure you pick that 20% carefully, and make sure it's going to stick."
"Ask 'Why?' at least five times. … That's how you really get to the heart of what's really causing [a problem]."
When it comes to an MSP evaluating their own performance in a business review, he said MSPs have to be honest. "It's very rare in our world that everything goes right. … So don't go in and rewrite history. Don't … paint the red flags green." Acknowledge the things that haven't gone [correctly] and what you're going to do to make that different for them, he said.