Tech Data restructures sales force for SMB partners
The distributor revised its SMB-centric sales teams into four groups -- TDElite, TDFuel, TDEnable and TDLaunch -- and delivers a new SMB website.
After a couple of years in the works, Tech Data Corp. today announced three initiatives around what it's calling SMB 2.0, a rethinking of how it does business with approximately 40,000 U.S.-based small and medium-size (SMB) partners. The initiatives include the restructuring of the Tech Data sales force, a new website for SMB partners and a new loyalty program.

Download this free guide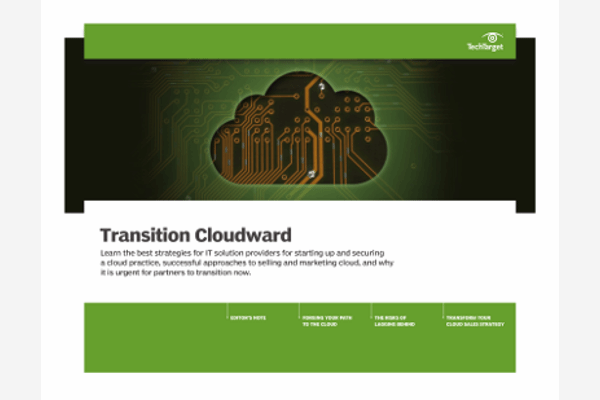 Could Securing Your Channel Business Be Easier? We Can Help.
Download our latest guide to the top strategies solution providers can leverage for starting up and securing a cloud practice, successful approaches to selling and marketing cloud, and why it is urgent for partners to transition now.
By submitting your personal information, you agree that TechTarget and its partners may contact you regarding relevant content, products and special offers.
You also agree that your personal information may be transferred and processed in the United States, and that you have read and agree to the Terms of Use and the Privacy Policy.
After dissecting the business needs of its SMB partners, Tech Data realized that its one-size-fit-all sales approach to doing business with this partner base needed to change to better support SMB partners, according to Greg Banning, vice president of SMB sales at Tech Data. Going forward, the distributor has restructured its internal sales force into four segments.
TDElite. The TDElite sales organization works with SMB partners that offer technology solutions that align with the distributor's Advanced Infrastructure Solutions (AIS) division, such as data center, cloud, high-end storage, networking and other technically specific solutions that are more on the cutting edge of technology, according to Banning. For the past year, the TDElite sales organization has been trained and certified in specific AIS solution areas to work with partners.
TDEnable. For the many SMB partners that focus on niche markets such as public sector and healthcare, as well as buying groups, such as The ASCII Group, Tech Data created the TDEnable sales organization.
TDFuel. TDFuel is a selling organization set up to support partners that have build a significant business around systems, that is, mobile devices, tablets, desktops, phones and peripherals.
TDLaunch. TDLaunch is a new concept, according to Banning. It's a specialized team that focuses on partner onboarding, acquisitions, and sales and support.
"Any new partner that signs up with Tech Data gets a 30-day onboarding ambassador to help them best leverage Tech Data resources, including our new SMB website, and making sure they get into the right selling group," he said.
A new business development or acquisition team is responsible for finding new Tech Data partners. The e-business sales and support team was put in place to help partners with the distributor's new SMB website. Tech Data will also offer partner enablement around financial services including credit options for SMB solution providers.
According to Banning, it took many months of data mining and account profiling to segment its 40,000 SMB reseller partners into the appropriate sales groups. The majority of Tech Data SMB partners have 10 or fewer employees and work with customers in the SMB market segment, defined as 1,000 or fewer seats.
The launch of SMB.techdata.com is designed help Tech Data SMB partners access partner resources from any device provide a new; and customizable dashboard; and offer enhanced online resources including online live chat, order monitoring, account status, hot sellers and promotions, according to Phil Filippelli, vice president of e-business at Tech Data.
"Once a partner logs in with their credentials they can customize the screen to get only the information that they want down to content placement, color, and look and feel," he said.
Tech Data is offering partners several options for the new website training, including training on the SMB website, videos and a quick start guide. "Our goal was to make it easy to use so partners don't need help learning about how to use the site," Filippelli said.
Tech Data's goal is to drive more Web interaction with SMB partners as the new website will offer timely and accurate information and, combined with the new chat feature, a more advanced and faster service experience than using the telephone.
In fact, the distributor is shifting internal resources toward chat and the Web and away from telephone communication, according to Filippelli. "This will benefit the partner because they'll be able to accomplish more business faster, and Tech Data also benefits because we will be able to better scale our business electronically," he said.
The third initiative in today's announcement is TDLoyalty, a new loyalty program for SMB partners. According to Filippelli, registration is optional, but there's no downside to signing up. TDLoyalty offers partners a number of benefits such as discounts on shipping, incentives and earning points that can be redeemed for eligible products.
The program will offer three tiers -- Advantage, Choice and Preferred -- based on a partner's Web sales for the year.
Dig Deeper on IT Distributors-Wholesale Providers