Cloud broker services: How the role of cloud 'middleman' is evolving
Cloud broker services have evolved into three different roles: the cloud aggregator, the cloud broker enabler and the cloud customizer.
The cloud broker role is taking on new meaning as the cloud market matures. Cloud customers are no longer looking for discrete cloud services, but rather several cloud offerings -- potentially across different providers -- to meet their unique business requirements. But customers can't blend together disparate cloud services on their own.

Download this free guide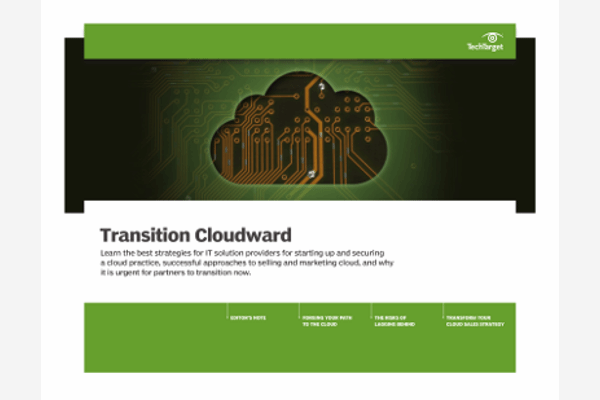 Could Securing Your Channel Business Be Easier? We Can Help.
Download our latest guide to the top strategies solution providers can leverage for starting up and securing a cloud practice, successful approaches to selling and marketing cloud, and why it is urgent for partners to transition now.
Cloud broker services have spun off into three unique roles in response to these new demands: the cloud aggregator, the cloud service broker enabler, and the cloud customizer, said Tiffani Bova, research vice president of sales strategies and channel innovation for Stamford, Conn.-based Gartner Inc. Each broker model offers its own take on the evolving cloud brokerage market and will help boost adoption of cloud services by offering the right level of consulting and integration, she said.
The cloud broker as aggregator
Cloud aggregators build relationships with cloud providers and make those providers' services available to the end customer. Cloud aggregators pull together multiple cloud services into a single user interface and handle billing, governance and security for the customer. Cloud aggregators tend to be companies with large, existing customer bases -- such as telcos and large IT distributors, Bova said.
The cloud service broker enabler
Cloud service broker enablers empower cloud aggregators by maintaining the cloud aggregation platform that aggregators use. Cloud enablers -- such as Jamcracker and AppDirect -- have the technology that large hosting providers and telcos use to power their aggregation platforms or cloud marketplaces, Bova said.
The broker as a cloud customizer
Cloud aggregators may help customers acquire disparate cloud services, but they don't integrate and customize those services. Cloud customizers are stepping into the gap to deliver fully integrated bundles of cloud services. Customizers select cloud services on behalf of their customers, depending on the end user's needs, Bova said. "Cloud customizers might take something from [Cisco] WebEx, an offering from Amazon and [one from] Microsoft Office 365 and aggregate [them] on a single bill for customers." She said. "Customizers integrate all the services to work together and sell this new offering under their own wrapper -- like 'Collaboration as a Service for small businesses,'" she said. While it's the cloud customizer's unique bundle of services, the new offering is powered by several disparate cloud services.
Putting these new cloud broker roles into practice
Appirio, a cloud service broker and cloud customizer, works with many cloud providers -- like Saleforce.com, Workday Inc. and Google platforms -- for implementation and custom application development. Some enterprise customers may be interested in a particular cloud provider or service, but the offering might not fit their business requirements out of the box.
"Customers see us as a partner who can go beyond implementation and offer customization of a standard offering, as well as integration with enterprise software that is really needed for complex infrastructures," said Glenn Weinstein, chief technology officer of Appirio.
Cloud customization is carried out by Appirio's development team, and the cloud broker's typical customer project centers around extending Software as a Service platforms past what a typical cloud provider partner could offer, Weinstein said. "Salesforce partners stick to core CRM [customer relationship management] processes, but Appirio could integrate business processes beyond standard CRM," he said.
Certain vertical industries are doing business with cloud brokers more than others are, Weinstein said. "In order to serve the needs of our customers, we are finding ourselves delivering more solutions and bundles that are industry-specific -- like media and financial services," he said.
Cloud broker services: How will the market continue to change?
While cloud brokers come in different flavors, they may evolve into middlemen that don't own any hardware or deliver services -- just companies that match buyers and sellers, said Lynda Stadtmueller, program director of cloud computing services for San Antonio-based Frost & Sullivan Inc.
"We are not going to have true cloud brokering until we have a general belief that [cloud] is a commodity market, units are consistent across the board and price is the driver," she said. "The market isn't there yet."
Brokers as middlemen will also likely become a more popular means of selling cloud services for providers, Gartner's Bova said. "[Providers] can go out and strike one deal at a time with small businesses, or they can strike a deal with the five largest telcos in the United States who can target hundreds of small businesses that already trust their telco," she said. "Providers will be able to reach customers they perhaps didn't have access to before."
Let us know what you think about the story; email: Gina Narcisi, news writer, and follow @GeeNarcisi on Twitter.