News
Stay informed about the latest enterprise technology news and product updates.
Providers struggle to turn a profit with current cloud pricing model
New cloud providers are struggling to earn profits with the current cloud pricing model. Value-added services can help providers differentiate.
Flexible, pay-as-you-go cloud pricing models have attracted enterprise customers to cloud services, and providers are struggling to turn a profit.
In a recent TechTarget survey of cloud providers, 44.8% of nearly 300 respondents listed profitability of cloud services as their main business challenge. The problem will only worsen as cloud services become commoditized, said Tom Nolle, president of CIMI Corp., a consultancy in Voorhees, N.J.
The upfront costs associated with building data centers, coupled with unrealistic buyer expectations and competitive cloud pricing, can set cloud providers up for failure. Cloud providers can find profits by differentiation through value-added services and with a little help from larger cloud players or colocation.
The cloud pricing model: Why are providers struggling?
New cloud providers have large upfront costs. They have to invest in sales and marketing to acquire customers and hold onto them. Telecommunications service providers will lock their customers into a fixed-term contract for network services, but pay-as-you-go cloud pricing models offer service providers limited security, making it difficult to predict revenue, said Lynda Stadtmueller, program director of cloud computing services for San Antonio-based Frost & Sullivan Inc.
"Many of these [new] cloud customers are just dabbling -- it's not like selling them a three-year contract for MPLS," she said.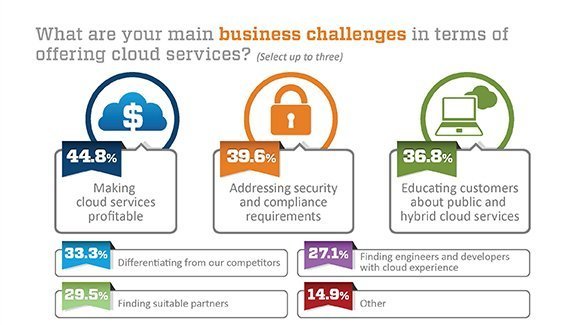 Source: SearchCloudProvider 2013 purchasing intentions survey
Many new providers start with Infrastructure as a Service (IaaS) in hopes of profiting from their own unused infrastructure, but the low, market-based pricing model established by cloud computing giant Amazon Web Services (AWS) leaves providers with little room for margins.
"It's hard for providers to operate in a way that is very low-cost, like Amazon, while still being profitable, unless providers have a volume similar to Amazon," she said.
Aspiring cloud providers should identify a specific market to sell to before launching a cloud business, Nolle said. "Going out and launching IaaS with no idea of who [the providers] plan on selling to, and no idea what the value proposition will be for the purchase of their [services] is not doing it right," he said.
Don't compete with IaaS pricing, take advantage of IaaS providers
New entrants into the cloud services market can avoid direct competition with IaaS providers like AWS by offering differentiated services. Some providers have succeeded by moving higher in the stack, Frost & Sullivan's Stadtmueller said.
Cordys, a Netherlands-based cloud Platform as a Service (PaaS) provider offers targeted services for providers looking to break into cloud services and PaaS offerings for system integrators. Cordys, which doesn't have its own cloud data centers, uses both Rackspace and Amazon for its clients' IaaS needs, depending on the terms of the clients' service-level agreement (SLA), said Hans de Visser, chief strategy officer for Cordys.
The partnership between Cordys and other service and cloud providers has allowed the company to offer users value-added services and helped the company retain its customers, de Visser said.
"The more [providers] are tailoring offerings to the specific needs of the customer, the harder it will be for a customer to go to another cloud provider who can offer the exact same thing," he said.
Cloud providers like Cordys -- and especially small or emerging providers -- cannot afford to build their own data centers. Instead, using another cloud provider's infrastructure -- like Amazon's -- or a colocation provider could be a good way to get started, Frost & Sullivan's Stadtmueller said.
"If an IT or service provider wants to start offering cloud services, they could house their customers in an Amazon data center, so the infrastructure burden doesn't fall on the new provider," she said.
Providers won't be able to compete with IaaS pricing, and raw infrastructure leasing won't be profitable in the long run. Value-added services -- like security, disaster recovery and administrative tools -- are becoming more valuable to cloud customers, Stadtmueller said.
"Providers can add on these very valuable wraparound services at the platform layer, sell it as a package which commands a higher price, and there will be enough revenue to pay the other cloud provider and still make a hefty margin," she said.
Let us know what you think about the story; email: Gina Narcisi, News Writer and follow @GeeNarcisi on Twitter.