News
Stay informed about the latest enterprise technology news and product updates.
Cisco cloud and managed services programs unite
Cisco's cloud and managed services program streamlines business with Cisco and provides partners with financial, branding and go-to market benefits.
Cisco recently merged its Managed Services Channel program with its Cloud Provider and Cloud Services Reseller program to create a unified platform called the Cloud and Managed Services Program (CMSP) with a joint go-to-market strategy for partners.

Download this free guide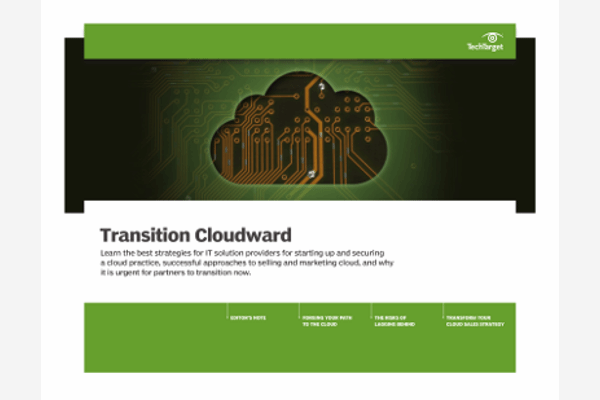 Could Securing Your Channel Business Be Easier? We Can Help.
Download our latest guide to the top strategies solution providers can leverage for starting up and securing a cloud practice, successful approaches to selling and marketing cloud, and why it is urgent for partners to transition now.
"Partners who play in managed services are the partners who play in the cloud. There's a significant amount of overlap. It's easier for partners to have a single engagement with Cisco instead of looking through multiple audits and requirements. The Cisco Cloud and Managed Services Program (CMSP) is not just a partner program. We are trying to expand the concept of a traditional partner program and align it to a go-to market strategy," said Arjun Lahiri Cisco's senior manager of Worldwide Channels.
Cisco cloud and managed services program offers an array of services
CMSP partners will be able to provide a slew of Cisco Powered cloud-based and managed services. The Cisco Powered Cloud Services include Infrastructure as a Service (IaaS), Hosted Collaboration Solution (HCS), Hosted Collaboration Solution for Contact Center (HCS for CC) and TelePresence as a Service (TPaaS). The Cisco Powered Managed Services include Cisco TelePresence Network Connection (TPNC), DataCenter Interconnect, unified threat management (UTM), business communications, application performance management (APM) and more.
"The brand is a reference architecture from Cisco across a broad suite of products. It addresses the key concerns for enterprise customers like security, reliability, etc. As we bring new products to market, this is going to be our as a service strategy," Lahiri added.
CMSP partners will fall into three different tiers -- master, advanced and express. Express partners need to offer two Cisco Powered services. Advanced partners need to offer one Cisco Powered service that is either managed or cloud service designated, and provide basic management capabilities that support Cisco technologies. Master partners need to offer at least two Cisco Powered services that are either managed or cloud service designated and provide enhanced management capabilities to customers.
Financial and go-to-market benefits with cloud and managed services program
The new program aims to give partners a wide range of incentives. "CMSP partners can buy products from Cisco, get discounts and rebates through the Value Incentive Program (VIP) and will also be eligible to stack incentives such as Teaming Incentive Program (TIP), Opportunity Incentive Program (OIP) and Trade in Migration Program (TMP) on an opportunity basis," Lahiri said. CMSP partners will also get global discounts and rights that will allow them to sell cloud and managed services beyond the U.S.
CMSP partners will also have updated branding and certification benefits. These partners will now have a new master badge and Cisco Powered services designations and branding, which will help partners market their services to customers.
Cisco's online Cloud Partner Marketplace is a platform for establishing connections between partners, customers and Cisco sales representatives. This helps partners promote their Cisco Powered services offerings and cloud building capabilities. "The Cisco Cloud Partner Marketplace is an online portal for approved Cisco cloud builders and cloud providers to build awareness and generate leads by marketing their services and offerings to end-user customers, Cisco sales teams and other partners," Lahiri said.
Cloud and managed services program brings sales challenges
Once CMSP partners are ready to go to market, selling to customers can still be a bit of a challenge. Partners must fully understand what customers want from the cloud and managed services to successfully sell without overwhelming them.
Cisco is finding that most customers start out small and don't hand over the entire data center to partners right away. Instead they may start with a single application. Also with managed services, customers pay on a monthly basis, but that's a new business model to many Cisco partners.
This consultative way of selling is more than just selling a product, and while some partners fit right into that mode, others may need to learn to change gears. "This is a shift in the business model for partners, but we are seeing a lot of new partners that are comfortable with it. For traditional partners who are coming off of resale background with a rich and robust legacy in resale, it's a significant shift," he said.
Over a period of time, partners can make a determination on whether they want to make a full investment in the data center or if they are better off being a reseller of someone else's services, which gives them flexibility. "It depends on where the customer is in the decision making cycle. If they do have managed services, it's a matter of expanding [them] and adding more value. It's a business model question many [partners] will go through," Lahiri said.
Cloud and managed services program solidifies partner presence in the market
Patrick Bowler, CEO of TeleSpace, is excited about the cloud and managed services program and is looking forward to the credibility and benefits that being a CMSP partner provides.
"It's the best of both worlds. It gives you the best benefits of the traditional solution provider model coupled with some of the benefits of the service provider model. For our team, it makes really good sense and it's a really solid business model," Bowler said.
As one of Cisco's newest cloud services providers, TeleSpace is the process of obtaining the master level CMSP partner role and is applying for three Cisco Powered Cloud Services -- HCS, HCS for CC and TPaaS.
"We will obtain the master designation, which will give us a competitive edge against many other Cisco solution providers from a branding perspective. There's a great branding opportunity, so that helps strengthen the TeleSpace brand by being closely aligned with Cisco. The support that we get from Cisco is not only with the new program, but with our go-to market activities around cloud. The strength of their team coupled with the program is top for us," Bowler said.
Dig Deeper on Network virtualization technology and services