News
Stay informed about the latest enterprise technology news and product updates.
Job satisfaction factors outrank salary in provider IT, survey finds
Top job satisfaction factors for service provider IT pros have little to do with their salaries, according to a new TechTarget survey.
While a good salary never hurts, it's often not the primary reason people stay in their job, regardless of industry. Service provider IT professionals are no exception.
Most service provider IT pros take home close to six-figure salaries, and few are looking for new jobs outside their companies, but money isn't what's keeping them close to home, according to the TechTarget 2012 IT salary survey. The main reason they're staying in their positions is that they find their jobs intellectually challenging.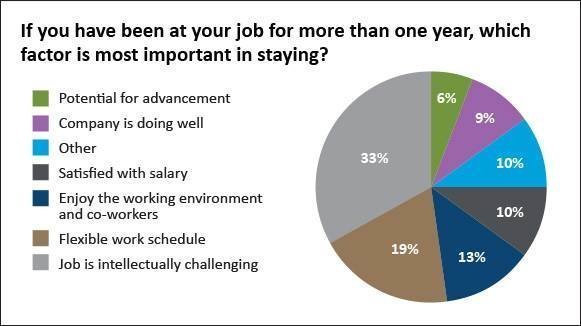 The survey of 2,279 U.S. and Canadian IT and business professionals included a subset of 100 people working for a telecom carrier or another type of IT service provider, rather than in enterprises or other organizations.
Flexible work schedules ranked second as a reason for service provider IT pros to decide to stay in their current jobs; enjoying their co-workers and work environments came in a close third in the survey. At the bottom of the list of job satisfaction factors were the more expected career-minded benefits, including satisfaction with salary, confidence in the company and potential for advancement, respectively.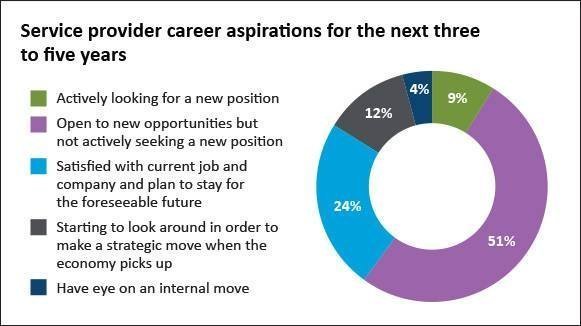 In a free-form survey comment, one respondent said he's staying with his company because he makes "a huge difference in people's lives." Another appreciated that his company "values its employees," and a third said he's sticking around due to the "willingness on the part of senior management to perform ethically and professionally."
"It depends on the career track, but working at service providers can certainly be intellectually challenging and rewarding," said Brian Washburn, research director of network services at Current Analysis Inc.
And despite having worshipped at the altar of five-nines availability for years, service provider IT pros did not rate "system uptime and reliability" as the most important part of their jobs. Instead, they rank "innovation and creativity" as the primary yardstick against which they are measured in terms of success in their positions. Uptime came in second place, followed by the number of new projects they've spearheaded.
Reversing the order of the top two service provider answers, enterprise IT survey respondents put uptime ahead of innovation.
Service provider careers: The facts
Average 2012 salary: $98,142
Men outnumber women three to one.
Most survey respondents were 40 years old and up.
Forty-three percent of respondents have been in the service provider world for 11 to 20 years and 31% have stayed in the industry 21 to 30 years.
Most respondents studied IT or engineering in college, but others came from all walks of life (and academia), including those who majored in music, psychology, biology, history, anthropology, journalism, political science, English and avionics.
Source: TechTarget 2012 IT salary survey
Most provider salaries approach six figures
Even if service provider IT and business pros value intellectual rigors and creativity over salaries, they still didn't do too badly in their paychecks.
Sixty-two percent of respondents reported a base salary of at least $90,000, with nearly a quarter (23%) reporting a base salary of at least $130,000. Few of those respondents came from the C-suite or upper management. Top earners have leadership roles in their organizations, including IT architects, directors of business applications, data center managers, IT directors and managers, project managers, security managers and telecom managers.
Most respondents also enjoyed a salary bump this year, with 38% receiving both a raise and a bonus. Another 18% received only a raise, and 14% received only a bonus. Provider IT raises were in line with broad and fairly dismal economic trends. The largest group of service provider respondents who received raises this year saw their pay increased by 2.0% to 4.9% -- barely keeping pace with the rate of inflation.
Specifically among the carriers, salaries have grown more competitive over the long term as telcos moved away from Bell System salary structures, Washburn said. Even so, today's top job satisfaction factors also outranked salaries, he said.
"Under the old Bell System, an executive would be designated as a Level 1 manager, Level 2 manager, et cetera. It more closely resembled the way that government agencies set up jobs," he added. "Even back under the old system, I'd come across some extremely talented executives who could have had much higher revenue opportunities elsewhere. They stayed because they loved their jobs and because of the stability of working in the Bell System."
Is happiness really a factor in provider job loyalty?
Few respondents showed signs of looking for greener pastures. A whopping 91% said they plan to remain in their company in some capacity over the next three to five years, with 24% wanting to move up in the overall company, 23% wanting to stay in their current roles, and 22% wanting to move up in IT.
But it's not entirely clear from survey data alone whether that means service provider IT and business professionals are actually satisfied with their jobs. In the free-form answers addressing job satisfaction, one respondent said he was staying in his current position because "the economy is in the tank." Another said he was "too lazy to look for another job."
Both incumbent and competitive local exchange carriers have been "steadily laying off employees in their core wireline networking businesses" and playing off these cuts as "reorganizations," Washburn said. "We are still in an environment where people are still thankful to have any job," he said. "I believe a lack of other opportunities also comes into play for job satisfaction -- for many folks, there isn't much tempting in the way of opportunities elsewhere."
Let us know what you think about the story; email: Jessica Scarpati, Site Editor.
Dig Deeper on Employee Recruitment and Retention Strategies