News
Stay informed about the latest enterprise technology news and product updates.
NetApp embraces server flash cache, reseller deal with Fusion-io
News briefs: NetApp moves into server flash cache to compete with EMC's VFCache and strikes up a reseller deal with Fusion-io. Plus, more news from Dell, Nimbus, Quest, Amazon, Virsto and others.
NetApp embraces server flash cache, reseller deal with Fusion-io
NetApp extended its flash storage reach into the server last week by adding its Flash Accel caching software and entering into a reseller deal with PCIe flash vendor Fusion-io.

Download this free guide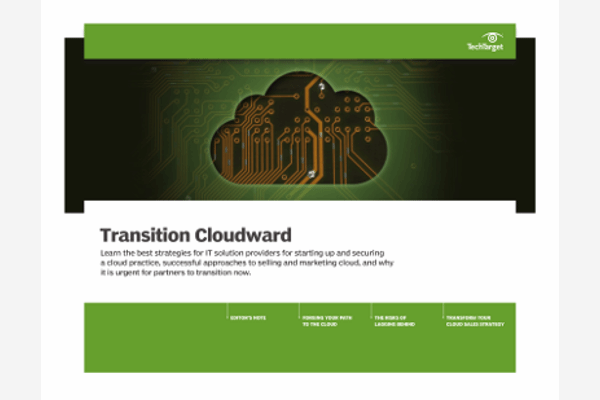 Could Securing Your Channel Business Be Easier? We Can Help.
Download our latest guide to the top strategies solution providers can leverage for starting up and securing a cloud practice, successful approaches to selling and marketing cloud, and why it is urgent for partners to transition now.
By submitting your personal information, you agree that TechTarget and its partners may contact you regarding relevant content, products and special offers.
You also agree that your personal information may be transferred and processed in the United States, and that you have read and agree to the Terms of Use and the Privacy Policy.
Flash Accel uses PCIe server flash cards to cache data frequently accessed from NetApp arrays, which speeds application performance and reduces demand on back-end storage. Flash Accel is similar to the flash cache software EMC ships with its VFCache product, but NetApp has wider support for industry PCIe cards.
While EMC sells Micron and LSI cards as part of VFCache, NetApp's Flash Accel will work with PCIe cards from most vendors.
Read the full story on NetApp's deal with Fusion-io and then read up on the pros and cons of PCIe-based SSD.
Dell adds hybrid solid-state EqualLogic arrays for VDI storage
Dell Inc. last week said it's adding hybrid solid-state arrays tailored for the high IOPS required for virtual desktop infrastructure (VDI) deployments to its high-end EqualLogic iSCSI SAN PS6500 Series.
The company's new EqualLogic PS6510ES and PS6500ES arrays are the first hybrid systems within the PS6500 Series, which is Dell's highest-end iSCSI platform. The new models scale up to 84.8 terabytes (TB) of raw capacity and can hold seven 400 GB solid-state drives (SSDs) and 41 2 TB nearline-SAS hard disk drives.
Read the full story on Dell's hybrid EqualLogic arrays.
Upcoming Nimbus all-flash storage array to offer 10-year warranty
Nimbus Data Systems Inc. last week said its third-generation all-flash storage array will include a new process and significant improvements in speed and capacity when it is released later this year.
The Gemini flash array can scale to 48 TB in a 2U device. Nimbus claims it can sustain 1,000,000 IOPS and will offer a 10-year warranty -- about twice as long as the expected maximum life of most flash systems.
Read the full story on Nimbus' 10-year warranty on its all-flash array.
Compuverde pitches object storage at cloud, 'big data'
Swedish startup Compuverde AB entered the object storage market last week with software that runs on any commodity hardware and a software gateway that delivers file services.
The Compuverde Object Store and Compuverde Gateway can be used to build storage clouds or help enterprises handle big data, according to CEO Stefan Bernbo.
The company's Linux-based gateway works as a network attached storage (NAS) head to expose CIFS, NFS, Cloud Data Management Interface (CDMI) and open source OpenStack interfaces to the object storage software. The gateway can also host virtual machines (VMs) and cache data on solid-state drives and NVRAM.
Read the full story on Compuverde and then find out how object storage can help with unstructured data sets.
Quest vRanger gets physical with backup, restores
Quest Software Inc.'s vRanger, a pioneering product for virtual machine backup, will soon be able to perform physical backups.
Quest, which is due to become part of Dell by the end of the year, will add the ability to back up physical Windows machines to vRanger 6 when it is released. The company says it will be available by the end of 2012.
Read the full story on Quest vRanger.
For cheap and slow, Amazon Glacier is the way to go
Amazon Web Services (AWS) last week launched its Glacier cloud storage service as a low-cost service for archived data that's rarely accessed but needs to be retained for long periods. It's very different than the established Amazon Simple Storage Service (Amazon S3), which is for data that needs to be accessed in real-time.
Read the full story on Amazon Glacier.
Greenbytes revs IO Offload Engine to spark VDI adoption
Greenbytes Inc. last week introduced its virtual desktop infrastructure (VDI) IO Offload Engine, built to separate VDI system traffic from data traffic and process that system traffic on an inline appliance.
With the new appliance, Greenbytes is shifting from a storage array vendor to one dedicated to selling systems for VDI, although Michael Robinson, vice president of marketing communications, said Greenbytes will continue to support its GB-X, HA-3000 and Solidarity storage arrays. He also leaves the door open to a return to selling storage for specific markets.
Continue reading about Greenbytes' IO Offload Engine.
Pure Storage makes all-flash storage iSCSI snappier
Recognizing it will take more than pure performance to make all-flash storage arrays mainstream, Pure Storage is adding iSCSI support, space-efficient snapshots and greater VMware integration to its FlashArray systems.
Pure Storage has added those features with its Purity 2.5 operating system, which is in beta. The startup will not make any hardware changes to its FlashArrays.
FlashArrays were Fibre Channel-only when they became generally available earlier this year. They now support Gigabit Ethernet and 10-Gigabit Ethernet iSCSI, which means customers don't have to buy FC connectivity to install a FlashArray.
Read the full story on Pure's updates to its FlashArray and then get news about Pure's reseller partner program.
NexGen Storage offers performance guarantee for hybrid storage array
NexGen Storage Inc. last week declared it will back up its performance claims with a promise to upgrade customers for free if its hybrid solid-state storage array falls short.
NexGen guarantees that its n5-150 combination PCI Express (PCIe) solid-state and hard disk drive array will increase the performance of a customer's previous disk storage system by 10 times, triple the IOPS per rack unit of hybrid storage arrays, or triple the raw capacity per rack unit of all-SSD arrays.
Read the full story on NexGen's performance guarantee.
Quantum launches Q-Cloud DR, backup services with vmPro and DXi dedupe
Quantum Corp. today launched its Q-Cloud brand of backup and disaster recovery services, which combine the company's DXi disk backup target, vmPRO virtual machine backup appliance and off-site data centers.
Quantum positions Q-Cloud as a data protection option that fits between enterprise SAN array-based replication (that can recover data in minutes) and low-cost consumer and SMB services such as Mozy and Carbonite (that could require days to retrieve data). Quantum claims Q-Cloud can recover data in hours, and its monthly pricing could fall below low-end backup services, although that pricing depends on the deduplication ratio customers get from their DXi appliances.
Read the full story on Quantum's Q-Cloud and then get info on cloud backup options for VARs.
Maginatics enters cloud file sharing market
Maginatics Inc. came out of stealth today with its MagFS online file sharing platform that uses a distributed file system and cloud storage so end users with multiple end-point devices can access data from a shared namespace.
The Mountain View, Calif.-based Maginatics joins a crowded cloud file sharing market that includes Box, Citrix ShareFile, Dropbox, Egnyte, EMC/Syncplicity, Nomadix, SugarSync and YouSendIt. Maginatics claims its cloud file sharing software can scale higher than competitors -- up to millions of users -- and is better suited for the enterprise.
Read the full story on Maginatics.
Dig Deeper on Data Storage Hardware