News
Stay informed about the latest enterprise technology news and product updates.
Partners get trained in data center virtualization to boost sales
Vendors are offering partners data center virtualization training to get them up to speed on helping customers transition to a virtual data center.
As data center virtualization becomes the norm, partners are taking advantage of opportunities to help customers understand the complexities the new technology can introduce. To help their partners build a data center virtualization practice, some vendors are providing specialized training.

Download this free guide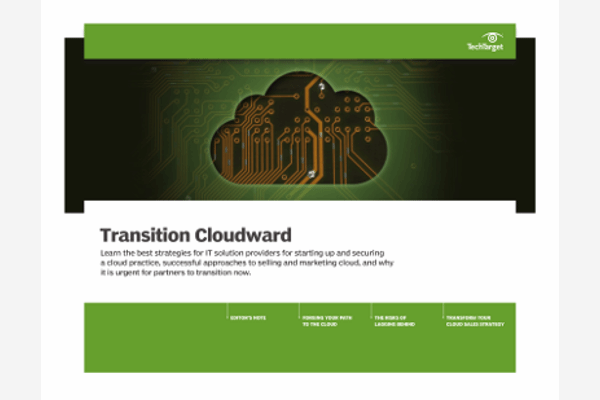 Could Securing Your Channel Business Be Easier? We Can Help.
Download our latest guide to the top strategies solution providers can leverage for starting up and securing a cloud practice, successful approaches to selling and marketing cloud, and why it is urgent for partners to transition now.
By submitting your personal information, you agree that TechTarget and its partners may contact you regarding relevant content, products and special offers.
You also agree that your personal information may be transferred and processed in the United States, and that you have read and agree to the Terms of Use and the Privacy Policy.
Cisco offers specialized data center virtualization training
Cisco Systems Inc. has recognized the growth in the data center specifically around convergence, cloud and virtualization. "These mega trends have an impact on the partner community, as well as partner practices associated with deploying, developing, designing and maintaining data centers," said John Growdon, senior director for Data Center Sales, Worldwide Partner Organization, at Cisco.
For Cisco, different business models make up the data center practice. These include the traditional value-added reseller (VAR) or systems integrator model, professional services where partners can conduct data center analysis and determine data center migration or enhancement, security audits, design, maintenance, and consultation, as well as "X as a Service" where a partner can become a service provider.
Cisco is also pushing for its partners to develop staff members as data center architects. These are individuals who have the ability to design data centers that incorporate virtualization, unified fabric, unified compute and management.
"It's more compelling for customers to be able to stick to one person that can take them through the mystery of putting all the data center components together, as opposed to talking to five different people about how to optimize just the storage, management, etc.," Growdon said.
To get partners to that point, Cisco has developed three specializations for its data center partners: unified compute, unified fabric and data center architect specializations.
"To support these specializations, we have pre-sales and post-sales engineer training for unified fabric and compute, which are both week-long trainings. At the data center architect level, there is some additional training, like account management. Coursework and lab training is also involved," Growdon said.
Cisco's training is delivered to partners in several ways. One way is through "learning partners" that sell the training as a business. Alternative avenues are through Cisco's distributors or directly from Cisco.
"Cisco defines all the content that goes into the training. We have online labs where partners can learn themselves at any time. Labs are available 24 hours at no charge, around the world," Growdon said.
One of the biggest challenges Cisco has found with training partners in virtual data centers is covering the broad nature of the expertise that partners need. "You need very well-educated and intelligent folks that have the ability to adapt to and understand a broad range of technologies. It's not something every single pre-sale engineer can do," he said.
Additionally, training for data center virtualization is an investment for partners, because it requires time out of the office. It's especially time- and resource-consuming for those training to be data center architects. "It is important for senior management to know the value of architects and reward them and financially, " Growdon said.
Ingram Micro provides partners with data center virtualization training for various manufacturers
Ingram Micro Inc. also has recognized the need to train partners in data center virtualization, and offers training that can be applied to various manufacturers.
Ingram Micro's training begins with a high-level overview of the virtualization marketplace. "We have field technical consultants [FTCs] that go on-site and talk about business opportunity and why end users would want to virtualize in the areas of server, desktop, apps, etc." said Bill Brandel, senior director for advanced computing at Ingram Micro.
"Once the reseller picks a manufacturer partner to work with, we can get down to very specific, targeted trainings to help them attain the certifications required to support that offering," he said.
Ingram Micro represents all the major manufacturers and business partners in the industry, including VMware Inc., Cisco and Microsoft. Ingram Micro is a VMware Authorized Training Center (VATC), meaning that Ingram Micro offers all VMware-accredited training through its own training organization.
There are two training tracks that partners can take, depending on their role in the organization. "There's sales training and certification and technical training and certification," Brandel said. "The sales certification allows them to scope out an opportunity and present a virtualization concept to an end user to advance a sale. The technical certification teaches partners how to architect a virtualization solution."
Most sales certifications are done primarily online with self-study material, videos and a test to demonstrate the student's skills at the end. But there also are opportunities to get in-person training. "Periodically, our manufacturer business partners will have conferences or shows where people will come for one day, take the test and be certified. On the technical front, it varies depending on the manufacturer and the individual," said Jim Veraldi, senior director of sales at Ingram Micro's Advanced Compute Division.
Ingram Micro also provides boot camps that usually take about two days and can be done via webinar or at the reseller campus face to face. These focus on a high-level overview of the data center and its components.
Gaining hands-on experience can be a challenge, but it's very helpful. "It's nice to read the book, take the test and pass it, but you need real-world experience. The Ingram Micro Solution Center is our demonstration and lab environment available to our business partners, both for their end users and their own internal engineers. They can see the software interact with the hardware. Taking classroom knowledge and applying it to real life is important," Veraldi said.
Ingram Micro also offers post-sales technical support for partners through its continuing relationships with various manufacturers.
Juniper Networks' data center virtualization training benefits partners
Juniper Networks Inc. looks at data center virtualization training as a way of getting its partners to think differently about their technology practices.
"Data center virtualization forces a lot of channel partners who have been very technology-specific to think more broadly about the overall architecture," said Steve Pataky, vice president for worldwide partner development.
Juniper developed its Partner Advantage Program to train partners in data center virtualization. "As part of the Juniper Partner Advantage Program [JPA], we built out four different domains -- data center, security, the edge and the campus. We're working on partner 'pit stops,' which are webinar programs that cover data center virtualization courses," said Pat Steadman, director for partner enablement worldwide.
Juniper offers "technical Tuesday" and "sales Thursday" webinar sessions worldwide. These are live events that are recorded and placed in Juniper's learning academy, where partners can access all past sessions.
All of Juniper's training is offered online to remove travel expenses. "We have developed an extensive virtual lab environment so that engineers can get a virtual 'hands-on' experience with the products remotely. It's still a significant amount of time. For one person to get accreditation, including course and lab work, it's about 40 hours," Pataky said.
Once partners go through the program, they are given a special accreditation certificate and become eligible to be full data-center architecture solution providers. These data center partners then are mapped directly into Juniper's sales team, which helps them connect to regional sales opportunities.
Juniper data center partners also get financial rewards. Starting in January, partners that register a data center opportunity will be offered an incremental discount. "It's tying the enablement with the incentive program so that those who are achieving and demonstrating their capability to find opportunities will get rewarded differently," Pataky said.
Individual benefits come through the Juniper Champion Program. "The more an individual sales or technical engineer [is involved in this program], they have access to financial and reward benefits. [They also get] also access to mentoring with our engineers, as well as priority access to our tech centers," Pataky said.
For Juniper, the better the partners are trained, the better the company will understand the market and be able to plan accordingly. "The goal for us is to create a deep engagement with partners and leverage their view of the market. They are the first view of what's happening -- they advise us," Pataky said.
Partners gain confidence through data center virtualization training
Juniper partner Technica Corp., an IT systems integrator with a federal government customer base, has been working with Juniper since 1998, and continues to do so with a data center virtualization practice.
By going through Juniper's data center virtualization training, Technica has helped virtualize almost 500 systems onto virtual data centers for one client, and has done 75 systems for another client.
"The training combines the methodologies of virtualization and the comparisons of different product lines to understand features of all the products in the workspace area. When our engineers are using this information, they can make the best solution recommendation to our customer base," said David Basel, senior program manager for technology solutions and alliances at Technica.
Technica has gone through the entire Juniper data center accreditation program, including the data center sales, routing and switching, firewall, and policy programs. This gives Technica the ability to sell at the highest level of all Juniper products and services.
By going through this training, Technica is prepared when it goes to clients, Basel said. "When we go in, we know how to position the products, how the competition's products are, etc. We work closely with the account executive for the Juniper product line, and make sure we are providing exactly what the customer needs. Our customers look at us as trusted advisers," he said.
Dig Deeper on Virtualization Networking Services