News
Stay informed about the latest enterprise technology news and product updates.
Wireless network problems: Five questions answered
Enterprise mobility and BYOD can create wireless network problems for customers and end users. Wireless expert Lisa Phifer answers five questions about wireless network problems.
As enterprise mobility and bring your own device (BYOD) trends reign, more wireless network problems arise. Users find themselves tackling network access control for personal devices, the need to create restrictions and policy for mobile access, interference in the wireless network due to outside disruptions, wireless network security, and mobile device data caps.

Download this free guide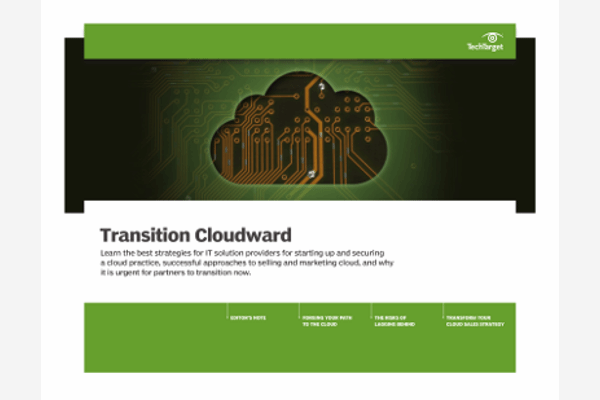 Could Securing Your Channel Business Be Easier? We Can Help.
Download our latest guide to the top strategies solution providers can leverage for starting up and securing a cloud practice, successful approaches to selling and marketing cloud, and why it is urgent for partners to transition now.
By submitting your personal information, you agree that TechTarget and its partners may contact you regarding relevant content, products and special offers.
You also agree that your personal information may be transferred and processed in the United States, and that you have read and agree to the Terms of Use and the Privacy Policy.
The good news is that partners can be the source of knowledge and support for customers implementing new wireless networks and supporting BYOD and enterprise mobility. Here, wireless expert Lisa Phifer answers our readers' questions concerning wireless network problems, enterprise mobility and managing mobile device on the network. By reviewing these expert answers, partners will gain insight into how to solve customer wireless problems.
Wireless network problem 1: Wireless network access control for personal devices
Most companies have decided to grant some network access to personal mobile devices. Now they must find ways to implement a wireless access control policy to prevent users from accessing too much with their personal devices.
One reader wrote in and asked us which wireless access control methods they could use to limit the kinds of access users can have with their personal devices.
Here's what expert Lisa A. Phifer had to say about obtaining wireless access control for personal devices.
Wireless network problem 2: Implementing Wi-Fi policy in a school
Implementing a Wi-Fi policy in an academic setting can be tricky, considering all different types of users who must be accommodated. Lisa A. Phifer discusses strategies for tackling these challenges and offers up examples of schools that have been successful at taking on this wireless network problem.
Lisa also suggests going to other network administrators in nearby academic institutions to discuss what they have done regarding Wi-Fi policies. While it might be difficult to create a policy that is exactly what is needed, understanding considerations and important factors is an important step in the right direction.
Read Lisa's advice for creating a Wi-Fi policy.
Wireless network problem 3: Wireless network interference in public venues
Wireless connections can easily be compromised at conferences and trade shows. For one company that holds a semi-annual show, wireless network interference became a problem; the company's sniffer found that disruptive devices were on channel 11.
Lisa explains how personal hotspots can create chaos on permanently installed WLANs in public venues, and she gives some advice on how to handle this.
Read more of Lisa's advice on overcoming wireless network interference in public venues.
Wireless network problem 4: WPS attack precautions
In order to protect networks from new Wi-Fi Protected Setup (WPS) attack tools that are on the rise, like Reaver and wpscrack, enterprise WLAN administrators should take precautions to avoid unauthorized WLAN access, according to wireless expert Lisa A. Phifer.
Here, Lisa provides some background on the WPS protocol to better understand potential issues and offers various steps to avoid problems.
Learn how taking WPS attack precautions can reduce unauthorized WLAN access.
Wireless network problem 5: Wireless network monitoring to stay within data caps
As smartphone, tablets and remote access to cloud services crowd bandwidth in the enterprise, it can be difficult for wireless broadband data users to avoid exceeding data caps.
To avoid this problem, Lisa suggests that enterprises deploy mobile expense-management tools to enforce bandwidth caps. Individuals, on the other hand, can gain control by using third party apps that break down usage and clarify what is eating away at bandwidth.
Read more about using wireless network bandwidth monitoring to stay within data caps.
Dig Deeper on Wireless Networks