News
Stay informed about the latest enterprise technology news and product updates.
NetApp takes virtual storage appliance approach with Data Ontap Edge
Headlines: NetApp gets into virtual storage appliance market with Data Ontap Edge software, which lets remote offices connect to NetApp data center storage.
Storage channel news roundup for June 19 to 25, 2012
NetApp takes virtual storage appliance approach with Data Ontap Edge
NetApp Inc. last week launched a virtual storage appliance for remote offices and added the ability to support volumes as large as 20 PB -- up from its prior limit of 100 TB.

Download this free guide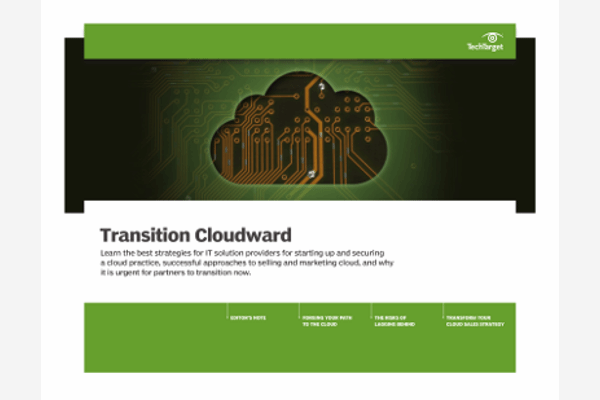 Could Securing Your Channel Business Be Easier? We Can Help.
Download our latest guide to the top strategies solution providers can leverage for starting up and securing a cloud practice, successful approaches to selling and marketing cloud, and why it is urgent for partners to transition now.
The Data Ontap Edge virtual storage appliance and Infinite Volumes are enabled by NetApp's Data Ontap 8.1.1 operating system. NetApp disclosed some 8.1.1 features -- including Flash Pools caching -- when it launched its FAS2220 entry-level storage system earlier this month. NetApp expects Ontap 8.1.1 to be generally available throughout its FAS unified storage within a few months.
Data Ontap Edge is a NetApp-branded version of a virtual appliance NetApp has sold outside the United States through Fujitsu bundled with a Fujitsu Primergy blade server. Edge runs as a virtual machine on VMware vSphere.
Jay Kidd, NetApp senior vice president of product operations, said Edge uses up to 5 TB from the VMware ESX host and has deduplication, thin provisioning and snapshot capabilities. Customers can mirror and replicate snapshots to NetApp FAS or V-Series storage in the data center.
See how virtual storage appliances differ from traditional shared storage in this tip.
Panzura snaps up $15 million in Series C funding
Startup Panzura Inc. last week announced it closed a $15 million Series C funding round, bringing the total the cloud NAS filer company has raised since September 2008 to $33 million. Venture capital backer Opus Capital led this latest round of funding, which included existing investors Matrix Partners, Khosla Ventures and Chevron Technology Ventures.
The company, which currently has about 60 employees, plans to use the investment to expand its sales and marketing efforts as well as on research and development. "We are going to grow that considerably. We will be well over 100 people by the end of the year," said Panzura founder and CEO Randy Chou.
Read the full blog post on Panzura's latest funding round.
Storage infrastructure management doesn't have to be an 'infrastruggle'
Information is proliferating in the data center at unsustainable rates, consultant and author Jon Toigo told attendees at last week's Storage Decisions conference during his keynote titled "Storage 2012: Time of the Infrastruggle."
Toigo coined the term "storage infrastruggle" in a recent Storage magazine article to describe the battles administrators face in managing a modern storage infrastructure.
"I see the world in terms of a storage buzzsaw," said Toigo, who is CEO of Toigo Partners International and chairman of the Data Management Institute.
Read the full story on how you can avoid a "storage infrastruggle."
Will Bitcasa be su casa for files?
Bitcasa took in $7 million in Series A funding to enter the cloud storage market last week. The startup also launched an open beta for its consumer file storage cloud and declared plans to expand its service to businesses later this year.
Bitcasa CEO Tony Gauda hopes to lure consumers with the promise of unlimited cloud data for $10 per month. He said Bitcasa already stores more than a billion files and 4 PB of data on Amazon S3 from its private beta customers. The plan is for Bitcasa to eventually host its own cloud, Gauda said.
Within six months, Gauda hopes to have an SMB version that will likely be priced on a per-seat basis.
"Today we are consumer-oriented," he said. "But there's a huge SMB enterprise play in our technology."
Check out this tip to compare public vs. private vs. hybrid cloud storage.
Caringo adds erasure codes, multi-tenancy for private storage clouds
Caringo is strengthening its hand for cloud storage with three new software products built on its CAStor object-based storage software.
The Elastic Content Protection (ECP), CloudScaler and Indexer are separately licensed products that can be used independently or in combination to build private and public clouds. ECP uses erasure codes to distribute data across locations, CloudScaler enables multi-tenancy, and Indexer is a real-time indexing engine.
CAStor was originally developed as archiving software. Caringo CEO Mark Goros said customers already use CAStor for storage clouds, but features such as erasure codes and multi-tenancy make it better tailored for private clouds in large enterprises.
Read the full story on Caringo's new products based on CAStor object storage software.
X-IO's hybrid storage gets thumbs up at TechEd
When X-IO won two Best of Microsoft TechEd awards earlier this month, it was the second time in two months that X-IO Chief Technology Officer Steve Sicola felt that his technology was validated at a vendor show.
X-IO's Hyper ISE storage system won Best Hardware and Storage Product and Attendees' Pick at TechEd. Hyper ISE uses solid-state drives and hard drives in self-contained enclosures.
Sicola said EMC executives unintentionally endorsed Hyper ISE last month at EMC World by claiming the hybrid approach is best for flash.
Check out the full blog post on how X-IO's hybrid storage gets a nod at TechEd.
Tegile, hybrid flash and the laws of the storage market
It seems like hybrid flash/spinning disk array startups are sprouting up all over the place lately. There are the likes of Tintri, NexGen and Nutanix, and last week we spoke to another -- Tegile.
Tegile's claims are so impressive that they scream out that something must happen to the company and to those like it. Tegile reckons that it can provide, for example, 105 TB of storage at 75,000 IOPS in 2U of space for $75,000 against equivalent I/O and capacity from NetApp that would take 115U and cost $475,000.
See the full blog post on Tegile and then read up on whether flash storage can meet cloud service providers' needs in this story.
Additional storage news
Check out last week's storage channel news roundup.
Dig Deeper on Storage virtualization technology and services