News
Stay informed about the latest enterprise technology news and product updates.
Dell storage products roadmap includes server flash, primary dedupe
Headlines: The Dell storage products roadmap outlined at Dell Storage Forum 2012 includes server-based flash, storage virtualization and primary data reduction.
Storage channel news roundup for June 12 to 18, 2012
Dell storage products roadmap includes server flash, primary dedupe
Acquisitions made over the past few years will heavily influence the future of Dell storage products, with offerings like flash cache in servers, virtualized storage, built-in deduplication for primary storage, and heterogeneous replication and snapshots for data protection in the works.

Download this free guide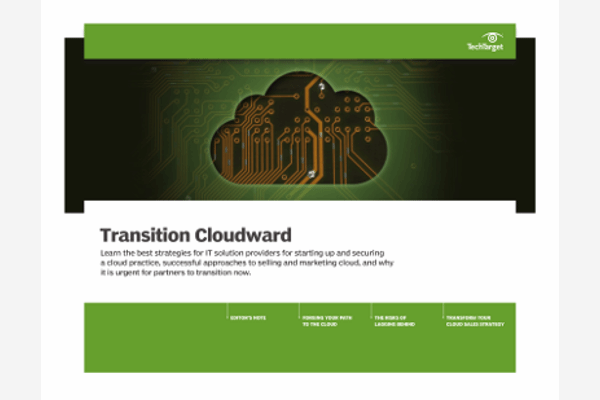 Could Securing Your Channel Business Be Easier? We Can Help.
Download our latest guide to the top strategies solution providers can leverage for starting up and securing a cloud practice, successful approaches to selling and marketing cloud, and why it is urgent for partners to transition now.
Dell executives laid out much of their roadmap plans for customers during last week's Dell Storage Forum 2012. The company is in the second year of a major storage transformation following its breakup with former partner EMC and a new reliance on its own technologies.
"In the past, Dell has been criticized for not talking about the future, where we're going," said Carter George, executive director of Dell storage strategy, during the conference's final keynote last Wednesday. "The relationship with your storage vendor is important. Typically, it's a long-term relationship. When you go on a journey together, you want to know where we're going."
Read the full story about Dell's future plans for its storage products.
Dell moves into storage blades with EqualLogic arrays
Dell launched its first storage blades -- the Dell EqualLogic PS-M4110 Blade Arrays -- packaged with PowerEdge blade servers and Force10 MXL switches in a 10U chassis at its second annual Dell Storage Forum 2012 last week.
Dell also gave its Compellent SAN new unified storage capability through an appliance to handle file storage and added Compellent storage to its vStart converged infrastructure platform. Previous vStart configurations all included EqualLogic storage.
Dell isn't first with storage blades or a converged storage platform by a long shot, but it claims its storage blades are easier to configure and denser than those of its competitors.
"We're pretty late to the game, but I like to say that we passed everyone up," said Darren Thomas, Dell's vice president and general manager of enterprise storage.
The EqualLogic PS-M4110 Blade Array will be available in the second half of the year. There will be four models, with different drive types and capacity points. Each model holds up to four EqualLogic blades.
Read the full story on Dell's move into storage blade territory with its launch of EqualLogic Blade Arrays.
Dell customers not so keen on Blade Arrays concept
Dell still has to convince customers that the storage blades rolled out last week at Dell Storage Forum 2012 are a good idea.
When asked about the iSCSI EqualLogic PS-M4110 Blade Arrays that Dell launched Monday, several customers said they're unsure about the storage blade concept. A few said integrating storage, servers and networking into a condensed system is too new of an approach, while others wondered if it would have the same performance as traditional rackmount storage.
"The performance is not there to stick everything in a single box. You would need to stack a ton of them together just to get decent high performance, especially if you have high I/O loads," said Tibor Pazera, a senior technology specialist at Irvine, Calif.-based Advantage Sales and Marketing LLC and a Compellent customer. "Convergence is nice for ease of deployment, but there's not enough spindle capacity to maintain high I/O performance."
Check out this tip on blade storage management considerations.
Dell backup plans include move from SMB to enterprise
Dell is looking to bring its SMB backup technologies into the enterprise and integrate them with primary storage, all without stepping on its current enterprise backup partners.
That is the strategy laid out by Mike Davis, head of marketing and strategy for Dell's NAS and file services, last week at the Dell Storage Forum.
Dell backup products include its DR4000 deduplication appliance launched in January and the replication software from the February AppAssure acquisition. It partners closely with others, most notably selling CommVault and Symantec backup applications bundled on Dell servers. AppAssure has sold mostly to SMBs, but Dell's plans include the ability to share snapshots and replicate between its Compellent and EqualLogic storage arrays.
"The strategy is absolutely expanding our footprint and to support enterprise," Davis said. "Now, the question is, 'How do we get there?' When we enter into a new product area -- like the DR4000, for example, which is kind of our EMC Data Domain competitor -- the primary design point for the product is going to be our current market. But the next product we do will be more enterprise-oriented. So we'll look at more scale-out, and performance and extra features for the enterprise. And that's kind of a typical theme."
Dell's storage IP comes from recent acquisitions, beginning with iSCSI SAN vendor EqualLogic in 2008. It has also added Fibre Channel SAN vendor Compellent, data reduction startup Ocarina, clustered NAS vendor Exanet and AppAssure over the past few years. Ocarina dedupe technology drives the DR4000 SMB backup appliance.
Check out this tip on SMB storage networking options.
Violin, Microsoft play NAS flash duet
Violin Memory provided a window into its roadmap last week at Microsoft TechEd.
Violin and Microsoft are demonstrating what the vendors call a NAS "cluster-in-a-box" with Windows Server 2012 running natively on Violin's 6000 Flash Memory Array. Violin intends to eventually ship the product as a specialized appliance to handle enterprise file services.
Violin's current arrays handle block storage. For the NAS box, it added two x86 Intel servers to run Windows. Windows Server 2012 will give the array snapshot, deduplication and replication features.
Other appliances tuned to specific applications will likely follow, says Violin marketing vice president Narayan Venkat.
Read the full blog post on Violin's NAS "cluster-in-a-box" product.
NetApp jumping through Hadoops
NetApp is embracing Hadoop with a converged system combining its two major storage platforms with compute and networking from partners. The vendor also broadened its partnerships with Apache Hadoop companies last week by forging a joint partnership with Hortonworks.
The NetApp Open Solution for Hadoop Rack includes NetApp FAS and E-Series storage along with Hewlett-Packard servers and Cisco switches. The base configuration consists of four Hadoop servers, two FAS2040 storage modules, three E2660 NetApp storage modules for 360 TB of storage, 12 compute servers and two Ethernet switches. The system scales with data expansion racks made up of four NetApp E2660 modules, 16 compute servers and two Cisco switches.
Discover how 'big data' techs can address retention and performance requirements in this tip.
Actifio upgrades data protection appliances for enterprise, clouds
Actifio last week upgraded its Protection and Availability Storage (PAS) data protection appliances, adding features that the company said will make its products a better fit for enterprises, as well as public and private clouds.
Actifio virtualizes copies of data, using the same copy for backup and disaster recovery instead of requiring separate applications and devices for different data sets. PAS 5.0 includes improved deduplication and multi-tenancy; a new way to handle test/dev data; and an Enterprise Manager, which features expanded reporting functionality.
PAS 5.0's DeDupe Async technology dedupes data that is asynchronously replicated to reduce network bandwidth utilization. Actifio claims this feature eliminates the need for a dedicated network to replicate production data, facilitating DR and cloud backup. Improved dedupe also increases the capacity supported by Actifio's data protection appliances.
Read the full story on how Actifio added data protection features for enterprises and the cloud.
Public storage cloud facilitates file collaboration for global firm
Holding company JSJ Corp. uses a public storage cloud for primary file data to speed integration of acquired companies and to share information across international offices more efficiently.
JSJ is a Grand Haven, Mich.-based holding company for six manufacturing firms, some with offices spread throughout the United States, China and other parts of Asia. JSJ provides financial and technology support for all the companies and needs to share file data across all locations.
One of its main challenges is allowing seamless file collaboration to share engineering information across international offices. For that, it turned to Nasuni appliances to move files to and recover them from a public cloud.
Read the full story on JSJ and then find out about the differences between public, private and hybrid cloud storage in this tip.
Varonis seeks to provide cloud file sharing, without the cloud
Varonis Systems Inc. is preparing an application called DatAnywhere that performs on-premises file sharing and syncing that mimics cloud file sharing services.
Varonis said it will begin beta testing DatAnywhere Aug. 1.
According to David Gibson, Varonis' vice president of strategy, DatAnywhere allows existing traditional file servers and network-attached storage (NAS) devices to sync files to users' remote devices while adhering to existing organizational security restrictions.
Varonis is positioning DatAnywhere as an on-premises alternative to cloud file sharing services such as Dropbox and Box.net.
See different use cases for cloud-based document collaboration in this tip.
Additional storage news
Check out last week's storage channel news roundup.
Dig Deeper on Data Storage Hardware