News
Stay informed about the latest enterprise technology news and product updates.
NetApp launches Flash Pools for SSD, HDD RAID groups, FAS2220 NAS
Headlines: With its FAS2220, NetApp adds Flash Pools that combine solid-state drives and hard drives to accelerate read/write performances.
Storage channel news roundup for June 5 to 11, 2012
NetApp launches Flash Pools for SSD, HDD RAID groups, FAS2220 NAS
NetApp last week launched the FAS2220, a new entry-level storage system, and Flash Pools, a caching method for RAID groups which combine solid-state drives (SSDs) and hard drives.

Download this free guide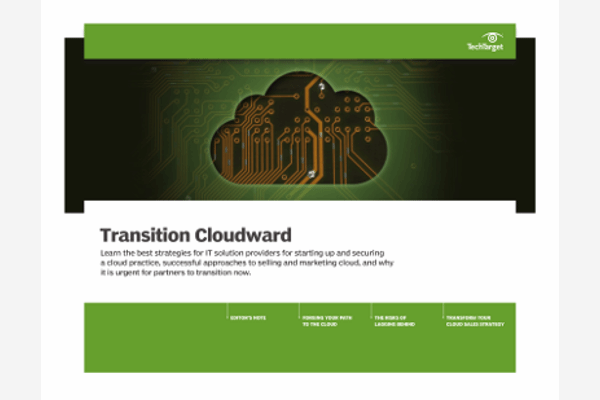 Could Securing Your Channel Business Be Easier? We Can Help.
Download our latest guide to the top strategies solution providers can leverage for starting up and securing a cloud practice, successful approaches to selling and marketing cloud, and why it is urgent for partners to transition now.
The new 2U FAS2220 scales to 180 TB, and will replace the FAS2020 array as NetApp's entry-level system. It supports NAS and iSCSI. The FAS2220 will compete with EMC VNXe unified storage and Dell EqualLogic and Hewlett-Packard P4000 iSCSI SANs. Pricing starts at $8,000 for a 6 TB single-controller unit. The system supports SAS, SATA and single-level cell (SLC) solid-state drives. The FAS2220 replaces the FAS2020 array as NetApp's entry-level system.
Read the full story on NetApp's launch of FAS2220 and Flash Pools.
IBM incorporates compression into storage arrays
For all of its talk about smart storage this week at IBM Edge, Big Blue's storage announcements amounted to mostly cosmetic changes. The lone exception was the addition of real-time inline compression for primary storage arrays.
IBM ported the Random Access Compression Engine (RACE) technology acquired from Storwize in 2010 into its Storwize V7000 and SAN Volume Controller (SVC) virtual storage arrays. This is IBM's first integration of the compression technology into SAN arrays.
Until now, IBM used the technology only in its Real-Time Compression Appliances, which were re-branded boxes that Storwize sold before the acquisition. Even the Storwize V7000 launched in late 2010 lacked compression, despite its name.
Check out this tip on the best data reduction products for primary storage.
HP StoreOnce Catalyst accelerates dedupe
Hewlett-Packard is looking to boost a data deduplication acceleration technique originated by EMC. HP last week extended its StoreOnce data deduplication platform with the addition of StoreOnce Catalyst software that enables deduplication at the application and backup servers.
Catalyst works with HP's StoreOnce B6200 disk backup target appliance by deduping data on application and backup servers before moving the data to the disk system. Catalyst, which was launched last November, is similar to EMC's DD Boost software that EMC introduced in 2010 for its Data Domain backup targets.
The B6200 is HP's largest StoreOnce device, scaling from a two-node 48 TB model to 768 TB of raw capacity. Catalyst can run on the B6200 target or the application server. HP claims a full-capacity B6200 can back up data at 100 TB per hour and restore at 40 TB per hour with Catalyst. EMC says its flagship Data Domain DD990 can back up at 31 TB per hour with DD Boost. Of course, all dedupe speeds also depend on the type of application data and other factors such as network connectivity.
Read the full story on HP's StorOnce Catalyst dedupe software, then watch this expert video on hardware vs. software dedupe.
EMC charges HP with duplicitous dedupe claims
EMC's backup and recovery team says Hewlett-Packard is playing games with its numbers in claiming its B6200 backup system with StoreOnce Cataylst software is significantly faster than EMC Data Domain arrays with DD Boost.
HP said its StoreOnce B6200 disk target with Cataylst can ingest data at 100 TB per hour with the maximum of four two-node pairs, compared to EMC's claim of 31 TB/hour with its new Data Domain DD990 with DD Boost. However, the B6200's nodes are siloed. That means an eight-node system actually consists of four separate pools, and it would take an aggregate performance to get to 100 TB/hour.
Check out the full story on EMC's charges against HP's claims about its StorOnce Catalyst.
Quest NetVault XA will offer integrated backup management
Quest Software has taken the first step to connect its physical and virtual data protection applications by adding a common interface to manage them from one console.
Quest last week introduced its NetVault XA (Extended Architecture) interface that will be generally available later this year for integrated backup management. Administrators can define service levels and manage features such as data deduplication through Quest NetVault XA.
The first version of NetVault XA will support Quest NetVault for physical servers, vRanger for VMware, LiteSpeed for SQL server and Oracle database backup.
Read the full story about Quest's NetVault XA for integrated backup management.
Sepaton aims at large database backup with DBeXstream multistreaming
Sepaton last week moved to improve database backup with DBeXstream software, which the vendor claims can effectively deduplicate multistreamed and multiplexed enterprise databases.
DBeXstream is part of Sepaton's version 6.1 software release for its S2100 enterprise virtual tape library (VTL) systems.
DBeXstream supports multistreaming and multiplexing of large databases for customers of Symantec NetBackup, EMC Networker, Hewlett-Packard Data Protector and IBM's Tivoli Storage Manager (TSM) backup software. DBeXstream works with Oracle, DB2 and Microsoft SQL Server databases.
Check out this tip on enterprise data backup solutions to help improve customer's endpoint data protection.
Additional storage news
Check out last week's storage channel news roundup.
Dig Deeper on Data Storage Hardware