News
Stay informed about the latest enterprise technology news and product updates.
Hitachi Data Systems moves into unified storage architecture with HUS
Headlines: Hitachi Data Systems combines BlueArc's SiliconFS with block storage for its first unified storage architecture.
Storage channel news roundup for April 24 to 30, 2012
Hitachi Data Systems moves into unified storage architecture with HUS
Hitachi Data Systems (HDS) took its first step into offering a unified storage system last week with the launch of its Hitachi Unified Storage (HUS) platform, which combines block, file and object storage under a single management console.

Download this free guide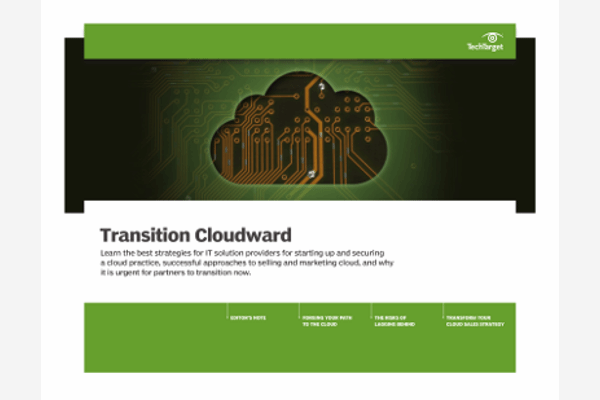 Could Securing Your Channel Business Be Easier? We Can Help.
Download our latest guide to the top strategies solution providers can leverage for starting up and securing a cloud practice, successful approaches to selling and marketing cloud, and why it is urgent for partners to transition now.
The HDS unified series consists of the HUS 110, HUS 130 and HUS 150. The systems replace the HDS midrange Hitachi Adaptable Modular Storage (AMS) family and will compete primarily with EMC's VNX arrays and NetApp's FAS3000 and FAS2000 products.
"We're not the first to market, but we're doing it better than our competitors," said Fred Oh, HDS' senior product marketing manager for NAS. "We're taking our enterprise-class technology and bringing it down to the midmarket. We're doing unified storage on block and file, and on top of that we can add the object storage capability."
Read the full story on HDS' first unified storage architecture.
Using Nimble Storage, construction firm reconstructs storage setup
After its storage environment grew to data dispersed on more than 10 systems, California construction firm Graniterock standardized on two Nimble Storage Inc. arrays to handle primary data storage and backup. Graniterock's IT administrators say the result has been faster performance and simpler management from its single platform.
Before installing two Nimble CS240 iSCSI converged storage systems, Graniterock's storage consisted of an unwieldy mix of systems. It had an EMC Clariion storage area network (SAN), NetApp network-attached storage (NAS), direct-attached storage (DAS) from Dell and six Buffalo TeraStation NAS servers. The Watsonville, Calif., company used two EMC Data Domain appliances for backup.
"We had storage devices that were only for virtual machines, storage devices that were handling only SQL databases and devices handling other applications," said Ken Schipper, Graniterock's operations manager. "They had grown organically over the years. Data was scattered over all the devices, all with different management systems."
Read the full story on a construction firm's Nimble iSCSI converged storage.
Symantec backup sales slip; company hopes appliances will help
Symantec last week said its sales for last quarter came in below expectations, impacted in part by customers waiting for its Backup Exec refresh. But while its storage management and backup products slumped, CEO Enrique Salem said he expects Symantec's NetBackup and Backup Exec appliances to help return business to normal.
"While we experienced a pause ahead of our Backup Exec product refresh, we continued to see momentum in our backup appliances," Salem said during a call to address the earnings shortfall.
Symantec CFO James Beers said the vendor anticipates reporting approximately $1.68 billion in revenue when it officially reports earnings May 2. Its original forecast for the quarter was between $1.72 billion and $1.73 billion. Symantec's revenue was $1.67 billion for the same quarter last year.
Check out this tip on how to develop a backup reduction strategy.
Catching up with dedupe
It's been a slow news year for data deduplication. The data reduction technology has yet to make its big splash for primary storage and is taken for granted for backup. But things picked up last week as EMC Data Domain, FalconStor, Hitachi Data Systems and Permabit all either expanded their dedupe products or talked about their plans.
Permabit aims dedupe software at flash arrays
With the adoption rate of dedupe for primary storage slower than anticipated, Permabit last week unveiled Albireo for Flash Technologies, which is really a flashy way of saying it supports solid-state storage with its Albireo Software Development Kit (SDK) and Virtual Data Optimizer (VDO) for Linux.
Permabit does not sell Albireo software directly, but makes its SDK and VDO available for OEM partners.
Permabit founder and CTO Jered Floyd says primary dedupe adoption is slow because the large established storage vendors resist the notion of cutting into disk sales by shrinking data. (The large vendors dispute this, and all have or are working on some type of dedupe for primary data.) Floyd maintains the benefits and needs for primary dedupe for flash are greater than for disk arrays, and the startups selling flash systems are more open to incorporating dedupe.
Read the rest of the blog post on how EMC Data Domain, FalconStor and HDS are also expanding their dedupe products, then watch this expert video on hardware vs. software dedupe.
Integrated backup appliances provide option to traditional disk libraries
Disk's dominance in backup is still growing but it is changing to reflect the rise of all-in-one backup appliances that include all the necessary data protection software and hardware in one box.
Disk libraries -- usually with data deduplication software -- have dominated in backup for years. These are often delivered as appliances, but require separate backup servers. Now, with Symantec leading the way, converged, or integrated, appliances that include backup software are becoming a more viable option.
IDC estimates the 2011 backup appliance market at $2.8 billion, and it forecasts growth to $5.3 billion by 2015. That revenue forecast consists mostly of appliances with only disk and dedupe, and EMC Data Domain is the market leader by a wide margin. But today, integrated backup appliances are showing up on the radar.
Read more on backup appliances' impact on traditional disk libraries.
Will Google Drive cloud storage adoption or IT headaches?
Just because Google Drive is aimed at SMBs and consumers doesn't mean the cloud storage service will have no impact on enterprises.
Google Drive will almost certainly add to the consumerization of IT that Randy Kerns recently wrote about because it will expand the number of users functioning as their own storage administrators. And the attention it has already sparked will make it more likely that most businesses will at least consider using the cloud for some of its file storage and data protection.
"On the face of it, this topic does not appear to concern the corporate IT manager or CIO, but chances are employees will start using this service to do more than share family photos and recipes," Ovum principal analyst Richard Edwards wrote in an e-mail about Google Drive's impact on the enterprise. "Corporate email systems are notorious for their measly storage quotas and message attachment size limitations, and so the sharing and distribution of large corporate files, such as PowerPoint presentations, engineering drawings and creative content are an obvious use case for Google Drive."
Get some peer advice on cloud storage services in this tip.
Additional storage news
Check out last week's storage channel news roundup.
Dig Deeper on Storage Area Network (SAN)