News
Stay informed about the latest enterprise technology news and product updates.
Pinterested in a small business growth strategy?
Utilizing Pinterest could be a new way to boost small business traffic, but will this innovative small business growth strategy improve company visibility and increase sales?
So you're trying to devise a new small business growth strategy to boost traffic and sales. Would using Pinterest come to mind first? Yeah … I didn't think so either. However, some small businesses have been trying out the social networking website to do just that.
Pinterest is a social media site that allows users to share ideas about weddings, food and drink, travel, DIY, home décor, and more. The idea is to create virtual pinboards that are categorized by the theme of your choice. You can upload photos and ideas yourself or "re-pin" images from other boards.
But how can Pinterest be a viable part of a small business growth strategy?
Small business traffic can thrive through exposure and sharing
The biggest benefit of Pinterest for small businesses is exposure. Pinterest is a very hot social media site right now, and small businesses just starting out may gain some traction by taking part.
Pinterest is a simple concept: Once a few users re-pin or "like" something your small business posts, you gain broader attention from fellow users. The more your posts get re-pinned or liked, the more visible you become. This visibility can be the catalyst for interest in your small business.
Pinterest's ease of use is what makes the site stand out from other social media outlets. The clutter and ever-changing features of Facebook, the character limit on Twitter (hey, not all of us can be clever in 140 characters or less) and the dryness of LinkedIn don't resonate with a lot of people.
So far, Pinterest has gained the most attention around consumer-driven topics like weddings, fashion and recipes, but that doesn't mean there's not a place for technology companies, and specifically channel partners, looking to build social networks through image sharing.
While many partners don't have money or time for complex marketing plans, providers can simply pin graphics from their marketing plans to share with their customers, for example. Pinterest can also be used to create a community internally among engineers to keep everyone in the loop on product announcements or idea sharing. Pinterest also has a mobile application, so channel partners can keep their clients or staff engaged on the go.
But how can technology be visual enough for Pinterest?
Pinterest may not be that easy of a sell for IT players because they're not necessarily the most graphically driven folks. But channel partners could change that.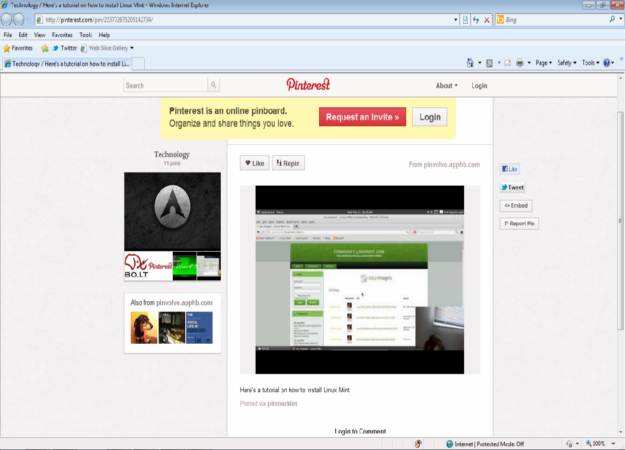 Pinning photos of switches and other IT equipment might not be the answer, but partners can pin graphics of network architecture, complex code or detailed product diagrams.
Pinterest allows small IT businesses and partners to think outside the box. Users seeing this channel marketing strategy may take particular notice not because of what is being pinned, but how small businesses or partners are pinning. Users are looking for creativity and originality, and will gravitate towards small business providers that do that, bringing a sale one step closer.
Some people may think Pinterest is not a viable outlet for a business to really grow because Pinterest is primarily focused on sharing everyday ideas rather than marketing toward a specific sale, but in some ways this is a plus. Partners must take seriously the building of ongoing relationships with their current and potential customers.
Do I think Pinterest could drive direct sales for small businesses? That's a stretch. Do I think Pinterest could be a catalyst for interaction between users, channel partners and small businesses that could eventually result in a sale? Absolutely.
All small businesses and channel partners need is to spark users' interest. Then, if that small business and partner has the right sales and products chops, they should be able to close the deal. Pinterest can act as a door opener, but it will take the skills of small businesses and partners to keep users interested (sans the "P").
Dig Deeper on Small and Medium-Sized Business Networks