News
Stay informed about the latest enterprise technology news and product updates.
Nexsan launches unified storage architecture with flash cache
Headlines: Nexsan releases the NST unified storage architecture supporting iSCSI and NAS, and using flash cache for a performance boost.
Storage channel news roundup for March 1 to March 7, 2011
Nexsan launches unified storage architecture with flash cache
Nexsan Corp. this week introduced its first multiprotocol storage platform, the Nexsan NST Series Unified Storage System, which contains a flash cache using single-level cell (SLC) solid-state drives (SSDs) and DRAM to accelerate performance.

Download this free guide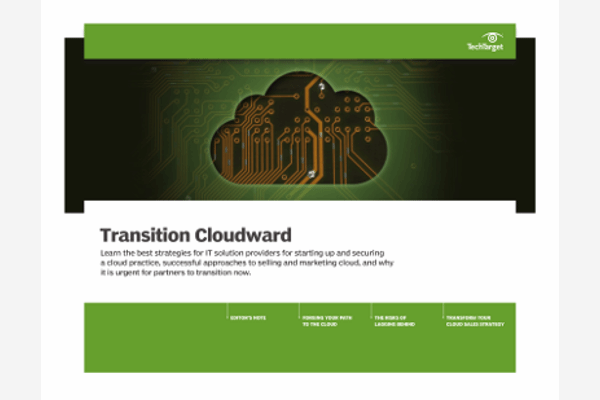 Could Securing Your Channel Business Be Easier? We Can Help.
Download our latest guide to the top strategies solution providers can leverage for starting up and securing a cloud practice, successful approaches to selling and marketing cloud, and why it is urgent for partners to transition now.
The NST Series Unified Storage System platform is designed to move network-attached storage (NAS) and iSCSI traffic through a single controller. The unified storage architecture is an extension of the Nexsan E5000 NAS system launched in August 2011.
The NST's three models -- the 5100, 5300 and 5500 -- can run iSCSI and NAS together or either of the protocols alone. A customer can start out with iSCSI or NAS and upgrade to unified storage. The systems don't support Fibre Channel (FC) networking.
See four reasons why solution providers should sell unified storage platforms.
Storage sales growth slows, perhaps because of cloud, dedupe
Although storage systems revenue grew during the fourth quarter of 2011 and for the entire year, that growth slowed compared with previous periods.
According to IDC's worldwide quarterly disk storage systems tracker, external disk systems (networked storage) increased 7.7% year over year to $6.6 billion in the last quarter of 2011. That compares with 16.2% year-over-year growth in the fourth quarter of 2010 and 10.8% growth in the third quarter of 2011.
For the full year, external disk storage revenue increased 10.6% in 2011 compared with 18.3% growth in 2010.
The rate of growth slowed across categories that IDC tracks -- open SAN, NAS and iSCSI. SAN storage revenue grew 14.1% and iSCSI storage revenue increased 16.6% year over year for the fourth quarter of 2011, while NAS disk storage revenue actually declined by 1.2%. In the fourth quarter of 2010, SAN revenue grew 15.1%, iSCSI increased 42.1% and NAS grew 21.7%.
Read the full story on the slowdown of storage sales.
Storage users spared downtime from Microsoft Azure crash
The good news for Microsoft Windows Azure cloud storage customers was found in the last sentence of the third paragraph of the blog update about its "Leap Year outage" last week:
"Windows Azure Storage was not impacted by this issue."
That doesn't mean cloud storage won't be impacted in the future, though. A high-profile cloud outage will have people thinking twice about moving important data to the cloud.
Get advice from your peers on how VARs can offer cloud storage services.
Arkeia, Acronis offer virtual server backup to SMBs
Arkeia Software and Acronis released products this week targeted at virtual server backup for small-to-medium-sized businesses (SMBs). Arkeia launched vmOneStep, a new virtual appliance for VMware, and Acronis released vmProtect 7, an upgrade to its agentless backup tool that can be deployed as a virtual appliance or directly on a Windows server.
Arkeia vmOneStep is a backup server with integrated backup agents for VMware vStorage APIs for Data Protection (VADP). Arkeia's vmOneStep supports vSphere platforms, including vCenter, ESX and ESXi, for image-level backups of virtual machines using VADP. It uses VMware's Changed Block Tracking (CBT) for fast incremental and differential backups, and point-in-time recoveries of virtual machines.
Acronis' vmProtect 7 is now integrated with VMware vCenter for centralized management and includes replication that allows customers to incrementally update a copy of a VM on another host. It also now provides bare metal recovery of the ESXi host, and the ability recover individual mailboxes, emails or contacts in a Microsoft Exchange server.
Check out this expert video on virtual server backup.
ManageEngine adds Amazon S3 backup to its network monitoring software
ManageEngine, a real-time IT management company, recently announced Amazon S3 backup and recovery services for MSP Center Plus, its agent-based network monitoring software. Delivered via API-level integration with CloudBerry Lab Online Backup software, the new feature provides MSP customers with a cloud-based option for backing up and recovering customers' remote Windows servers and desktops.
Additional storage news
Check out last week's storage channel news roundup.
Dig Deeper on Primary and secondary storage