News
Stay informed about the latest enterprise technology news and product updates.
AWS Storage Gateway creates 'co-opetition' with cloud appliances
Headlines: Amazon's AWS Storage Gateway may be creating 'co-opetition' with other cloud appliances, but appears to be lacking in enterprise features.
Storage channel news roundup for Jan. 26 to Feb. 1, 2011
AWS Storage Gateway creates 'co-opetition' with cloud appliances
Amazon's AWS Storage Gateway -- the company's entry into the cloud storage gateway market -- has creators of other cloud appliances and potential customers wondering how the move will affect the market, while questioning Amazon's commitment to adding enterprise features.

Download this free guide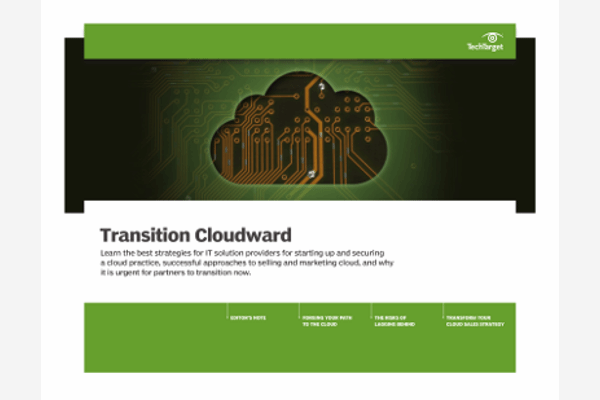 Could Securing Your Channel Business Be Easier? We Can Help.
Download our latest guide to the top strategies solution providers can leverage for starting up and securing a cloud practice, successful approaches to selling and marketing cloud, and why it is urgent for partners to transition now.
Amazon's S3 cloud storage service is among the most popular choices for cloud appliance customers, along with AT&T, Microsoft Windows Azure and Nirvanix. That puts the Amazon gateway that launched Wednesday in "co-opetition" with appliance vendors such as Nasuni, Panzura, StorSimple and TwinStrata, whose customers use S3.
The Amazon Web Services (AWS) Storage Gateway is software that installs on an on-premise server as a virtual appliance. It lets customers back up point-in-time snapshots of on-premise application data to Amazon S3. It can also mirror on-premise data to Amazon Elastic Compute Cloud (EC2) instances.
Check out this tip on the pros and cons of cloud gateways for primary storage.
EMC Isilon aims to make Hadoop storage ready for enterprise
EMC Corp. is tackling Hadoop storage by integrating the open source "big data" analytics framework with EMC Isilon scale-out NAS.
This week, EMC said its Isilon OneFS 6.5 operating system natively supports the Hadoop Distributed File System (HDFS) protocol. The vendor also released EMC Greenplum HD on Isilon. EMC launched Greenplum HD last May, putting Hadoop on its Greenplum data analytics appliance. Now the Greenplum appliance works with Isilon back-end storage.
HDFS support is free for existing EMC Isilon customers, and the EMC Greenplum HD on Isilon is available starting today.
Read this tip to find out how scale-out storage options are increasing with software-based systems.
Quantum closing in on cloud backup
Quantum over the coming months will offer cloud backup through a combination of its DXi deduplication appliances, vmPro virtual backup and … well, that's all we know so far.
Quantum CEO Jon Gacek teased what he called the "cloud offering" several times during the backup vendor's earnings call this week but didn't go deep into details beyond "our vmPro technology, along with our deduplication technology, is the basis of a cloud-based data protection offering that we will be introducing in the coming months." In an interview after the call, he let on that the DXi would provide the backup, and there will likely be a service provider partner.
Find out more about Quantum's plans for cloud backup.
CommVault addresses mobile and laptop data backup, 'big data' backup
CommVault upgraded its Simpana backup software this week, adding remote mobile and laptop data backup, while beefing up its performance for "big data" repositories.
The enhancements are part of Simpana 9 Service Pack 4, which is likely the last major upgrade CommVault will offer until the release of Simpana 10. The Service Pack also includes greater snapshot integration with storage arrays and integration with Microsoft SharePoint to try to improve capacity utilization and backup performance.
The new remote and big data backup features are not unique to CommVault, but the vendor is continuing its strategy of offering all of its protection and management capabilities in one application.
Read the full story on CommVault's addition of remote mobile backup to Simpana.
Tintri and a new breed of VM storage
A new breed of storage device is appearing, driven — as are many things right now — by the needs of server virtualisation and, specifically, the need to speed up I/O to and from the drives.
These are the VM-optimised storage devices from the likes of Nutanix and Tintri, the latter of which I spoke to last week.
Tintri puts everything you need for VMware virtual server storage into one box (except the physical server, which Nutanix includes). Tintri comprises multicore CPUs, 10 Gigabit Ethernet (GbE) network connections, data deduplication, flash drives and SATA spinning disk.
Read the full blog post on Tintri's VM storage device.
Nimbus makes its all-flash storage enterprise ready
All-flash storage array vendor Nimbus Data Systems Inc. makes a move into the enterprise with its first dual-controller multiprotocol storage system. The Nimbus E-Class system is aimed at organizations with enterprise-wide server and desktop virtualization implementations as well as mission-critical applications.
Nimbus began selling all-flash storage systems with the single controller S-Class system in April 2010. The E-Class has non-disruptive automatic controller failover as well as non-disruptive software upgrades, and capacity and file system expansion.
The E-Class system is also twice as dense as the S-Class, scaling to 500 TB per system compared to 250 TB for an S-Class. Both systems use 100% enterprise multi-level cell (eMLC) solid-state drives (SSDs). The E-Class scales to 24 2U enclosures with each enclosure containing 20 TB of flash. The S-System grows to a maximum of one dozen 20 TB enclosures.
Find out more about using MLC flash in enterprise arrays in this tip.
Nimbus CEO: Early SSD technology adoption in the web, cloud
The operators of web- and cloud-based businesses who rely on speedy website access are among the major adopters of SSD technology, the CEO of Nimbus Data Systems told SearchSolidStateStorage.com last week.
"What we're finding is the web infrastructure and cloud infrastructure (industries) seem to be the most aggressive (adopters of SSD). For one, they're typically the most progressive in their decision-making. They're willing to go out there and be forward-thinking in their infrastructure," said Nimbus CEO Tom Isakovich in an interview. "The second is that, once one does (adopt SSD), and has a better product as a result of doing it, the next one has to do it."
Read the full story on the major adopters of SSD according to Nimbus' CEO.
HDD shortages due to Thai floods disrupt enterprise storage planning
After months of warnings, enterprise data storage customers are experiencing the effects of hard drive disk (HDD) shortages caused by last year's floods in Thailand.
The results of the shortfall include higher prices, longer wait times and limited availability of popular drives.
The floods caused roughly a 30% decline in HDD shipments in the fourth quarter of 2011 and spurred many data storage system vendors to raise prices by 5% to 15%. Now, the impact of the HDD shortages is trickling down to business IT organizations that need to purchase disks. Vendors and analysts say the shortages will be temporary, but some storage buyers say they fear the price increases will be permanent.
See the difference between SSD and HDD when fixing performance problems.
Riverbed Technology debuts Riverbed Granite remote storage appliance
Riverbed Technology this week expanded its remote storage capabilities with the introduction of the block-based Riverbed Granite appliance and a new Steelhead model that can work together to consolidate remote office servers, storage and applications.
Riverbed split its wide-area network (WAN) acceleration Steelhead product into two new models, the Steelhead CX and EX. The CX is targeted at customers who want pure WAN optimization, while the EX appliance works alone or in tandem with Riverbed Granite to consolidate branch servers and local storage into the data center.
Read more about remote data replication in this tip.
Tech Data expands reseller offering with VCE
Storage distributor Tech Data Corp. announced that it has joined the VCE partner ecosystem. The VCE Vblock Infrastructure Platforms bring together computing, networking, storage, virtualization, security and management technologies from Cisco, EMC and VMware into a converged infrastructure system. Tech Data has obtained technical certifications and partner designations for the Cisco, EMC and VMware products that comprise the Vblock platforms.
Connectria deploys cloud-based storage solution from Nexsan and CommVault
Nexsan announced that Connectria Hosting, a global managed hosting company, has deployed the Nexsan Flexible Storage Platform to the company's cloud-based backup and recovery services for the enterprise.
With the help of deployment partner Eagle Software, Connectria deployed multiple SAS and SATA storage solutions based on the Nexsan Flexible Storage Platform and chose CommVault Simpana data and information management software to support the backup and recovery operations for the data housed on these systems.
Additional storage news
Check out last week's storage channel news roundup.
Dig Deeper on Data Management Technology Services