News
Stay informed about the latest enterprise technology news and product updates.
UCLA scientists tame file data storage growth with scale-out NAS, pNFS
Headlines: To deal with its file data storage needs, UCLA's Institute for Digital Research and Education bought BlueArc Titans to boost performance and Panasas ActiveStor to tackle bandwidth.
Storage channel news roundup for Jan. 19 to Jan. 25, 2011
UCLA scientists tame file data storage growth with scale-out NAS, pNFS
Because Linux servers with direct-attached Fibre Channel (FC) disks couldn't keep pace with the rapid growth of file data storage required by UCLA's Institute for Digital Research and Education (IDRE) compute cluster users, the institute turned to high-performance network-attached storage (NAS) four years ago.

Download this free guide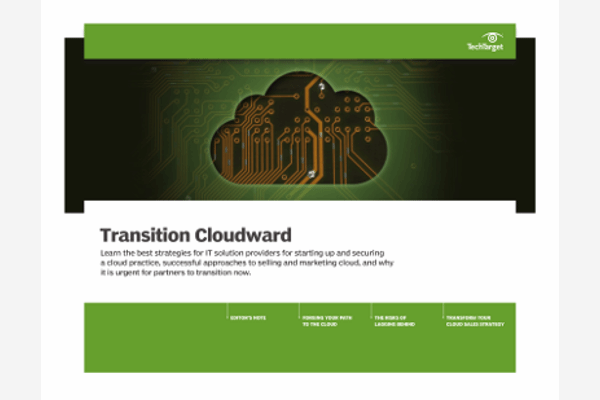 Could Securing Your Channel Business Be Easier? We Can Help.
Download our latest guide to the top strategies solution providers can leverage for starting up and securing a cloud practice, successful approaches to selling and marketing cloud, and why it is urgent for partners to transition now.
By submitting your personal information, you agree that TechTarget and its partners may contact you regarding relevant content, products and special offers.
You also agree that your personal information may be transferred and processed in the United States, and that you have read and agree to the Terms of Use and the Privacy Policy.
IDRE's systems store a broad range of data, from home directories to millions of smallish genomics files, to the huge files of physicists and other scientists doing computational work. UCLA has three BlueArc Corp. Titan 3200 servers from Hitachi Data Systems (HDS) with a total capacity of approximately 500 TB. It also stores 240 TB on a Panasas ActiveStor 11 (PAS 11) and another 160 TB on more expensive PAS 12 systems.
Scott Friedman, chief technologist at UCLA's IDRE, said he plans to add another 540 TB to the PAS 11, which will increase the total capacity of the Panasas system to 940 TB.
Read the full story on UCLA's rapid storage growth and use of scale-out NAS.
All-flash storage array startup WhipTail secures funding
WhipTail, the all-flash storage array vendor tucked away in Whippany, N.J., closed a Series B funding round and revealed a high-profile customer last week.
WhipTail failed to disclose the amount of its funding, but industry sources say it was about $9.5 million. That's not in the same ballpark of the $35 million and $40 million funding rounds its rival Violin Memory secured last year, but WhipTail CEO Dan Crain said his company is nearly profitable with close to 100 employees and is picking up about 20 customers per quarter.
Check out this tip on using MLC flash in enterprise arrays.
Nexenta gets $21 million in funding, seeks world domination with open storage
Nexenta scored a $21 million funding round last week, and the open-source ZFS-based software vendor will use the money to expand globally and market its new virtual desktop infrastructure (VDI) product.
Nexenta's NexantaStor software runs on commodity servers, turning them into multiprotocol storage systems. Nexenta CEO Evan Powell said Nexanta software was sold in $300 million of its partners' hardware deals last year. The startup has more than 250 resellers. The largest is Dell, which uses Nexanta software in the Compellent zNAS product.
Find out how about setting customer expectations around the reality of storage for VDI in this tip.
CommVault expands backup snapshots across storage arrays
CommVault is improving its backup snapshot technology by integrating its SnapProtect product with storage arrays. The backup software vendor yesterday officially launched its IntelliSnap Connect Program, an open development program that allows vendors to integrate CommVault's SnapProtect module with storage arrays.
The program consists of a development kit and an open set of APIs. CommVault executives said Dell, Hitachi Data Systems (HDS) and NetApp fully integrated their arrays with SnapProtect as part of the program. XIO and Nimble Storage are integrating their arrays with CommVault's snapshots. CommVault moved to broaden support further by writing to the open API snap interfaces for arrays from EMC, Hewlett-Packard and IBM.
Read the full story on CommVault's plans to expand its backup snapshots across arrays.
EMC's Tucci looks at data storage trends, spending forecast
EMC Corp. CEO Joe Tucci gave his version of the state-of-the-storage union address Tuesday morning, forecasting that data storage spending will outgrow overall IT spending this year despite choppy economic waters and the impact of a hard drive shortage. He also highlighted the data storage trends he expects will generate the most interest this year.
Speaking on EMC's year-end earnings call, Tucci also said 2012 would not be his last year as the vendor's CEO. At the urging of EMC's board, he has changed his mind about giving up that post at the end of 2012.
Take a look at the full story on EMC CEO Tucci's data storage spending forecast.
Cleversafe prepares 10 exabyte storage system for 'big data'
Cloud storage software vendor Cleversafe Inc. has designed a model for a 10 exabyte storage system for companies expecting to perform "big data" analytics on unstructured information.
Cleversafe said it could deliver on its 10 exabyte vision within a few years. Its design includes portable, self-contained data centers dispersed across 16 sites. Each site would hold 35 data centers for a total of 560 portable data centers and 4.7 million disk drives. Each portable data center would hold 21 racks of 189 storage nodes, while each node would contain 45 3 TB SATA drives. The data centers would have an ingest rate of almost 1TB per second.
Read more of the story on Cleversafe's plans for a 10 exabyte storage system.
Additional storage news
Check out last week's storage channel news roundup.
Dig Deeper on Network-Attached Storage (NAS)