News
Stay informed about the latest enterprise technology news and product updates.
Sundance skips the SAN, installs StorSimple cloud storage gateway
Headlines: To deal with growing data, the Sundance Institute moved its primary storage, archives and backups to the cloud with a StorSimple public storage cloud gateway.
Storage channel news roundup for Jan. 5 to Jan. 11, 2012
Sundance skips the SAN, installs StorSimple cloud storage gateway
Instead of buying an enterprise-grade storage-area network (SAN), the Sundance Institute chose a StorSimple public cloud storage gateway to help keep up with rapid data growth generated during an 11-day period every year.

Download this free guide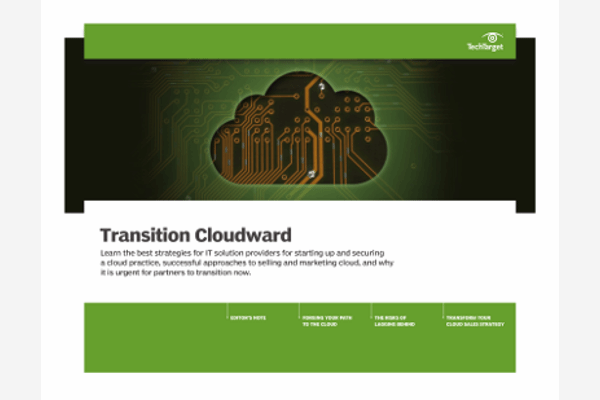 Could Securing Your Channel Business Be Easier? We Can Help.
Download our latest guide to the top strategies solution providers can leverage for starting up and securing a cloud practice, successful approaches to selling and marketing cloud, and why it is urgent for partners to transition now.
By submitting your personal information, you agree that TechTarget and its partners may contact you regarding relevant content, products and special offers.
You also agree that your personal information may be transferred and processed in the United States, and that you have read and agree to the Terms of Use and the Privacy Policy.
Sundance turned to a StorSimple iSCSI cloud appliance in mid-2011 instead of adding a separate SAN for primary storage, archiving and backup. The organization's storage is mostly high-definition video files and photos, and its capacity increases as much as 30% every year during the 11-day Sundance Film Festival.
Justin Simmons, associate director of technology services, said the Sundance Institute is bracing for a significant boost in data when the festival opens Jan. 19. He said the non-profit has approximately 25 TB of video files, 5 TB of photos, and 2 TB of data of Microsoft SharePoint files and documents. He expects that to grow by another 10 TB during the upcoming Sundance Film Festival and hit a total of 60 TB within the next year.
Check out the full story on Sundance's installment of StorSimple's cloud storage gateway.
OCZ grabs Sanrad for PCIe caching software
Not surprisingly, the first storage acquisition of 2012 involved solid-state flash. That technology figured prominently in 2011 acquisitions, and the trend is certain to accelerate this year with larger companies buying technology from smaller vendors.
OCZ Technology kicked off the year's M&A Monday by dropping $15 million on privately held Sanrad. The acquisition is part of OCZ's push into enterprise flash, specifically PCIe cards.
Find out how using SSD in a cache appliance can improve storage performance in this tip.
Dell launches DR4000, its first backup deduplication appliance
Dell today unveiled the DR4000, the vendor's first internally developed backup deduplication appliance. Although a late arrival in the disk backup market, Dell is looking to compete with deduplicating backup targets from EMC Data Domain, Quantum and Hewlett-Packard.
The DR4000 uses inline deduplication and compression technology from Ocarina Networks, the data reduction startup that Dell acquired last year. Dell said it will ship the DR400 beginning this quarter. Customers can purchase the DR4000 with 3.6 TB raw (2.7 TB after RAID), 7.2 TB raw (5.4 TB post-RAID) or 12 TB raw (9 TB post-RAID). Dell claims logical capacities of 35 TB, 70 TB and 130 TB by projecting a 15-1 dedupe and compression ratio, although those ratios vary depending on the types of data that customers back up.
Read about how to develop a backup data reduction strategy for your customers in this tip.
Dell upgrades Compellent's capabilities
Along with launching a new backup deduplication appliance, Dell made other storage additions and enhancements today in London at its first Europe Dell Storage Forum. The biggest rollout besides the DR4000 backup box was an upgrade to Compellent Storage Center 6.0 software with new 64-bit support that doubles memory size.
The upgrade – along with extended VMware support – is part of Dell's strategy to make the Compellent Fibre Channel SAN platform a better fit for the enterprise.
Check out the full blog post on Dell's upgrade of its Compellent software.
Dell storage: 'Big hat, no cattle'?
It's Dell's first Storage Forum in Europe here in London, which — in these recession-hit times – is a move borne of confidence for the future.
At the morning keynote Darren Thomas, VP and general manager of Dell's storage division, sought to underline that confidence with a narrative of Dell's transition from EMC reseller to storage vendor with its own technology.
Thomas expounded a vision of the future of 'fluid data' and a seamlessly integrated product portfolio. At one point he told the audience of a Texan aphorism — 'big hat, no cattle' – when making reference to competitors.
But what exactly does Dell have in the storage stockyard right now?
Read the rest of the blog post on Dell's first Storage Forum in Europe.
Nimbus Data Systems launches FlashPoint Partner Program
Nimbus Data Systems Inc. this week announced its FlashPoint Partner Program, where a business development team that works with business partners to identify new opportunities and work with them on accelerating sales and technical engagements with prospective customers. Nimbus employs all-inclusive pricing for its HALO software. The software includes unified iSCSI, Fibre Channel, NFS, Infiniband and CIFS capability; snapshots, replication, cloning, thin provisioning, encryption and more. Nimbus support programs also offers two support levels, Basic and Premium, with a flat price per system.
Additional storage news
Check out last week's storage channel news roundup.
Dig Deeper on Data Storage Management