News
Stay informed about the latest enterprise technology news and product updates.
EMC has huge appetite for Big Data technology
Headlines: EMC's president says the company will continue to rapidly acquire companies, but it's looking more for Big Data technology than data storage.
Storage channel news roundup for Oct. 20 to Oct. 26, 2011
EMC has huge appetite for Big Data technology
EMC Corp.'s 2012 acquisition strategy revolves more around Big Data technology than mainstream data storage. The vendor is chasing data analytics, security and the management that ties the pieces together, according to EMC president Pat Gelsinger.

Download this free guide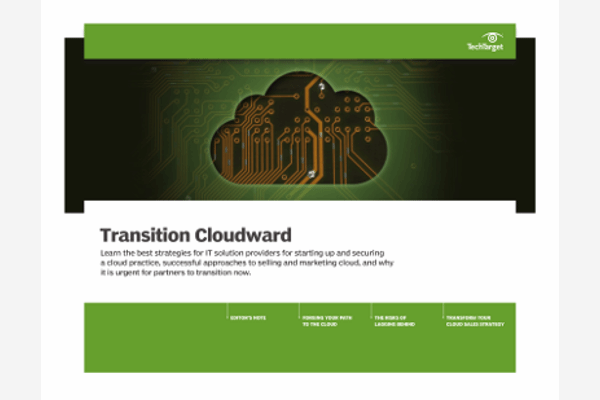 Could Securing Your Channel Business Be Easier? We Can Help.
Download our latest guide to the top strategies solution providers can leverage for starting up and securing a cloud practice, successful approaches to selling and marketing cloud, and why it is urgent for partners to transition now.
Speaking at an EMC Forum in Foxborough, Mass., last week, Gelsinger said EMC would continue to be an active acquirer. He identified the data analytics market as the biggest focus of the company's spending.
"This is a $70 billion industry, growing at 15% to 20% a year," he said of Big Data. "It's big and it's growing very rapidly."
Read the full story on the focus of EMC strategy on Big Data.
HDS rolls out private cloud services, eyes Big Data
Hitachi Data Systems is putting technology from its BlueArc and Parascale acquisitions to work in its private storage cloud and Big Data plans.
HDS this week upgraded its Cloud Service for Private File Tiering, and rolled out its Cloud Service for File Serving and Cloud Service for Microsoft SharePoint Archiving as part of its infrastructure cloud strategy.
HDS also outlined its vision for its infrastructure, content and information clouds. BlueArc's NAS products will provide file storage capabilities in the infrastructure and content clouds while Parascale Cloud Storage (PCS) fits into the content and information clouds.
Check out this tip on public vs. private vs. hybrid cloud storage for VARs.
EMC changes the channel on Dell sales
EMC president Pat Gelsinger said EMC had already moved on by the time Dell officially ended its storage partnership last week after a 10-year relationship.
Gelsinger said it was no secret that EMC's partnership with Dell had to drastically change or end after Dell expanded its storage presence by acquiring EMC competitors EqualLogic and Compellent.
Read more of the story on EMC's changing channel strategy.
Nasuni extends cloud NAS filer with multi site capabilities
Cloud NAS startup Nasuni Corp. this week began offering multisite capabilities for its Nasuni Filer appliances, allowing multiple controllers to have live access to the same volume of snapshots through cloud service providers.
The multisite features give users at different locations access to the same storage volume and the ability to share files simultaneously.
Nasuni will continue to offer its Nasuni Filer as either a virtual appliance or a physical 3 TB or 6 TB box that supports NFS and CIFS with Microsoft Active Directory integration. The Filers have full read/write capability and take snapshots of data.
Find out how to solve key problems with NAS filer implementation.
Quantum adds SMB NAS and backup, eyes the cloud
Quantum this week took a break from upgrading its DXi data deduplication platform, and rolled out its first Windows-based NAS systems and expanded its RDX removable hard drive family. The SMB products include a new backup deduplication application.
Quantum launched two NAS boxes based on the Windows Storage System OS. The NDX-8 is an 8 TB primary storage system that uses an Intel Core i3 3.3 GHz processor and 4 GB of RAM with four 2 TB drives. The NDX-8d is a backup system based on the same hardware with Quantum's Datastor Shield agentless backup software with data deduplication installed. The NDX-8d includes licenses to back up 10 Windows desktops or laptops and one Windows server or virtual server.
Read the full story on Quantum's rollout of SMB NAS and backup dedupe.
Additional storage news
Check out last week's storage channel news roundup.
Dig Deeper on Data Management Technology Services