News
Stay informed about the latest enterprise technology news and product updates.
Astute Networks launches flash appliance to speed performance of VMware storage
Headlines: Astute Networks rolls out ViSX G3 flash appliance designed to improve the performance of storage for heavy-duty VMware environments.
Storage channel news roundup for Aug. 11 to Aug. 17, 2011
Astute Networks launches flash appliance to speed performance of VMware storage
Astute Networks this week introduced its network-based ViSX G3 flash appliance, which improves storage performance in heavily virtualized VMware environments. The Astute device offloads I/O traffic from servers and uses flash memory to store more frequently accessed data while routing less frequently used data to hard disk drives in back-end storage.

Download this free guide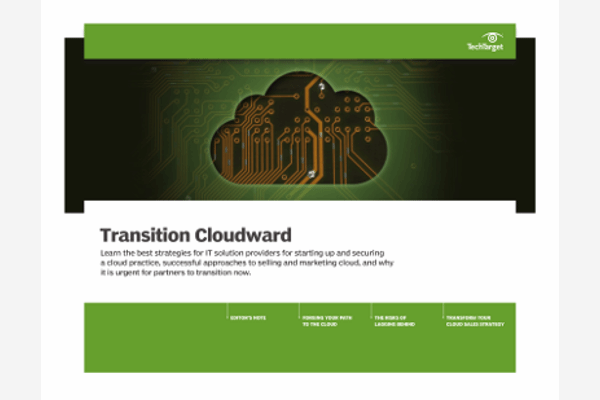 Could Securing Your Channel Business Be Easier? We Can Help.
Download our latest guide to the top strategies solution providers can leverage for starting up and securing a cloud practice, successful approaches to selling and marketing cloud, and why it is urgent for partners to transition now.
By submitting your personal information, you agree that TechTarget and its partners may contact you regarding relevant content, products and special offers.
You also agree that your personal information may be transferred and processed in the United States, and that you have read and agree to the Terms of Use and the Privacy Policy.
The ViSX G3 comes in three models, each with two blades that hold 12 enterprise multi-level cell (eMLC) flash modules. The ViSX G3 1200 contains 1.2 TB of flash, the 2400 supports 2.4 TB of flash, and the 4800 supports 4.8 TB of flash. The 3U devices plug into a Gigabit Ethernet (GbE) or 10 GbE network, and the appliances appear to the virtual machines as an iSCSI connection.
Read the full story on Astute's launch of its ViSX G3 flash appliance.
Zerto closes funding round to chase virtual machine replication
The founders of Zerto are hoping to replicate the success they had with Kashya Networks, and they have $15 million in new funding to help fuel their plans.
Zerto was founded by the Kedem brothers, CEO Ziv and CTO Oded. They sold Kashya to EMC for $153 million in 2006. That turned into a good deal for EMC, which has had success with the RecoverPoint fabric-based replication product it got from Kashya. Zerto takes a different approach to replication. Instead of fabric or host-based replication for applications, Zerto Virtual Replication is a virtual appliance designed to work with VMware virtual machines.
Read more about tools for virtual machine-based disaster recovery in this tip.
InMage changes CEO, cultivates partner-friendly image
InMage Systems has a new boss. He's the same as its first boss.
InMage founder Kumar Malavalli moved back into the CEO role this week, replacing John Ferraro at the helm of the disaster recovery software vendor. Malavalli, who also founded switch maker Brocade, served as InMage CEO from its start in 2002 to when Ferraro took over in 2006. As chairman during Ferraro's term as CEO, Malavalli remained active in InMage's setting business strategy along with fellow founder and current InMage CTO Rajeev Atluri.
Read the full story on InMage's new CEO and partner-friendly image.
Xiotech changes name, improves ISE
Xiotech is changing its name to XIO (pronounced X-I-O) as part of an overhaul that really started in 2008 when it launched its ISE architecture and accelerated with the appointment of Alan Atkinson as CEO in late 2009.
The name change becomes official next week, but Atkinson is briefing people in the industry about the move. With the new name, XIO will sharpen its focus on solid-state storage and gear up for a possible run at going public.
Check out this tip on whether solid-state drives are a good fit for your customers.
Astute Networks signs distribution agreement with Tech Data
Astute Networks this week signed a distribution agreement with Tech Data Corp. to extend access of its ViSX G3 solution to U.S. businesses. ViSX G3 is a turnkey solution for VMware infrastructure that accelerates server and desktop virtualization by delivering flash memory to virtual machines over standard LANs.
CommVault launches service provider program for cloud-based data protection and archiving
CommVault this week introduced a service provider partner component of its North American PartnerAdvantage program to assist MSPs in streamlining the deployment and management of cloud-based services via CommVault Simpana. The PartnerAdvantage Service Provider program offers MSPs a platform for delivering managed backup, managed archive for space management, managed email for e-discovery and compliance, and disaster recovery and business continuance services.
Additional storage news
Check out last week's storage channel news roundup.
Dig Deeper on Storage Virtualization