News
Stay informed about the latest enterprise technology news and product updates.
Dell turns EqualLogic into multiprotocol storage with clustered NAS
Headlines: Dell adds Exanet file system into EqualLogic iSCSI SAN through new FS7500 appliance that turns EqualLogic into multiprotocol storage but requires adding a separate box.
Storage channel news roundup for June 2 to June 8, 2011
Dell turns EqualLogic into multiprotocol storage with clustered NAS
ORLANDO, Fla. -- Dell Inc. this week launched an appliance that brings clustered NAS capabilities to its EqualLogic iSCSI SAN, turning it into multiprotocol storage. The EqualLogic FS7500 uses technology that Dell acquired from Exanet in early 2010 to support file and block storage in its midrange storage platform.

Download this free guide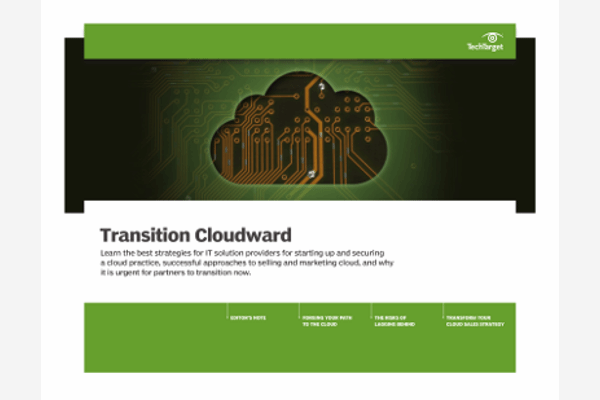 Could Securing Your Channel Business Be Easier? We Can Help.
Download our latest guide to the top strategies solution providers can leverage for starting up and securing a cloud practice, successful approaches to selling and marketing cloud, and why it is urgent for partners to transition now.
The announcement came at the first Dell Storage Forum conference. The news was no surprise because Dell revealed it was working on adding Exanet's scale-out file system to EqualLogic storage more than a year ago. It added Exanet NAS capabilities to its PowerVault SMB platform in April and its roadmap calls for adding the file system to the Compellent Fibre Channel SAN platform it acquired in February.
See this tip on four reasons to sell network unified storage platforms.
HP upgrades EVA midrange SAN array, launches virtualization bundles
Hewlett-Packard (HP) Co. updated its storage portfolio this week with a new EVA midrange SAN array, a set of pre-packaged storage and compute bundles tuned for virtual environments, and a new Windows-based NAS. The company also laid out plans for a building-block approach to future data storage products that would involve more bundling of its storage, server and networking products.
The launch came during the opening day of HP's Discover 2011 user show in Las Vegas. HP didn't upgrade its flagship 3PAR storage platform that it paid $2.35 billion to acquire last year, although 3PAR storage is included in one of its new VirtualSystem bundles.
Read the full story on HP's launch of a new midrange SAN array.
Private cloud service lets schools share storage, data protection
Two years ago, hundreds of K-12 school districts in Illinois decided to band together to pool resources and stretch their limited IT budgets. The result was IlliniCloud, a private cloud service that provides, data protection, data archiving and compute infrastructure for nearly one-third of the state's school districts.
Jason Radford, system administrator for the Bloomington school district, seeded the IlliniCloud when he came to the district in 2008 from an Internet publishing company. Seeing scant resources and a state budget shortfall, Radford networked with IT professionals in other districts who were in a similar bind.
"The idea was born out of the economy of scale you can get with hundreds of districts, all with meager budgets, pooling their money to form a cloud resource," he said.
Read the full story on IlliniCloud and then check out this handbook on private cloud storage hardware and software.
Dell execs talk scale-out NAS, data reduction, 3PAR, EMC
ORLANDO, Fla. -- Dell Inc. has transformed its data storage portfolio since early 2010 with the acquisitions of array vendor Compellent Technologies, data reduction specialist Ocarina Networks and scale-out NAS IP from Exanet. In that time it also lost a bidding war against Hewlett-Packard (HP) for 3PAR and began to wind down its long storage partnership with EMC. At Dell Storage Forum 2011 this week, SearchStorage.com spoke about those developments with Dell storage vice president Darren Thomas, Dell Compellent president Phil Soran and executive director of Dell storage product management Brett Roscoe.
Read the interview on Dell's data storage developments.
Riverbed upgrades Whitewater cloud storage gateways
Riverbed Technology this week upgraded its Whitewater appliances with two new small- to medium-sized business (SMB) models and a midrange device, and recast them as public cloud storage gateways rather than storage accelerators.
Riverbed's new 510 and 710 cloud storage gateway models (designed for SMBs) are a follow up to the company's Riverbed Whitewater 1000 and 2000 cloud storage models launched last November. A new 2010 model replaces the 2000, and is aimed at the midrange as well as small enterprises.
When launched last November, Riverbed called Whitewater devices cloud storage accelerators but decided to change the marketing around them to avoid confusing the gateways with its Steelhead WAN optimization appliances.
"We found there was confusion," said Eric Thacker, Riverbed's director of product marketing. "We wanted to make sure that Whitewater wasn't considered another flavor of WAN acceleration."
Read more about cloud gateways in this tip.
Additional storage news
Check out last week's storage channel news roundup.
Dig Deeper on Primary and secondary storage