News
Stay informed about the latest enterprise technology news and product updates.
Texas Memory Systems, GridIron launch solid-state storage devices
Headlines: The market is expanding for solid-state storage devices used to accelerate SAN traffic by boosting application performance.
Storage channel news roundup for May 19 to May 25, 2011
Texas Memory Systems, GridIron launch solid-state storage devices
The solid-state storage devices market expanded last week with newcomer GridIron Systems Inc. lifting the covers on its SAN acceleration device and Texas Memory Systems (TMS) Inc. launching a PCIe solid-state drive (SSD) device based on new controller technology.

Download this free guide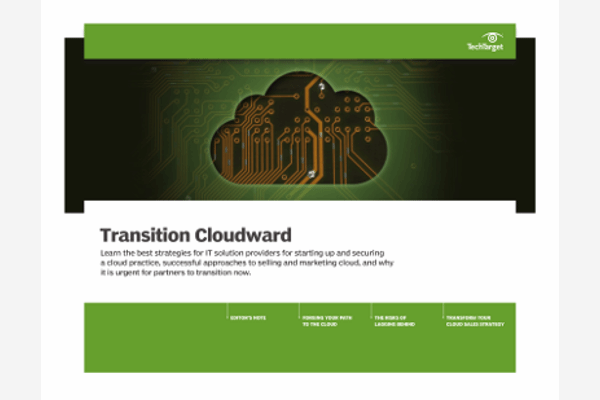 Could Securing Your Channel Business Be Easier? We Can Help.
Download our latest guide to the top strategies solution providers can leverage for starting up and securing a cloud practice, successful approaches to selling and marketing cloud, and why it is urgent for partners to transition now.
These releases follow other news that suggests the SSD market is heating up. EMC Corp. last week previewed its Project Lightning PCIe-based SSD product, as well as plans for all-SSD enterprise and midrange storage systems. On Monday, SanDisk Corp. acquired SSD startup Pliant Technology for $327 million.
GridIron TurboCharger will compete with SAN acceleration devices from Dataram, Texas Memory Systems, Violin Memory, Whiptail and others. TMS' new RamSan-70 (code-named "Gorilla") competes with Fusion-io and LSI, and will eventually compete with EMC's server-based PCIe SSD product.
Read this tip on the pros and cons of PCIe SSD.
Cloud gateway appliances ease SMBs into cloud storage systems
With more organizations—especially SMBs—interested in cloud storage, a number of vendors have come to market with what's been dubbed cloud storage gateways to simplify the transition to a cloud storage system. Cloud gateway appliances offer not only an interface to the cloud that is largely automated, but they also provide a layer of management that can even help determine what storage should be sent to the cloud and what storage should be held locally.
For instance, notes Andrew Reichman, principal analyst at Forrester Research, SMBs can face a daunting array of work in figuring out how to integrate their data operations directly with the cloud. "They would need to have the staff available to write to all the cloud APIs," he noted, since most of the major providers have unique object-based approaches to storage. "That's not rocket science, but it does have some complexity and most smaller companies won't want to tackle that," he added.
"Most service providers offer REST interfaces into their cloud, but applications don't talk to REST interfaces; they use standard interfaces like FC [Fibre Channel], iSCSI, CIFS or NFS. The gateways provide a translation layer between these standard interfaces and cloud provider's REST API," added Terri McClure, an analyst at Enterprise Strategy Group.
Read the full story on cloud storage gateways for SMBs.
Druva adds laptop security via encryption, device tracking
Druva Software said it has the solution to a stolen laptop problem that researchers say costs companies a combined $2 billion a year: software that can encrypt, track down and remotely wipe sensitive data from missing machines.
Druva last week rolled out an optional SafePoint module for its inSync data backup software. SafePoint offers 256-bit AES encryption for laptop security, and uses the Global Positioning System (GPS) to track down a missing laptop and remotely wipe all the data on the machine. The software can destroy laptop data either when the device goes online, or if the user fails to correctly login to the device beyond a predetermined limit, Druva CEO Jaspreet Singh said.
"We see a lot of changes in people's perception of data protection in laptops and mobile devices lately, and things are changing now. Twenty-eight percent of corporate data relies exclusively on laptops, and it is high time people realize that," Singh said.
Read more on Druva's roll-out of a laptop encryption module for data backup.
IO Turbine addresses IO performance for VMware virtualized servers
Startup IO Turbine Inc. unveiled its Accelio software designed to help mitigate IO performance latency problems in VMware environments by offloading IOPS from primary storage to flash.
Accelio, still in beta, works with virtual machines that use locally attached solid-state storage or flash. Accelio installs on VMware servers, identifies the highest-priority data and offloads IOPS from primary storage to flash. IO Turbine claims Accelio will increase application performance and throughput at each virtual machine and remove IO bottlenecks in VMware environments without requiring more spindles or SSDs.
"We are trying to get the flash as close to the IO request as we can," said Bruce Clarke, IO Turbine's vice president of technical marketing and support. "We are trying to get the IO to not ever leave the physical host. If we can do that, you get much greater performance. So technically we are moving the flash into the guest."
Read this tip on how to choose a storage networking protocol option for VMware.
CompTIA introduces MSP Partners Trustmark business-level credential
Trade association CompTIA Inc. recently introduced the MSP Partners Trustmark, a business-level credential for managed IT services providers. To receive this credential, an MSP must complete an online application providing details on its internal organizational structure. Companies must also agree to a code of conduct that requires a commitment to conducting advertising, service delivery and overall business practices in an ethical manner.
Overland Storage announces enhancements to channel partner program
Overland Storage Inc., a data protection appliance provider, has announced enhancements to its FastTrack Partner Program. These include deal registration with automated approvals and tracking; an integrated Overland Partner Portal built on a Salesforce.com architecture; partner access to customized resources, content, contests and promotions; access to Overland "PartnerCasts," a series of educational webinars developed for partners; lead generation opportunities and marketing program support; and field sales, field engineering and inside sales resources.
Additional storage news
Check out last week's storage channel news roundup.
Dig Deeper on Primary and secondary storage