News
Stay informed about the latest enterprise technology news and product updates.
EMC Vplex expanded for active-active storage at EMC World 2011
Headlines: EMC Vplex active-active storage platform adds a Geo version to move data non-disruptively over long distances; adds data moving capabilities to VNX and VMAX.
Storage channel news roundup for May 12 to May 18, 2011
EMC Vplex expanded for active-active storage at EMC World 2011
LAS VEGAS -- The biggest product launch at the second day of EMC World Las Vegas 2011 involved a member of the EMC Vplex active-active storage platform first promised at EMC World Boston 2010.

Download this free guide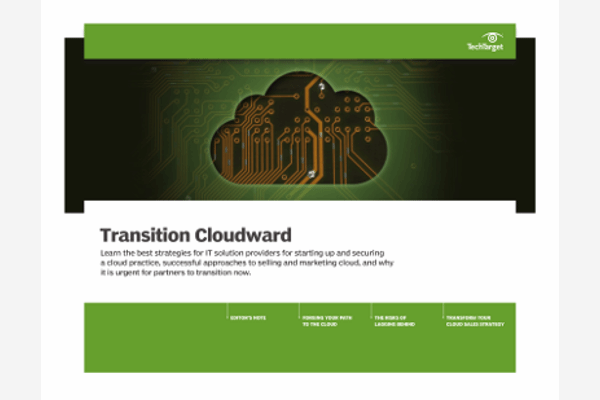 Could Securing Your Channel Business Be Easier? We Can Help.
Download our latest guide to the top strategies solution providers can leverage for starting up and securing a cloud practice, successful approaches to selling and marketing cloud, and why it is urgent for partners to transition now.
Last year, EMC rolled out its Vplex active-active storage for moving data across data centers. The plan was for four versions. The first two -- Vplex Local (migrate data within a data center) and Vplex Metro (link clusters up to 100 kilometers apart) -- were available in 2010. The other two -- Vplex Geo (asynchronous replication over thousands of miles between two data centers) and Vplex Global (ability to relocate data across multiple global locations over synchronous and asynchronous distances) -- were scheduled for early this year.
Read the full story on EMC's Vplex active-active storage.
Isilon clustered NAS customers talk big-data challenges at EMC World
LAS VEGAS -- With so much talk about big data heard at EMC World Las Vegas 2011, customers of EMC's Isilon clustered NAS product spoke about what the term means to them and what challenges the technology brings.
Isilon was one of two vendors EMC acquired last year under its big-data banner. Analytics vendor Greenplum was the other. Isilon customers commonly store close to a petabyte or more of file data, and several said their data capacity grows by terabytes daily.
"I've been with the company 10 years now. We've never not been dealing with big data," said Paul English, director of IT at 3Tier, which provides weather forecasts and historical patterns that help renewable-energy companies around the world determine the best sites for wind farms.
Read the entire story on Isilon clustered NAS.
Cirtas Systems customers look for exit ramp from hybrid cloud storage
Cirtas Systems Inc.'s customers discovered the cloud can have frustrating consequences last month when the hybrid cloud storage appliance vendor pulled its products off the market. Cirtas' sudden retreat left customers with encrypted data stored with off-site cloud storage providers.
David Jones, IT operations manager at Alexza Pharmaceuticals Inc. in Mountain View, Calif., said Cirtas surprised him last month with a telephone call to inform him that the company was leaving the market and wanted to buy back his equipment. That left him with little choice.
"It's suicide to keep it," he said, "because you have no support on the device."
But Alexza couldn't simply return the block-storage Cirtas Bluejet Cloud Storage Controller it had been using for approximately a year as a beta customer and then as a paying customer. The pharmaceutical company would first need to back out the 300 GB of second-tier data stored with its Amazon.com Inc. Simple Storage Service (S3), because only the Cirtas appliance could decrypt and uncompress the data.
Read the full story on Cirtas' exit from cloud storage and then read this tip on cloud storage services via a hybrid system approach.
IBM: Private cloud storage requires storage virtualization, tiering
IBM executives say rather than looking to improve storage efficiencies by moving to private cloud storage, companies must make their storage more efficient before taking the leap to the cloud. That requires using technologies such as storage virtualization, data reduction, automated tiering and thin provisioning.
At its IBM Storage Innovation Executive Summit last week in New York City, IBM execs outlined the types of best practices companies should follow as a path to get to the private cloud. Those practices include implementing the latest storage management features, and internal IT organizations must also define the right service-level agreements (SLAs) before moving to the cloud.
Check out this handbook on private cloud storage software and hardware.
Autonomy buys Iron Mountain's cloud backup services, other digital assets
U.K.-based Autonomy Corp. took a large step into the cloud backup service market Monday when it acquired Iron Mountain's digital data storage business for $380 million. The deal hastens Iron Mountain's exit from cloud storage, which began last month when it closed its file and archiving public cloud storage services.
When the deal closes—probably in late June or July—Autonomy will take over Iron Mountain's Connected cloud-based backup and recovery for PCs and Macs, LiveVault cloud backup for servers and application data, NearPoint on-premise email and SharePoint archiving, and its e-discovery/compliance suite of products and services.
Read about the pros and cons of cloud backup technologies.
QuorumSoft launches Alike MSP Advantage for backup and disaster recovery
QuorumSoft, provider of deduplicating archival solutions, announced Alike MSP Advantage, a program that expands the opportunity for managed service providers (MSPs) to offer their customers backup and disaster recovery services.
Alike enables image-level backups of Citrix XenServer virtual machines (VMs) while they are running. The company said Alike features an Offsite Recovery module, which lets users choose the data to vault off-site, and Enhanced Replication for synchronizing a virtual machine on a schedule using delta-only transfers and stream compression. Enhanced Replication can be used on a LAN, WAN or cloud-based servers.
Avnet rolls out FlexPod with Cisco and NetApp for data center solutions
Avnet Technology Solutions announced a joint initiative, called FlexPod Services, with Cisco and NetApp to provide validated data center solutions based on the FlexPod for VMware design architecture, which includes components from NetApp, Cisco and VMware.
The FlexPod Services include pre-sales support, consolidated quoting, single-order capability, assembly and testing, "ship complete," and tracking. Additionally, partners will be able to work hand-in-hand with dedicated Avnet, Cisco, NetApp and VMware teams. Partners can work with Avnet's solutions architects to provide them with hardware integration, software configuration, packaging and logistics, and maintenance services.
Hitachi enhances channel partner program and expands partnership with SAP
HDS announced enhancements to its channel program, TrueNorth Partner Program, adding a specialization program that offers virtualization, file and content services, and data management and discovery.
Additional storage news
Check out last week's storage channel news roundup.
Dig Deeper on Primary and secondary storage