News
Stay informed about the latest enterprise technology news and product updates.
EMC's Project Lightning embraces server-side flash SSDs
Headlines: The opening day of EMC World Las Vegas 2011 featured a surprising launch of flash solid state on a PCIe card for servers from the world's largest storage vendor.
Storage channel news roundup for May 5 to May 11, 2011
EMC's Project Lightning embraces server-side flash SSDs
LAS VEGAS, Nev. -- Despite themes of big data and the cloud, the biggest surprise on the first day of EMC World Las Vegas 2011 Monday was Project Lightning, a server-side flash product that represents a new direction for the vendor's solid-state drive (SSD) strategy.

Download this free guide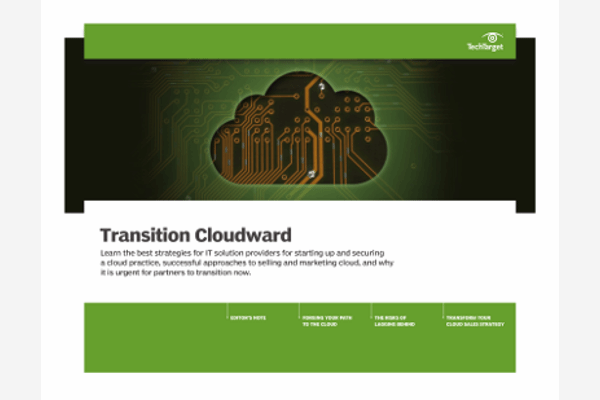 Could Securing Your Channel Business Be Easier? We Can Help.
Download our latest guide to the top strategies solution providers can leverage for starting up and securing a cloud practice, successful approaches to selling and marketing cloud, and why it is urgent for partners to transition now.
Project Lightning is a code name and the product is still months away from launching, but it appears similar to Fusion-io's successful PCIe flash card. Pat Gelsinger, EMC's president, said the company would integrate its FAST automated tiering software with the PCIe card to optimize data placement.
"EMC will enter the server flash business," Gelsinger said during his keynote address Monday. "We'll take flash and put it in the server so it acts as server DAS or server cache."
Read the full story on EMC World Las Vegas and then read more on solid-state drives in this tip.
Deduplication appliances under pressure from dedupe software
Data deduplication software has become more reliable and affordable in recent years, giving users of deduplication hardware a viable alternative. But, according to users and analysts, deduplication appliances are still a good choices for many types of organizations.
According to Rachel Dines, an analyst at Forrester Research, in general dedupe hardware appeals more to larger companies that are storing more massive amounts of data and need fast throughput. "The dedupe algorithms in the software and hardware solutions are really very similar," she said. On the other hand, Dines said dedupe hardware is optimized to support data deduplication; it isn't just a disk with software running on it. Dedupe appliances also have the advantage of usually being self-managing, so they can do their own provisioning. And, many of them have different ways of interfacing with backup software.
Watch this video for info on deduplication software.
IBM adds Linear Tape File System support, larger drives to tape libraries
IBM Corp. this week made enhancements across its data protection portfolio, adding Linear Tape File System (LTFS) support to tape libraries, a 4 TB TS1140 tape drive and a new shuttle technology that lets the TS3500 library scale to 2.7 exabytes of compressed data.
IBM also improved its mainframe and open-systems virtual tape library (VTL) products, and tweaked its data protection features in its Scale Out Network Attached Storage (SONAS) and IBM Information Archive systems.
Check out our tip on how LTFS is positioning the tape format for archiving.
Eye clinic achieves high-availability systems, virtualization sans SAN
Like most health care organizations, storage is critical to Central Plains Eye MDs. The clinic's data is growing rapidly and requires high-availability systems and long-term retention. Unlike larger firms, it does this without a physical storage area network (SAN) or a dedicated IT staff.
The office, which is based in Wichita, Kan., relies heavily on digital electronic imaging records that need to be retained long term. To protect those records and the clinic's business records, Central Plains Eye MDs uses 24 Dell servers and Dell PowerVault direct-attached storage (DAS) with Microsoft Hyper-V hypervisors and VM6 Software to replicate between servers.
Central Plains Eye MDs began in 2008 with two doctors, eight employees and about 600 patients. Practice manager John Pederson said it now has 16 employees and about 2,400 patients. Although Pederson still manages all of its technology, he doesn't consider that his main job. He had 16 years experience working in IT before joining the clinic, but his main role now is to drive the bottom line.
Read the full story on Central Plains Eye MDs.
Symantec CEO sounds off on cloud data backup, virtualization, acquisition strategy
LAS VEGAS, Nev. – Symantec Corp. CEO Enrique Salem sat down for an in-depth interview last week at Symantec Vision. Among the topics he addressed were the increasing role of cloud data backup in data protection, Symantec's appliance strategy, how the company has developed a closer partnership with VMware, and whether there are any plans to sell off its data backup and storage management businesses.
SearchDataBackup: How pervasive do you see the cloud becoming for backup and how disruptive might this be to your role in traditional storage?
Salem: We are seeing a lot of customers who have an interest in online backup being part of their overall disaster recovery solution. But there is such a high volume of data that we aren't seeing a move that says that there won't be any other form of backup data.
In small businesses with a small amount of data, we are seeing an opportunity where [cloud data backup] will be their primary backup, but for most companies it will be a combination of on-premise backup and then cloud-based for high availability or disaster recovery. You will see solutions from us that are hybrid with local storage that connects to the cloud. We see that as part of how it will unfold because if you move a lot of volume, you may not have the same level of performance from cloud-based backup.
Read the full interview with Symantec's Salem and then read this article for more on cloud backup.
Additional storage news
Check out last week's storage channel news roundup.
Dig Deeper on Primary and secondary storage