News
Stay informed about the latest enterprise technology news and product updates.
Pancetera expands virtual machine backup capability
Pancetera Unite's SmartMotion capability lets users push out data to any NAS target without the need for staging servers and virtual machine backup software.
Storage channel news roundup for April 14 to April 20, 2011
Pancetera expands virtual machine backup capability
Pancetera Software Inc. added a software function called SmartMotion to its Pancetera Unite virtual appliance to help simplify virtual machine backup, as well as replicating and recovering virtualized data either locally or from the cloud.

Download this free guide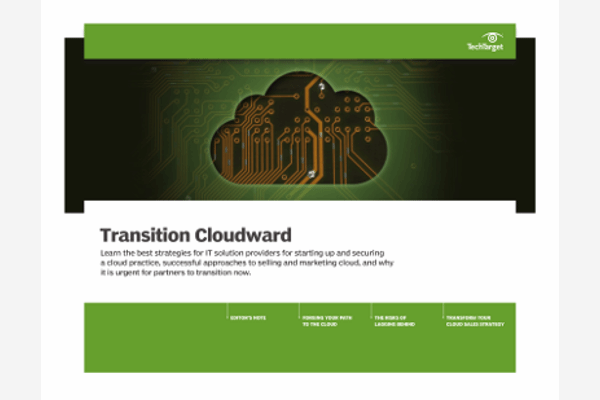 Could Securing Your Channel Business Be Easier? We Can Help.
Download our latest guide to the top strategies solution providers can leverage for starting up and securing a cloud practice, successful approaches to selling and marketing cloud, and why it is urgent for partners to transition now.
SmartMotion is the third core technology of Pancetera's Unite data protection platform for virtual machines. It follows SmartRead and SmartView, which were included when the startup launched Unite last August.
Pancetera Unite is a file system access layer that provides access to virtual machines in their virtual infrastructure in a single namespace. SmartView provides a single access point across SAN, NFS and direct-attached storage (DAS) systems.
Read about these virtual machine best practices.
EMC Avamar data dedupe software gets a DD Boost
EMC Corp. upgraded its Avamar client-side data dedupe software, adding support for Data Domain target-side dedupe, improving its back up of VMware virtual machines by taking advantage of recent vSphere advances, and doubling the capacity of its Data Store hardware.
EMC acquired Avamar for $165 million in 2006 to make its first move into dedupe, then bought Data Domain in 2009 for $2.1 billion. Avamar does dedupe at the backup client, while Data Domain systems handle target dedupe. Now EMC is taking steps to improve compatibility between the two products by extending support of its DD Boost software to Avamar.
DD Boost is a programmable library that gets embedded into the software stack as a plug-in to backup applications. It is designed to speed backups by distributing the deduplication process between Data Domain target appliances and backup servers or—in Avamar's case—clients.
See how primary storage deduplication can impact backup deduplication in this Q&A.
Dell adds clustered NAS to PowerVault for 'unified' storage
Dell took its first step in integrating Exanet clustered NAS technology into its storage platforms by adding the Exanet file system into its PowerVault NX3500 small- to medium-sized business (SMB) storage system.
The NX3500 works with the PowerVault MD3600i 10-Gigabit Ethernet (10 GbE) iSCSI system, allowing IT managers to handle file and block data from a single storage pool. Dell is calling the Exanet technology the Dell Scalable File System.
Dell calls this unified storage, although the NX3500 and MD3600i remain separate products managed through separate consoles sharing common storage.
The vendor is starting on the low end with the NAS IP it acquired by purchasing Exanet's assets in February 2010. Dell's roadmap calls for it to add the Scalable File System to its EqualLogic midrange iSCSI storage area network (SAN) arrays around mid-year and eventually to its Compellent Fibre Channel SAN systems.
Read about the four reasons to sell network unified storage platforms in this tip.
Data storage administrators weigh cloud storage options carefully
Does cloud storage make sense for your company? If so, what data should you put there? And should you put it in a public cloud, private cloud or a hybrid cloud combining the two? Those are the questions many data storage administrators are asking these days.
Users who attended Storage Networking World (SNW) in Santa Clara, Calif., said they were interested in finding out as much information as they could to make these types of decisions.
"I'm encouraged to hear about the cloud gateway products. I think the only cloud that makes sense for me is a hybrid cloud solution," said Donald Wilson, a systems administrator at the Kennedy Space Center. "If a company would help me implement a hybrid cloud solution in which the distinction between public and private cloud is transparent to my users, I would be interested in that."
Read the full story on cloud storage options and then read about the benefits and challenges of cloud gateways for primary storage.
Additional storage news
Check out last week's storage channel news roundup.
Dig Deeper on Storage Backup and Disaster Recovery Services