News
Stay informed about the latest enterprise technology news and product updates.
Coraid adds storage virtualization appliance for Ethernet SAN arrays
Headlines: Coraid's VSX SAN virtualization appliance adds features such as storage pooling, snapshots, cloning, mirroring and remote replication to its EtherDrive SRX storage arrays.
Storage channel news roundup for Feb. 24 to March 3, 2011
Coraid adds storage virtualization appliance for Ethernet SAN arrays
Coraid Inc. unveiled a storage virtualization appliance that adds logical volume management for pooling storage across its arrays, synchronous mirroring, snapshots, cloning and asynchronous remote replication -- advanced storage management and data protection features that were missing in its EtherDrive SRX platform that launched last year.

Download this free guide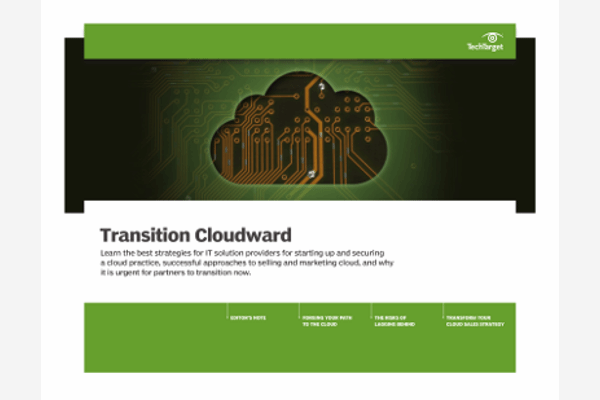 Could Securing Your Channel Business Be Easier? We Can Help.
Download our latest guide to the top strategies solution providers can leverage for starting up and securing a cloud practice, successful approaches to selling and marketing cloud, and why it is urgent for partners to transition now.
By submitting your personal information, you agree that TechTarget and its partners may contact you regarding relevant content, products and special offers.
You also agree that your personal information may be transferred and processed in the United States, and that you have read and agree to the Terms of Use and the Privacy Policy.
The VSX-Series SAN virtualization appliance works with EtherDrive SRX arrays that run the ATA over Ethernet (AoE) protocol instead of Fibre Channel (FC) or iSCSI to deliver block-based storage. The VSX appliance connects the EtherDrive SRX devices to servers to deliver data protection features to the SRX arrays.
Read about another virtual storage appliance in this article.
Dataram's SAN performance accelerator gets HA capabilities
Dataram Corp. unveiled the XcelaSAN Model 100 -- an upgraded version of its caching appliance designed to improve SAN performance -- along with high-availability (HA) functionality the vendor intended to include when it first began shipping its solid-state device more than a year ago.
Although HA features were planned for the first XcelaSAN model in Sept. 2009, further testing showed it didn't work to optimal standards with devices from Compellent/Dell, Hewlett-Packard, IBM and LSI. Instead, Dataram began shipping a single unit of the XcelaSAN to customers and spent more than a year redeveloping the high-availability function to make it more bulletproof, said Jason Caulkins, Dataram's chief technologist.
Read more about high availability in this tutorial.
OS33 extends cloud-based IT infrastructure capabilities with OS33 Grid
OS33, a cloud-based automation platform for MSPs, introduced the OS33 Grid, an "infrastructure as a service" designed to provide MSPs that use the OS33 platform with new cloud infrastructure capabilities.
The OS33 Grid is designed to work with the OS33 Platform and has met performance, reliability and security requirements. It's available from four data centers across the United States, which provides MSPs with national coverage and several disaster recovery options.
FalconStor launches new partner program and Web portal
FalconStor Software Inc. launched a new channel partner program, PartnerChoice. PartnerChoice was designed to provide channel marketing and sales support. FalconStor has also launched the PartnerPlace Web portal, allowing partners to track different opportunities, access resources and manage their account information.
Rebit teams up with ASCII Group
Rebit Inc. announced that it has partnered with The ASCII Group Inc., a community of MSPs. This partnership will offer new benefits to ASCII members, which include rebates on Rebit products, customized collaterals and participation in the Rebit Authorized Partner Program.
Memopal will show partners preview of new Cloud Storage platform at CeBIT 2011
Memopal, a provider of online backup and storage, will be at CeBIT from March 1-5 to show partners a preview of its new Cloud Storage software for partners and resellers. New features of its Cloud Storage software include increased performance and better control of backups.
Additional storage news
Check out last week's storage channel news roundup.
Dig Deeper on Storage Virtualization