News
Stay informed about the latest enterprise technology news and product updates.
Microsoft Partner Network, portal fall short, VARs say
Portal problems and doubts about whether Microsoft Gold certifications are worth the cost haunt Microsoft Partner Network.
The Microsoft Partner Network launched officially more than a year ago, but many Microsoft Gold partners said the updated channel program falls short on many fronts.

Download this free guide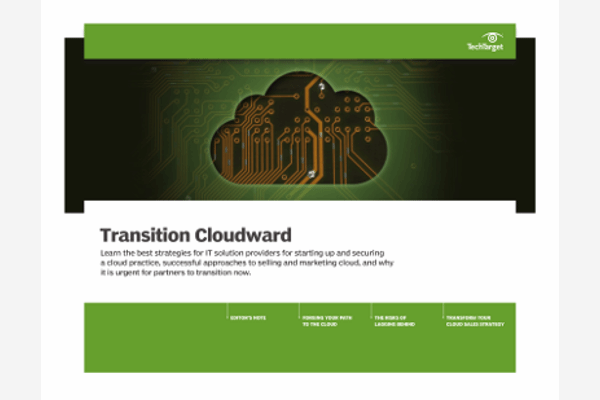 Could Securing Your Channel Business Be Easier? We Can Help.
Download our latest guide to the top strategies solution providers can leverage for starting up and securing a cloud practice, successful approaches to selling and marketing cloud, and why it is urgent for partners to transition now.
By submitting your personal information, you agree that TechTarget and its partners may contact you regarding relevant content, products and special offers.
You also agree that your personal information may be transferred and processed in the United States, and that you have read and agree to the Terms of Use and the Privacy Policy.
Beginning next October, Microsoft will enforce minimum revenue requirements for retaining or adding Gold competencies. Several Gold partners said they plan to drop the number of Gold certifications they carry because of the additional cost of training personnel and their feeling that the Gold medallion is not worth the time and money it takes to attain it.
With MPN, Microsoft wanted to restore the luster to the top-tier Gold status by making it harder to attain, but many partners say the vendor has gone too far. They contend that Microsoft may end up winnowing out too many Gold VARs, which will hurt overall solution sales. And, many of the smaller, more specialized VARs with valuable skills may get lost in the shuffle.
Perhaps the most common complaint is that the program, with changes still underway, has taken partners out of their sales cycles and away from their customers while they try to figure it out.
"This has disenfranchised long-time, loyal partners. It has taken tremendous time away from growing our business and client-facing time to support our mutual clients. Our desire is to be Gold, as we have been from the beginning, but as an independent systems integrator, we know our ultimate success lies in our relationship with our customer -- not with Microsoft," said the vice president of sales with one mid-Atlantic Microsoft partner.
Microsoft partner portal problems
It doesn't help that the new partner portal, which was supposed to make it easy for partners to get information about Microsoft technologies and input their own data, remains hard — sometimes impossible -- to navigate and is still in flux. It contains many dead ends (bad URLs) and lacks what would seem to be obvious links, like one to the license calculator.
"They've been hounding us to use it since May, and it's still terrible," said the mid-Atlantic partner.
When asked about his take on the portal, a Boston-area Gold partner shook his head. "Things don't hook up right -- you go around in circles. It is not very intuitive and it is very frustrating. But, then again, the Microsoft partner portal has always been bad, and I don't think this is appreciably worse," he said.
A SearchITChannel.com advisory board member also characterized the new portal as awful, but, "HP's portal is about 100 times worse!" Talk about faint praise.
Several Microsoft partners said they end up calling their Partner Account Managers (PAMs) to get information they can't find on the portal itself. "I feel sorry for the PAMs. They know this thing is a disaster," said the sales exec at the mid-Atlantic gold partner. "I end up getting URLs from them that are not findable on the portal."
Microsoft to partners: We're listening
A spokeswoman said Microsoft takes partners' online experience to heart. "We are aware that some of our partners experience issues with the portal, and our goal is always to address partner feedback as quickly as possible," she said via email. Microsoft wants partners to use the portal's feedback link to describe their experiences.
To its credit, Microsoft has tried to ease partners into this program. Last July, it showed off a number of significant changes to MPN at Microsoft Partner Conference. And it started talking about MPN changes long before that. It disclosed the new revenue requirements in October 2010 but won't start enforcing them till next October.
Is Microsoft Gold worth it?
The huge question remains whether partners who invest in Gold will reap discernible rewards.
The vice president of a large Washington D.C. area systems integrator doesn't think so. It is still too hard to make money selling and supporting Microsoft software because of the vendor's perpetual desire to be the volume, low-cost provider versus companies like VMware or Oracle or IBM, he said.
That means stingy margins to begin with. Those margins combined with an oversupply of Microsoft partners means VARs compete with each other to further erode margins. "It's good that Microsoft weeded out some Golds, but I'm not sure it's really going to boost profitability enough to help their channel much," said the Washington D.C. systems integrator.
The fact that direct marketers, like CDW, and huge hardware partners, such as Hewlett-Packard and Dell, get Gold competencies, means that smaller VARs cannot compete on software fulfillment alone.
"At the end of the day, Microsoft commoditized everything to the point that it's not worth it for us to go after that business. What's the use of building a Hyper-V practice when you'll make money for maybe six months, but then everyone and their mother will have a Hyper-V competency and bill $80 an hour?"
This integrator said that if Microsoft is going to raise the bar, it should go whole hog and follow Cisco's lead when it raised requirements for Cisco Voice Partners.
"[Cisco] had way too many people who were voice-certified but not voice-competent," he said. "Then Cisco went from something like 1,000 to 400 voice-certified partners and that changed the game for them dramatically."
Convergent Computing, an Oakland, Calif. based Gold partner, completed its Gold prerequisites in October and now hopes for the best, according to Convergent president Rand Morimoto. "The requirements are harder, the fee is higher. My hope is that at some point, the benefits will be better for those of us ponying up the cost and effort to meet multiple Gold competencies," he said.
He would like to see Microsoft pay incentives to Gold competency partners to work with key customers and opportunities and send more qualified leads to those select partners. "So far, those benefits haven't translated to any programs that I've seen, and the Microsoft field still hasn't been clued in to the new competency-level committed partners," Morimoto said. "The real success will be the day that a customer asks whether we're a Gold Competency partner, and we win our first gig because we have this level. Until then, I'll just watch and wait."
Skip Gould, CEO of BrightPlanIT Inc., said the partner program modifications devalue multi-talented engineers. His company carried 18 Gold competencies, which he expects to fall to three or four. The remainder will morph into Silver at the end of February because of the number of employees in the company.
"Microsoft is watering the program down," Gould said. "They're not about partner loyalty anymore; they're more about size now. This won't have an effect on the smaller [customers] that we have relationships with, but it will have an impact on the big prospects. When potential customers see a rival with all Golds with Dell or Cisco, our Silvers may not look as good in comparison."
As previously reported, Microsoft partners in the past could train one person to hold multiple Gold certifications, but now they have to dedicate four different people in each area of specialization. A VAR with 40 certified employees, for example, can only hold ten Gold badges.
"Our multi-disciplined employee abilities are going for waste, and it's a disincentive for us and a disservice to clients," Gould said. "Having someone who specialized in a variety of areas would be important for working on something like a hybrid cloud."
Kevin McDonald, vice president of Alvaka Networks Inc., said he's not sure if Alvaka will renew its Gold status. He's weighing the costs of pulling engineers from the field for training against the benefits of better Microsoft support and free software.
"The partner program is really becoming a sore spot because the costs are outrageous," McDonald said. "We're spending literally one month out of the entire year on certifications alone. It comes out to be over $75,000 per year. Other than software licensing, I just don't see the benefit."
"The biggest thing is that I have seen no evidence that Microsoft certifications mean anything to customers," McDonald said. "We don't use it as part of our marketing strategy, and I haven't heard from a Microsoft rep in three years."
Why Gold still matters
Having said all that, Gold status still has its plusses. Gold partners get more free software licenses than lower-tier partners. They're also easier for prospective customers to find on the Microsoft Pinpoint partner locator site.
And then there's support.
McDonald said in Alvaka's case, Gold status means faster response times and less time spent in an annoying question-and-answer process.
"The difference between the support we receive as a Microsoft Gold Partner versus a non-Gold partner is huge," McDonald said. "I think the process is backwards. We're out pushing their stuff, and we shouldn't be begging for help from them."
Daniel Duffy, CEO of Valley Network Solutions Inc., said Microsoft has treated his company well overall but agreed that Microsoft's new certification requirements are over the top. For Duffy, the difference lies in how a vendor responds to issues with its partner program. His company will not renew its Gold competencies because Microsoft is charging twice the previous amount for new registration, without providing twice the value. But he thinks Microsoft knows this is a problem and will eventually address it with new metals standards.
"Microsoft does a great job of giving you a single point of contact and the amount of support and attention that we need," Duffy said. "Look, all companies make mistakes, but what they do to rectify is what matters."
The Washington D.C. area integrator is definitely not happy about the higher costs of Gold but puts them in perspective. "Relative to the other investments we have to make to keep our HP and Cisco certifications, [Microsoft's program is] not bad. But it's definitely more comparable now," the integrator said. "There are a lot of heavy equipment requirements that come with the hardware guys."
While Gould isn't happy with how Gold certifications are distributed, he thinks the process will ultimately benefit his company.
"We've always been big on certifying our people, and this process has never been a problem," Gould said. "The bigger burden [with the new requirements] is OK. It makes us a stronger partner."
Let us know what you think about the story; email Barbara Darrow, Senior News Director at bdarrow@techtarget.com, or follow us on twitter.
Dig Deeper on Technology Vendors-OEMs