News
Stay informed about the latest enterprise technology news and product updates.
Private cloud storage set as goal for Independent Bank; Cleversafe bolsters security for object stor
Headlines: Independent Bank aims for a private storage cloud consisting of bank-owned hardware set up at a hosted environment.
Storage channel news roundup for Oct. 28 to Nov. 3, 2010
Private cloud storage set as goal for Independent Bank
The definition of private cloud storage isn't always clear or uniform, but for Independent Bank enterprise architect Tom McKowen, the private cloud means being able to use a hosted provider to manage his bank-owned SAN infrastructure.

Download this free guide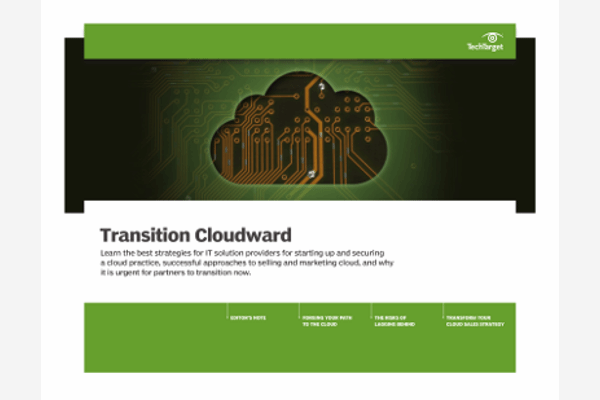 Could Securing Your Channel Business Be Easier? We Can Help.
Download our latest guide to the top strategies solution providers can leverage for starting up and securing a cloud practice, successful approaches to selling and marketing cloud, and why it is urgent for partners to transition now.
By submitting your personal information, you agree that TechTarget and its partners may contact you regarding relevant content, products and special offers.
You also agree that your personal information may be transferred and processed in the United States, and that you have read and agree to the Terms of Use and the Privacy Policy.
The Michigan-based bank chain took what McKowen considers the first step toward that setup by virtualizing the bulk of its servers over the past few years. McKowen said his objective is to take the "keep the lights on" work out of his staff's hands so he can free his people to focus more on core business needs.
"Our end goal is to move our primary foundation out of bank-owned property to a hosted environment," he said. "For a financial institution, there's a lot of legwork around owning your own data. So as we move forward, with storage virtualization and server consolidation virtualization, we'll be able to park our data centers in hosted environments. Today, we do that with our business continuity site that's now with a hosted provider even though we own the physical servers and storage."
Read the full story on private cloud storage for Independent Bank.
Cleversafe bolsters security for object storage and other data storage news
Cleversafe Inc. upgraded its cloud object storage platform by adding security for data in motion, disk balancing and thin provisioning; the firm also picked up $31.4 million in funding last week.
Cleversafe added the security feature for moving data between the Accesser and Slicestor nodes of its Dispersed Storage Network (dsNet) platform. It provides secure TLS/SSL network connections between the Accesser and each Slicestor node. If network traffic is tapped or routed through an attacker, the attacker learns nothing of the content of the transmission and any alterations will be detected and discarded. In addition, in a trusted network environment, network security can be disabled to increase performance while credentials (such as passwords) are still encrypted.
The data in motion security follows the data at rest security that Cleversafe added in March.
Read more about Cleversafe's security upgrade for object storage and other data storage news.
Fujitsu upgrades data deduplication backup hardware, launches VTL and NAS devices
Fujitsu America is expanding its data deduplication backup portfolio with upgrades to its Eternus CS High End enterprise virtual tape library (VTL) and two new configurations for its CS800 S2 data backup appliances for midrange and small- to medium-sized (SMB) customers.
The latest version of the CS High End supports cascading synchronous replication of deduped data, encryption and write once, read many (WORM). The CS High End scales to 2.4 TB with a single controller and can scale to 1.6 PB with multiple systems. It scales from four to 32 back-end ports, two to 112 physical tape drives and 10 tape libraries. It can handle 50,000 physical tape volumes.
The new members of the CS800 S2 family are the NAS Entry and VTL models, which join the NAS Basic and NAS Performance systems Fujitsu launched in April. The NAS Entry scales to 4 TB and is the smallest member of the family, while the VTL model supports 80 virtual tape drives and 9,000 virtual cartridges. Like the other NAS configurations, the NAS Entry also supports Symantec OpenStorage (OST), CIFS and NFS connectivity.
Read the full story on Fujitsu's data dedupe upgrades.
File archiving more pressing than email archiving in the UK, France and Germany, says survey
File archiving is a greater priority than email archiving in the coming 12 months for a majority of storage professionals. That's according to a survey of 300 IT decision makers in the UK, France and Germany in a study commissioned by BakBone Software.
When asked whether they were more likely to invest more in file archiving than email archiving in the coming year, respondents were found to be three times more likely to invest in file archiving. In Germany and France 72% and 79% of respondents, respectively, were more likely to invest more in file archiving, while in the UK the figure was 48%, although UK respondents' interest in email archiving (35%) was higher than in the other two countries.
Company size did not seem to affect the response, with 67% of organizations with 1,000 to 3,000 employees and 66% of those with more than 3,000 employees agreeing that file archiving was higher on the investment priority list than email archiving. In Germany and France, the manufacturing sector was the one most likely to choose file archiving in the next 12 months (92%), while in the UK it was the financial services sector (60%).
Read the full story on file and email archiving in the UK, France and Germany.
Additional storage news
Check out last week's storage channel news roundup.
Dig Deeper on Data Storage Management