News
Stay informed about the latest enterprise technology news and product updates.
4G wireless adoption remains scattered, VARs say
Despite the explosion in enterprise mobility and 4G wireless technologies, WiMax adoption remains spotty.
With all the focus on mobility this fall, including the recent Windows Phone 7 launch and the Federal Communications Commission's move to open more public wireless spectrum to wireless broadband devices, many businesses are still holding off on 4G adoption, according to IT solution providers.

Download this free guide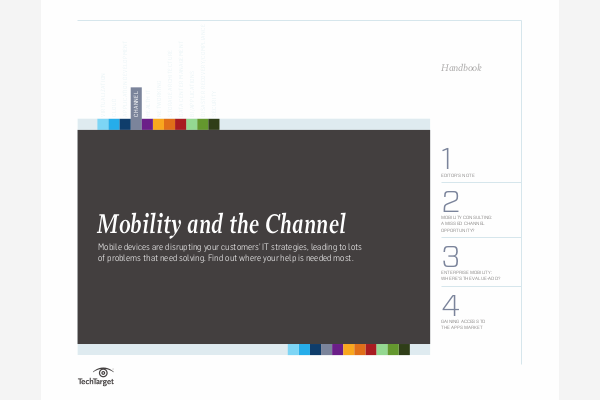 Mobility Consulting: A Missed Channel Opportunity?
Mobile devices are disrupting your customers' IT strategies, leading to lots of problems that need solving. Find out where the best opportunities lie and get advice from experts on how to approach the market, including what not to do.

By submitting your personal information, you agree that TechTarget and its partners may contact you regarding relevant content, products and special offers.

You also agree that your personal information may be transferred and processed in the United States, and that you have read and agree to the Terms of Use and the Privacy Policy.

WiMax, one type of 4G network, gets a lot of looks because it enables long-range connectivity without dropped connections even as the user moves around, but broad adoption isn't here yet.

"We are seeing pockets of WiMax use [but] we still need to see more end-point devices to be fully supportive," said Mauro Lollo, co-founder and chief technology officer of Unis Lumin Inc., a network integration company in Oakville, Ont.

One consideration is standards, Lollo noted. Markets outside North America are gravitating toward WiMax (or Worldwide Interoperability for Microwave Access), championed by Sprint and Clearwire. But in the United States, there is significant mindshare around LTE (Long Term Evolution), an evolution of 3G that is being pushed by Verizon Wireless and AT&T Mobility.

ABI Research recently predicted that the number of subscribers to mobile WiMax services will reach about 59 million by 2015. The research firm cites confusion among mobile operators about WiMax or TD-LTE as a growth inhibitor.

Many enterprises still rely on a hodge-podge of Wi-Fi networks to serve their wireless connectivity needs, Lollo noted. But mobile access is only going to get more important. Another market researcher, IDC, projected that there will be more than 1.19 billion mobile workers by 2013. That number represents about 35% of the total global workforce.

FCC greases the skids for wireless

The FCC is becoming much more active at stimulating mobile wireless options. In September, as expected, it opened up the use of so-called white spaces in the U.S. television spectrum for license-exempt wireless broadband services. The spectrum could support what is being called "Super Wi-Fi," because the signals could travel farther than the current bands. The notion is that Wi-Fi would become more of a blanket technology, rather than one confined to relatively small hotspots served up by local routers. The FCC also is taking steps to reform the Universal Service Fund so it can help close the mobility gap. Up to 24 million Americans are currently shut out of any sort of broadband connection, according to a published statement by FCC Chairman Julius Genachowski.

Jay Tipton, CEO of Technology Specialists, a solution provider in Fort Wayne, Ind., said one challenge to small-business adoption of commercial 4G services in his region is because inexpensive municipal services are already available.

What will drive fourth-generation wireless in the future? Solution providers say there are two clear trends that will have a positive impact: the adoption of cloud computing solutions and the deployment of high-definition video applications.

In some cases, businesses may use broadband wireless to supplement or back up a T1 line or broadband connection. "When you start talking to businesses about cloud computing," Tipton said, "the question automatically comes: 'How expensive will downtime become?' You're talking about [thousands of dollars] daily, so you need to have redundant access methods."

When it comes to the cloud, ubiquitous broadband access -- both wired and wireless -- will be crucial for adoption, said David Sobel, CEO of Evolve Technologies LLC, a technology services company in Fairfax, Va. Evolve is located in a market where WiMax is widely available, and he said his sales team is having many discussions with existing customers about where it might fit within their existing managed services portfolios.

Dave Casey, president of integrator Westron Communications in Carrollton, Texas, said his team has been testing video applications with the Clear WiMax service. Some of his local municipal customers are considering the service for public safety applications, as well as for potential video solutions in public transportation. Casey said 4G will open up a new line of thinking when it comes to mobile applications.

Let us know what you think about the story; email Barbara Darrow, Senior News Director at bdarrow@techtarget.com, or follow us on twitter.
Dig Deeper on New emerging technologies in the IT channel