News
Stay informed about the latest enterprise technology news and product updates.
Nimbus launches new S-class solid-state storage platform; IBM SONAS gets new tiering feature
Headlines: Nimbus Data Systems rolled out a denser version of the Nimbus S-class all-solid-state storage platform as well as a new virtual switch option. The S1000 supports about 10 TB of solid-state capacity on each shelf.
Storage channel news roundup for July 14 to 21, 2010
Nimbus Data Systems launches new S-class solid-state storage platform
This week, Nimbus Data Systems rolled out a denser version of the Nimbus S-class all-solid-state storage platform it launched in April. It also released a virtual switch option that lets customers connect as many as a dozen servers without using a physical Ethernet switch.

Download this free guide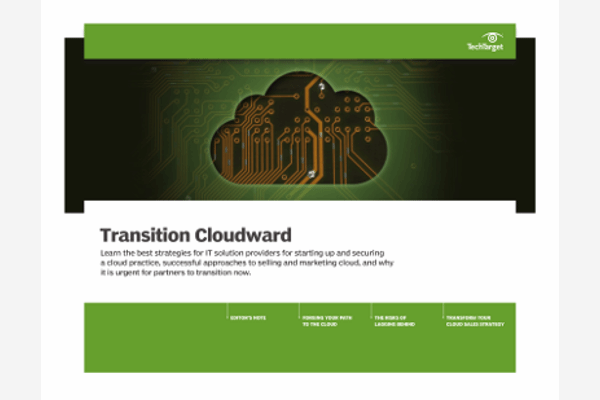 Could Securing Your Channel Business Be Easier? We Can Help.
Download our latest guide to the top strategies solution providers can leverage for starting up and securing a cloud practice, successful approaches to selling and marketing cloud, and why it is urgent for partners to transition now.
By submitting your personal information, you agree that TechTarget and its partners may contact you regarding relevant content, products and special offers.
You also agree that your personal information may be transferred and processed in the United States, and that you have read and agree to the Terms of Use and the Privacy Policy.
The new S1000 supports about 10 TB of solid-state capacity on each shelf by using denser enterprise-ready multi-level cell (EMLC) Flash from Micron Technology Inc. than the 2.5 TB S250 and 5 TB S500 system version. The S1000 contains 24 400 GB Flash blades in each shelf and supports 250 TB in one system.
All Nimbus S-class systems now scale to 25 shelves -- up from 21 -- for 600 Flash blades. Plus, Nimbus' HALO OS performs inline deduplication for primary data, expanding the amount of usable storage.
Read the full story on the new S-class solid-state storage platform.
IBM SONAS gets new policy-driven tiering feature
IBM is updating its Scale Out Network Attached Storage (IBM SONAS) system that it first launched in February. New features of IBM SONAS will include policy-driven file tiering, larger-capacity drives and a gateway that integrates the NAS with the IBM XIV block storage system.
Also, IBM will launch the System Storage TS7610 ProtecTier Deduplication Appliance Express, a virtual tape library (VTL) data deduplication platform.
Read the full story on the new policy-driven tiering feature in IBM SONAS.
Xiotech expands ISE self-healing storage systems
This week, Xiotech Corp. is making the first big expansion to its Intelligent Storage Element (ISE) self-healing Emprise storage systems platform since it was released more than two years ago. Xiotech will debut the Emprise 9000, which has a larger and more advanced controller, as well as new management and analytics applications.
Xiotech executives say the new features will improve performance for organizations using desktop virtualization.
The Emprise 9000 is made up of two models -- Enterprise and Standard -- and the performance and capacity have improved since the previous model, the Emprise 7000. The Emprise 9000 supports thin provisioning, 8 Gbps Fibre Channel, 255 TB storage volumes, IP- and Fibre Channel-based asynchronous replication (the Emprise 7000 supports only Fibre Channel-based asynch replication),and optimized data tiering. The Emprise 9000 Enterprise scales from two to 12 controllers in a system and can manage 1.8 PB, while the largest Emprise 7000 version can only manage 1 PB.
Read the full story on the enhancements of the ISE self-healing storage systems.
EMC announces new disk backup features for dedupe and VTLs
This week, EMC Corp. announced new features to its data backup hardware, adding a faster midrange Data Domain data deduplication system, a dedupe option for mainframe virtual tape libraries (VTLs) based on Data Domain technology and larger Disk Library VTLs without data deduplication.
The new products are the EMC Data Domain DD670, Deduplication Storage Expansion for the DLm960 mainframe storage, and Disk Library 5100 and 5200 VTLs.
The DD670 is the first Data Domain system based on the Intel Xeon 5500 Nehalem processor. With the DD Boost software, EMC says the DD670 performs at 5.4 TB per hour of aggregate inline deduplication throughput. , EMC also claims the DD670 performs at 3.6 TB per hour with NAS or VTL connectivity. The system supports as much as 76 TB of raw capacity (56 TB usable) and replication from 90 remote sites with smaller Data Domain devices.
Read more about data deduplication and data reduction in this tip.
Fusion-io introduces new solid-state storage software
This week, Fusion-io unveiled the ioMemory Virtual Storage Layer (VSL), its newest-generation solid-state storage software stack. Fusion-io describes the ioMemory VSL as a hybrid operating system subsystem that combines the block-level reading and writing benefits of an I/O subsystem with the virtual addressing advantages of a virtual memory subsystem.
Fusion-io CEO David Flynn said VSL does for I/O memory what the VM subsystem does for DRAM. VSL uses direct memory access and low-level physical addressing to talk to I/O memory, and it functions like a native memory module. "It's so fast, it's better than using true RAM," he said.
Read the full story on Fusion-io's introduction of their new ioMemory VSL.
Additional storage news
Check out last week's storage channel news roundup.
Dig Deeper on Data Storage Hardware