News
Stay informed about the latest enterprise technology news and product updates.
Data center hardware wars: VARs take on vendors
Vendors' unified data center hardware challenges integrators' prerogative.
The unified data center hardware pushed by Hewlett-Packard, Cisco Systems and others represents a not-so-veiled threat to integrators.
The stated rationale to source most data center hardware from one vendor is to make the data center itself more energy efficient and integrated. In theory, single-source hardware minimizes excess wiring and hardware. The vendors pushing this strategy say customers want this integration and like the availability of "one throat to choke" when it comes to support and service. There can be no finger pointing between server vendor and router vendor because it's one vendor.

Download this free guide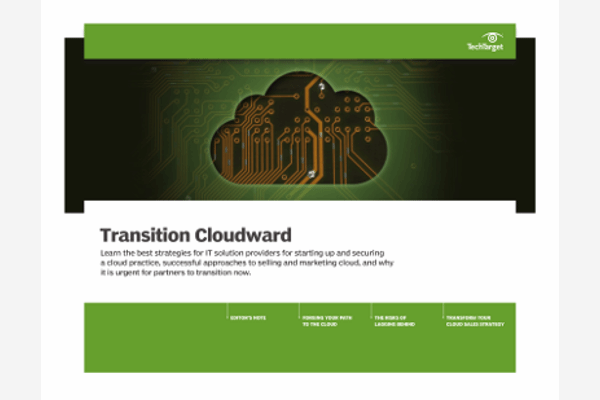 Could Securing Your Channel Business Be Easier? We Can Help.
Download our latest guide to the top strategies solution providers can leverage for starting up and securing a cloud practice, successful approaches to selling and marketing cloud, and why it is urgent for partners to transition now.

By submitting your personal information, you agree that TechTarget and its partners may contact you regarding relevant content, products and special offers.

You also agree that your personal information may be transferred and processed in the United States, and that you have read and agree to the Terms of Use and the Privacy Policy.

Whose throat is it?

VARs and integrators take a different view on that "one-throat" mantra for data center hardware. Said one East Coast Cisco and HP VAR: "Absolutely, customers want one vendor, but we're the vendor! They're working with us to build a multi-vendor solution that suits their needs."

This VAR, like many others, said the vendors' real motivation amounts more to self interest than a desire for customer satisfaction. They want to maximize their own footprints in existing data center accounts. So, when in the past, HP and Cisco would have blessed and supported a VAR going into an account with a solution built of HP blades, Cisco routers and EMC storage, they are not doing so now. Now HP and Cisco want to claim all of that sale for themselves.

"Some of the vendors have very broad product portfolios but at the end of the day, no one has everything a client typically needs," said the East Coast VAR.

In fact, as much as customers might like to reduce server room sprawl, the simple fact is that some vendors are strong in some areas and not others. And, IT professionals on site often have strong vendor favorites for servers, for storage and for networking hardware. "There's a reason they make vanilla and chocolate ice cream -- people have preferences," Kent MacDonald, vice president of infrastructure solutions for Long View Systems, a Calgary-based systems integrator told SearchITChannel.com. As the hardware players duke it out, there's an interesting data center play for software vendors. VMware Inc., for one, wants to supply the virtualization oil that will make multivendor solutions function smoothly and the company enlisted channel partners in this effort. And it has cultivated storage partners beyond its own parent company EMC in this effort.

Ben Matheson, director of global partner marketing for VMware, said some customers are open to a one-stop buy, others not so much: "Some are standardized on a one-tech vendor, others go for best of breed. It's complicated because the storage guys may be used to HP storage and the server guy might like IBM servers."

VARs: Torn between two vendors The data center hardware war that has broken out between Cisco and HP will take its toll on VARs -- especially VARs affiliated with both vendors. Many already report contention in the field when they try to sell HP server-Cisco router solutions. The pressure will build for them to commit to one vendor or the other, some report.

Mont Phelps, CEO of NWN Corp. in Waltham, Mass., said VARs must focus on the customer, more than on its vendors.

"We don't make the rules. We just try to understand them. But at the end of the day, our position and everyone in the channel will be affected by our ability to represent what's best for the customer," Phelps said.

"For the channel, at least in my opinion, it's healthy to be selective. You can't do everything, so we pick our battles, what we want to offer and are good at that .We have to limit and focus and go to market with those relationships and technologies that we're comfortable will satisfy our customers."
Dig Deeper on Technology Vendors-OEMs