News
Stay informed about the latest enterprise technology news and product updates.
Oracle-Sun combo sparks VAR anxiety
Oracle will take Sun's biggest 4,000 accounts direct, claiming customers want hardware, software, and support from one vendor.
If you were a Sun Microsystems VAR or integrator with no working knowledge of how Oracle deals with partners, today was a pretty rough wake-up call.

Download this free guide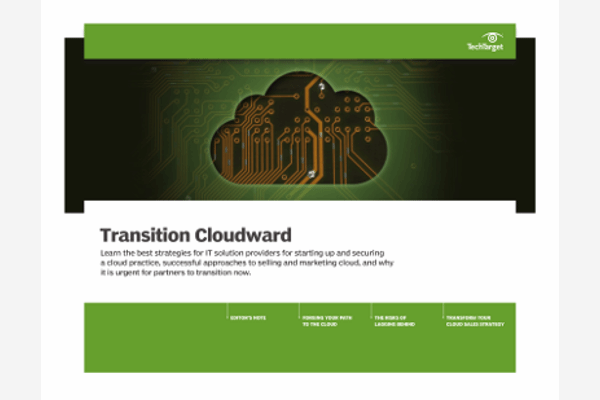 Could Securing Your Channel Business Be Easier? We Can Help.
Download our latest guide to the top strategies solution providers can leverage for starting up and securing a cloud practice, successful approaches to selling and marketing cloud, and why it is urgent for partners to transition now.

By submitting your personal information, you agree that TechTarget and its partners may contact you regarding relevant content, products and special offers.

You also agree that your personal information may be transferred and processed in the United States, and that you have read and agree to the Terms of Use and the Privacy Policy.

For one thing, Oracle Corp. will take the 4,000 biggest Sun customers direct, cutting out the Sun partners that had, in many cases, kept those customers aboard over the past few years when Sun's future was very much in doubt. "We will sell to them directly, service them directly and make sure they get a good ROI," Oracle CEO Larry Ellison told press, customers and analysts Wednesday afternoon. That little gem came a few hours after Oracle's president Charles Phillips kicked off a five-hour event outlining how the converged Oracle and Sun will work. Phillips decried the "old model" where a company would "hire a lot of integrators" to put together a multi-vendor solution. "It was very unpredictable, there was a lack of security and it was hard to maintain," Phillips said. Instead, Oracle will offer a "completely engineered system" from server and storage to middleware, database and applications to management, Phillips said. Clearly the Oracle of a few years ago that highlighted the benefits of running Oracle databases on inexpensive X86 commodity boxes from Dell, HP or others, is a thing of the past.

"Instead of finger pointing, there will be one company to call for the entire stack. We'll engineer in support ahead of time to predict issues and resolve them in an automated way," Phillips said. This integrated stack would rely on open systems, he said.

Phillips repeatedly invoked the IBM of the 1960s as a role model, bizarrely, because Oracle CEO Larry Ellison has spent years belittling IBM.

Judson Althoff, senior vice president of worldwide alliances and channels, was brought on stage briefly to somehow reconcile the need for partners in this worldview, but for most Oracle partners the writing's been on the wall for some time.

"Yeah, they put Judson up there but he didn't have too much to say, did he? Existing Sun partners and value chain including distribution is screwed," said one Oracle partner based in the Midwest.

Later in the call, senior vice president of customer services Juergen Rottler said Oracle will increase its direct support coverage of its largest accounts, relying on partners to serve smaller and vertical niches. But that was of small comfort, especially to Sun hardware partners who now must contend with the very real possibility that they no longer participate in renewal revenues. Oracle lets partners participate in the first year of maintenance and support, but takes it direct thereafter.

"We believe we should be the ones supporting our customers. We need to make it extremely compelling, more than in the past, for customers to get their support from Oracle," Rottler said.

None of this is really a huge surprise for Oracle partners, but Sun VARs already battered after years of worry about that company's long-term viability had hoped against hope for a soft landing.

"The trust is waning," said one Sun partner who had also been an Oracle partner before giving up that business because of incessant channel conflict. "I feel the [Sun] channel was placated during the protracted closing process to prevent the flight of Sun customers to IBM and HP. The arrogance here is concerning," he said.

Ellison telegraphed the direction in a New York Times interview where he said Oracle will hire 2,000 salespeople and engineers to push solutions.

Oracle's move into specialized database appliances, first with Hewlett-Packard and last year with Sun, also signaled its move to more turnkey systems.

Of course, those systems are fine in accounts that are stripping out gear and starting fresh.

Greg Baker, CFO of Logicalis, the large Bloomfield Hills, Mich.-based integrator, said Oracle is not the only vendor attempting to forge this "one throat to choke path." Cisco and HP are doing similar things, he noted, but "I believe there's a vital role for systems integrators to make sure new systems work with existing infrastructure. Customers need good, unbiased advice."

The CTO of one large financial institution that runs gear from both Sun and Oracle said Oracle's one-stop shop vision could be popular in some accounts "A, if it works and B if Oracle can avoid getting greedy."

Let us know what you think about the story; email Barbara Darrow, Senior News Director at bdarrow@techtarget.com, or follow us on on twitter.
Dig Deeper on Technology Vendors-OEMs