News
Stay informed about the latest enterprise technology news and product updates.
Ten IT services trends for 2010
Thin clients and desktop virtualization will dominate discussions, but solution providers see plenty to cheer about in the new year.
I am so ready to leave 2009 and this whole decade behind. Apparently, so are many IT solution providers, who smell all sorts of potential opportunity for client discussions and fresh projects in the 12 months ahead. Here are top 10 IT services trends for 2010 that your peers are talking about most as they look into the new year.

Download this free guide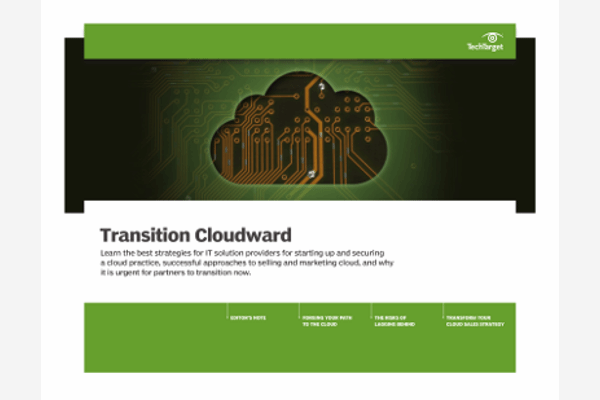 Could Securing Your Channel Business Be Easier? We Can Help.
Download our latest guide to the top strategies solution providers can leverage for starting up and securing a cloud practice, successful approaches to selling and marketing cloud, and why it is urgent for partners to transition now.

By submitting your personal information, you agree that TechTarget and its partners may contact you regarding relevant content, products and special offers.

You also agree that your personal information may be transferred and processed in the United States, and that you have read and agree to the Terms of Use and the Privacy Policy.

IT services trends 1: With businesses finally ready to spend on client technology (or at least think about it), desktop virtualization and thin clients will be part of key discussions.

It says something that an infrastructure-focused VAR is thinking about getting back into the desktop business. Anthony Bongiovanni, president of Micro Strategies Inc. in Denville, N.J., says that the cost savings and management centralization capabilities made possible by thin client hardware and maturing desktop virtualization technologies have made this one of his top areas of evaluation early in 2010.

"From our perspective, we are excited about virtual desktop infrastructure because it allows us to get back into the desktop space where we can add tremendous value for our clients," Bongiovanni said. "Putting PCs on desktops is not an area where Micro Strategies has focused in the past several years. However, since implementing highly functional and efficient virtual desktop infrastructures requires a considerable amount of consultative and technical skill, it is an area where we can excel and help our clients be more competitive."

Trend 2: Disaster recovery solutions will get their due in small businesses.

Over the past few months, Northwest Computer Support in Tukwila, Wash., and other VARs have seen an uptick in the number of small businesses willing to invest in disaster recovery options. Northwest CEO James Watson said his company actually offers three options in this space, scaling from an entry-level solution that is part of his security practice up to a custom-developed SAN-to-SAN solution that builds on Hewlett-Packard's LeftHand iSCSI storage line. "All three offer different features, benefits and cost points but all accomplish a similar task, getting customers' data offsite to different geographical locations in case of disaster," Watson said.

Trend 3: Windows 7 will get you in the door.

With the support window for Windows XP Service Pack 2 scheduled to close in July 2010 and Windows 7 now a viable option, more IT departments are engaging in wholesale platform upgrade discussions. Stephen Hall, founder of District Computers LLC in Silver Springs, Md., said he already is booked with client demonstrations for Windows 7 through February 2010.

District Computers actually took five clients through a Windows 7 early adopter program. The upgrades, in turn, have led to a boost in sales for Windows Server 2008 R2 Foundation and Windows Server 2008 R2, which are required to make the most out of some of Windows 7's features such as managed services support and search.

"About half of the features in Windows 7 really need the server on the backside," Hall said. "We tell our clients, 'If you want to go there … why don't you get the server license, too.' This has really opened up the conversations."

Trend 4: Businesses will get ready for their close-ups with more videoconferencing.

Several VARs said unified communications infrastructure has laid the background for the latest generation of videoconferencing solutions, which are being built out to support collaboration with remote offices and remote workers.

"It's the whole idea of putting collaboration on the network, and video is going to be the killer application," said Richard Vaughn, vice president, customer satisfaction group for i-Tech Support Inc. in Orlando, Fla. Vaughn cited an i-Tech Support manufacturing client that needed the video to review design specification documents between China and the United States.

Dave Casey, president of Westron Communications Inc. in Frisco, Texas, said a more concerted effort is being made to include remote individuals in the videoconferencing equation. This will require bandwidth investments and upgrades at the bridge level. "We now have a facility where we can show this facility, and we are doing customer roundtables, two to three events a week, to really get people exposed," Casey said.

Trend 5: Security and compliance concerns will inspire people to buy into the paperless office concept with more document management solutions.

With clients in the neighboring state of Massachusetts facing one of the strictest privacy laws in the country, Jenaly Technology Group Inc. in Portsmouth, N.H., is building up its business in document management solutions.

M.J. Shoer, president and virtual chief technology officer of Jenaly, said the law requires encryption and written policies related to safeguarding information in the case of a breach. "Having a response plan is just as important as having the technology in place to get around this," said Shoer.

Document management solutions enable audit trails and tighter controls on search and access, all of which are required to satisfy privacy laws of all types, which is why document management is of interest across the entire country. Document management also dovetails with collaboration solutions, such as Microsoft SharePoint, and they will drive sales of multifunction devices, Shoer added.

Trend 6: Cloud computing and software as a service will drive questions, if not investments.

What would a 2010 predictions list be without the most-hyped technology trend of the moment, cloud computing? Even businesses in the Midwest, which tend to be conservative in technology adoption, are asking about the relevance of cloud computing even though only one has moved to the cloud so far, said Jane Cage, COO and partner of Heartland Technology Solutions in Harlan, Iowa.

The irony is that many people are using cloud services and applications hosted in the cloud without even realizing it, she said.

Steven Kolbe, president of Analysys in Baltimore, said that the big push for VARs and IT service providers will be to develop and support application mashups that integrate the functionality of different cloud computing services or that add custom functionality to commonly used Web 2.0 services, such as Facebook or GoogleApps.

"There is a tremendous push to look at huge vendors, but these offerings are not ready for prime time," Kolbe said. "That's where service providers and new application developers will play a role."

Trend 7: Businesses will try to make sense out of identity management.

As businesses adopt cloud services or applications delivered as services, the need for identity management technology grows. Forrester Research expects ID management to be a $12.3 billion market by 2014.

The problem is pretty simple, said Analysys' Kolbe. The more hosted services you use, the more passwords you'll need to remember. From an individual standpoint, this is bad enough, but from an IT administration standpoint, it is a nightmare. These concerns will inspire businesses to consider identity management suites that they can layer across multiple applications, with the holy grail of single sign-on in sight. With no clear identity management standard or leader in place, it offers a great consulting opportunity for IT solution providers that can help businesses figure out how to set up, use and filter profiles.

Trend 8: More people will wonder about wireless as a broadband option.

With WiMax and 4G wireless services beginning to crop up around the country, VARs like Pat Grillo, president and CEO of Atrion Communications Resources in Branchburg, N.J., said they are being asked to perform assessments, especially in schools and hospitals. The reason is simple: Many of the solutions they're recommending, notably virtualization, require rock-solid connectivity and bandwidth.

Wireless services are a great option for disaster recovery, added Westron's Casey. As the bandwidth of wireless increases, it becomes potentially more viable as the company's primary connectivity option, he noted.

Trend 9: The green IT mantra will be revived, but subtly.

A recent CDW survey showed that only 23% of smaller companies (those with fewer than 100 employees) have embraced green IT practices, but approximately 31% plan to do so in the next two years. In midsized and large companies, the numbers are slightly higher. In this spirit, Northwest Computer Support's Watson said his company is planning a series of green IT audits that examine ways businesses can cut power and cut costs in the process.

At Analysys, 85 cents on every net new client dollar is from a project that has a sustainability component built into the core benefits, said Kolbe. "This is something that will be largely transparent to the people that consume this stuff," he said. "It has to be."

Trend 10: Server virtualization will maintain its mojo.

. This one may seem so 2008, but if you think about it, server virtualization is the foundation technology for many of the technology solutions that will dominate 2009 discussions: cloud computing, better disaster recovery options and green IT. So it makes sense for virtually every IT solution provider to bone up on their options.

"There is so much opportunity to discuss this. It is simply a waste right now to buy a new server and not consider virtualization on it. It will never be fully utilized. What a waste of money and resources if it is not utilized," said Guy Baroan, founder and CEO of Baraon Technologies in Elmwood Park, N.J. "So my feeling is this is where there will be huge growth and opportunities. In less than three years, all of our clients will be virtualized and be better off with all the benefits they get from it. Those already on it see the benefits right away and are thankful we recommended it to them. I see this as a major portion of our business in 2010."
Dig Deeper on Technology Vendors-OEMs