News
Stay informed about the latest enterprise technology news and product updates.
EMC gives Avamar desktop, laptop support; Spectra Logic looks to leapfrog high-end tape market
Headlines: EMC Avamar 5 gets support for desktops and laptops, denser EMC Avamar Data Store grid nodes and data deduplication for archival tape; claiming it can now supply the largest tape library on the market, Spectra Logic looks to take on IBM and Sun StorageTek in the enterprise.
EMC gives Avamar desktop and laptop support
EMC Corp. gave Avamar a facelift by expanding support to desktop and laptop data backup, and adding a way of writing deduplicated archival data to tape for long-term retention.

Download this free guide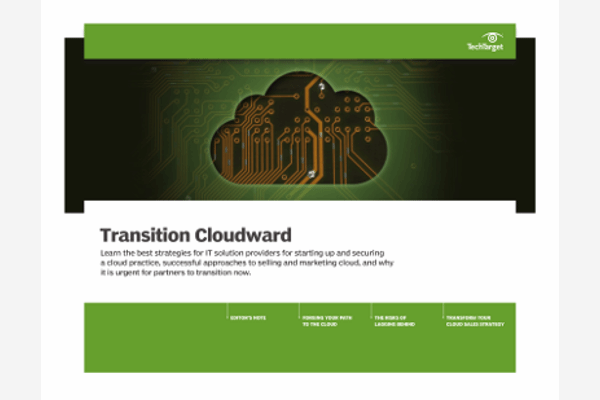 Could Securing Your Channel Business Be Easier? We Can Help.
Download our latest guide to the top strategies solution providers can leverage for starting up and securing a cloud practice, successful approaches to selling and marketing cloud, and why it is urgent for partners to transition now.
The EMC Avamar Data Store storage grid also supports denser nodes and integrates with VMware's vSphere 4.
Avamar 5 improves desktop and laptop backup by providing a lightweight agent and allowing end users to restore information on their own. Rob Emsley, senior director of product marketing for EMC's Backup Recovery Systems division, said customers have already been putting the EMC Avamar agent intended for server backup on laptops and desktops but the new features should improve the results.
Avamar's user self-restore Web interface is integrated with Microsoft's Active Directory for role-based access to backup data, and includes a file search engine to locate specific data. The IT department can continue to control restores either by policy or by not rolling out the Web portal to users.
Learn how to explain deduplication rates and single-instance storage to customers.
Spectra Logic looks to leapfrog high-end tape storage market with T-Finity tape library
Spectra Logic rolled out its new high-end T-Finity tape library last week, giving it the highest-capacity tape library on the market as it attempts to capitalize on uncertainty surrounding competitor Sun Microsystems Inc.
The T-Finity tape library can scale to 30,000 drive slots, 120 drives, 25 frames and hold up to 45 petabytes (PB) of capacity. A T-Finity library complex, which takes up four data center rows with robot extensions that let robots pass between rows, can scale to 120,000 slots, 480 drives, 100 frames, and 180 PB capacity.
Bigger than IBM, Sun tape libraries
By comparison, IBM Corp.'s largest tape library, the TS3500, scales to 1,000 slots for IBM TS3592 tape drives and up to 1,320 slots for LTO, for 3 PB or 2.1 PB capacity respectively. A TS3500 complex can scale to 6,887 slots, 192 drives, and 16 frames. The Sun StorageTek SL8500 tape library can scale to 10,088 slots, 64 drives, 6 frames, and 15.1 PB.
Read about tape backup vs. disk backup at customer sites.
ParaScale Cloud Storage clustered NAS serves applications, boots virtual servers
ParaScale Inc. is rolling out Version 2 of its ParaScale Cloud Storage (PCS) clustered network-attached storage (NAS) system this week with support for synchronous replication, integration of cloud computing applications through new SOAP and REST APIs, and new monitoring and reporting features.
ParaScale Cloud Storage provides clustered file storage for on-premise or hosted clouds. Jack Norris, ParaScale's vice president of marketing, said the synchronous replication support will now allow its do-it-yourself clusters built on commodity servers to run applications, including live virtual machines.
ParaScale's software runs in user space on Red Hat or CentOS distributions of Linux, which allows it to support different types of x86 servers in one cluster, including heterogeneous models within the same storage pool. Because the software runs in user space, the new synchronous replication means ParaScale's clustered NAS systems can serve as a backup target for virtual machine images, and also boot and run live virtual servers from the cluster while maintaining data consistency for attached applications.
Read about cloud storage services options.
Riverbed offers peek at WAFS for cloud storage with virtual Steelhead appliance
Riverbed Technology Inc. is going after the cloud storage market with a software-based Steelhead WAFS appliance along with the ability to run block storage over the wide-area network (WAN).
These products won't be available until next year, but Riverbed previewed them this week at a webcast in New York City.
Virtual Steelhead for the cloud runs Riverbed software on a virtual appliance that customers could send to a cloud computing service such as Amazon's Elastic Compute Cloud (EC2). They could then point servers accessing files from the corporate data center or remote offices at the virtual Steelhead appliance to optimize data transfer in and out of the back-end cloud storage repository.
Read the full story on Riverbed.
Virtual Computing Environment, other alliances could mean data storage industry conflict
It seems the marketing war between the data storage industry's big hitters has entered a new phase. The conflict is about much more than storage, but data storage suppliers are intimately involved and non-aligned vendors, like NetApp and Symantec, face exclusion from a developing chunk of the market.
Five coalitions of server, storage and network vendors will soon be slugging it out to deliver integrated IT stacks to customers. So, who are they?
Key among them is the Virtual Computing Environment (VCE) coalition formed by VMware, Cisco Systems and EMC to increase sales of the three companies' products in pre-configured bundles called Vblocks. These are sold by VCE coalition members' channels and there are three of them, defined pretty much by their server (Cisco) and storage horsepower (EMC). The Vblock 0 supports between 300 and 800 virtual machines on Celerra storage, Vblock 1 supports more on Clariion arrays, while Vblock 2 has a Symmetrix V-Max array and caters to 3,000 to 6,000 virtual machines.
They're not available as single SKUs (stock-keeping units or orderable entities) and are not available as complete Vblocks from any of the three coalition partners -- only from their channel. EMC is throwing in RSA security and Ionix management.
Read the rest of this article on a possible data storage industry conflict arising from industry alliances.
Quantum builds Scalar automated tape libraries for SMBs to scale
Despite placing a great emphasis on disk-based data backup and recovery the last few years, Quantum Corp. is looking to beef up its tape backup products as well. Quantum this week unveiled new entry-level automated tape libraries aimed at small- to medium-sized businesses (SMBs) that scale through software licenses and use the same management software as the vendor's enterprise libraries.
The Scalar i40 is a 3U two-drive box that ships with 40 slots -- at least 25 are active and customers can activate the rest through software licensing.
Learn about issues that play into a decision around enterprise VTL.
Terremark acquires managed data backup and recovery provider DS3 DataVaulting
IT infrastructure service provider Terremark Worldwide Inc. acquired online data backup provider DS3 DataVaulting for $11.5 million last week to beef up its data protection services.
DS3, based in Fairfax, Va., provides local and remote data backup and disaster recovery services. Miami, Fla.-based Terremark and DS3 both specialize in providing services for regulated businesses, including health care providers, legal firms and government agencies.
Read here for more on developing online data backup and archiving services.
National Kidney Foundation cuts GroupWise storage with cloud storage email archiving
Email archiving was in the spotlight last week with the release of Microsoft Exchange 2010 and follow up announcements from storage vendors looking to offer cloud storage repositories for archiving Exchange and web-based email systems.
But not only Exchange shops are porting email archives to the cloud. The National Kidney Foundation has also found a cloud storage email archiving alternative for Novell GroupWise that is more affordable and easier to manage than an on-premise archive.
The National Kidney Foundation is a nonprofit organization with about 350 employees and more than 30 state offices across the United States.
View our email archiving services Webcast.
Axcient launches partner portal
Axcient Inc., a data backup, business continuity and disaster recovery services company for SMBs, this week announced the launch of its Managed Service Provider (MSP) Partner Portal. The portal provides traditional selling tools such as whitepapers and data sheets as well as various three-minute instructional videos that cover topics like competitive positioning, solution selling and technical support; guided online requirements; and a pricing tool. Axcient says the portal eliminates the need for price sheets with multiple levels and choices requiring extended technical assistance. The company also said it reduces the time needed to create proposals and bids.
Synscort announces Partner Edge Reseller Program
Data management software company Syncsort this week announced its Partner Edge Reseller Program, where its data protection software will now be available exclusively through channel partners. This program offers three levels of participation: Elite, Select and Authorized, differentiating a partner's educational commitment and service offerings.
The company said it provides co-op and marketing development funds to partners who demonstrate a commitment to marketing and selling Syncsort as part of an overall value-added solution. Resellers will receive recurring revenue streams from renewed or additional licenses within customers.
To set up this launch, Syncsort also announced the MVP (Migrate, Verify, Protect) service offering last month to help resellers guide customers on safely migrating data and applications from physical to virtual environments.
Additional storage news
Check out last week's storage channel news roundup here.
Dig Deeper on Storage Backup and Disaster Recovery Services