News
Stay informed about the latest enterprise technology news and product updates.
Partner Engage 2009: VARs dish on DLP implementation and the cloud
Data leakage prevention (DLP) implementation is front of mind for VARs both nationally and internationally. Most VARs, however, are not as jazzed about the cloud computing model, and are slow to adopt the new trend.
ORLANDO -- There was a lot for security value-added resellers (VARs) to talk about at this year's Symantec Partner Engage conference, but two subjects in particular seemed to be on everyone's minds: DLP implementation and the cloud computing model.

Download this free guide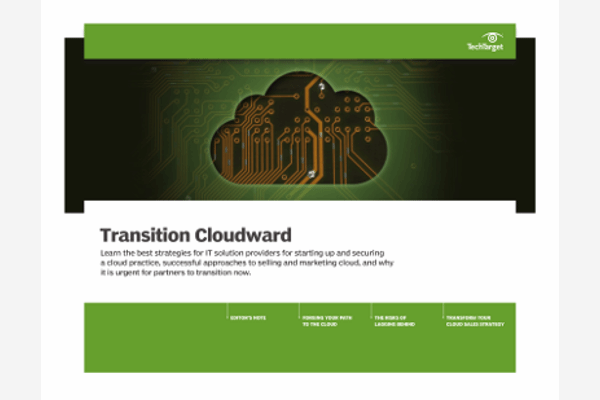 Could Securing Your Channel Business Be Easier? We Can Help.
Download our latest guide to the top strategies solution providers can leverage for starting up and securing a cloud practice, successful approaches to selling and marketing cloud, and why it is urgent for partners to transition now.
Enrique Salem, CEO of Symantec Corp., made a point to let VARs know protecting information was the No. 1 priority for the Cupertino, Calif.-based security giant, and should be for VARs as well. The best way to protect that information, in Symantec's opinion, is with data leakage prevention (DLP) technology.
"What we have done today with DLP is just the beginning. What we've been doing is finding information and trying to protect it," Salem said. "The next step is to associate the data with who owns it."
VARs agreed that DLP implementation will play a major role in their businesses going forward. Several VARs were relieved to see Symantec executives discuss DLP at such length, as it is a technology area in which many are already invested. They see the feature set of DLP to be the core part of a broader security implementation.
What's even more important is that customer demand for DLP is already strong, VARs said, and poised to grow in the coming year. Not only are VARs looking at the technology as strictly a security offering, but also as an add-on for storage customers.
Storage and DLP implementations are beginning to go hand in hand, or as Adam Schutska, CTO of PCS Inc. in Shelton, Conn. put it, "The storage is the burger, and DLP is the fries. So we're selling them together."
While some VARs found the demand for DLP was coming mostly from smaller companies without ample staff to deploy and implement the products, others are working with larger, enterprise-level companies.
Feris Rifai, CEO and founder of Bay Dynamics, a solution provider organization based in San Francisco, works with midmarket-sized organizations and up. "Enterprises and large enterprises are a very strong focus for us," he said.
The importance of DLP going forward is also evident when talking to international VARs. Silvio Eberardo, a VAR based in Brazil, said that DLP is definitely on the minds of his customers.
"In Brazil, [DLP] is brand new," he said. Eberardo's company invested money and resources into DLP last year, with the hope that it would begin to take off. "It was a bet we made last year, and as far as I can see now, it was a really good investment."
The cloud computing model and VARs

Salem declared that Software as a Service (SaaS) would account for 15% of Symantec's business within five years. While some may believe that's a conservative estimate, VARs seem to concur that the interest is there, but it's not necessarily going to become the No. 1 priority in the next year or so.
According to VARs, for now the cloud opportunities are best suited to smaller customer companies.
"Ultimately, the area of application for the cloud is the lower end of the SMB: organizations that don't have compliance requirements or that are looking for simplified, out-of-the-box solution sets," Schutska said. He noted that he didn't believe cloud computing was for companies that demand a lot of customization, or that have to meet compliance regulations.
However, Schutska said his company has been on board with the philosophy of the cloud for a long time. His organization has used the cloud for an application service provider (ASP) offering, or "cloud before there was cloud," as he put it.
Other VARs have been similarly slow to invest in cloud computing and related security services. While there will be a place for cloud computing, most indicated it will not be an overwhelming presence in the market.
Data and infrastructure security in the cloud are two areas that need to be addressed by cloud providers before widespread adoption of cloud infrastructures, according to William H. Santos, general manager of services development for SHI International Corp., an IT products and services company based in Piscataway, N.J.
"While I think all these challenges will be solved over time," he said, for now "I don't see our enterprise-class accounts moving to the cloud in any significant way."
Dig Deeper on Application security and data protection