News
Stay informed about the latest enterprise technology news and product updates.
IBM fills storage system gaps; HP to ship external 6 Gbps SAS array
Headlines: IBM moves to fill gaps in its enterprise storage platforms by adding thin provisioning to the DS8000, and asynchronous mirroring and dual processors to the XIV Storage System; HP's first 6 Gbps SAS enclosure is an update to MSA; analysts expect 6 Gbps SAS to become a viable alternative to FC drives in networked storage.
Storage channel news roundup for July 9-15, 2009
IBM adds thin provisioning to DS8000, asynchronous mirroring to XIV Storage System
IBM tweaked its enterprise storage systems today, adding thin provisioning to its System Storage DS8000, and asynchronous mirroring and dual processors to its XIV Storage System. In both cases, the features are already included in competitors' systems and fill gaps in IBM's platforms.

Download this free guide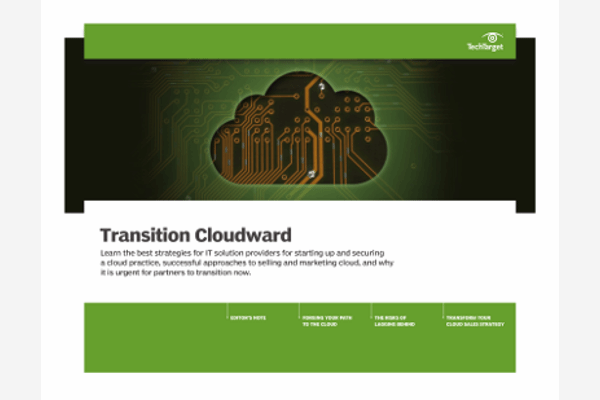 Could Securing Your Channel Business Be Easier? We Can Help.
Download our latest guide to the top strategies solution providers can leverage for starting up and securing a cloud practice, successful approaches to selling and marketing cloud, and why it is urgent for partners to transition now.
IBM left out thin provisioning when it upgraded the DS8000 last February with full disk encryption and solid-state drive (SSD) support. First made popular by 3PAR Inc., thin provisioning is becoming a common feature on enterprise systems now that Hitachi Data Systems (HDS) and EMC Corp. offer it. IBM already supports thin provisioning for its SAN Volume Controller (SVC) storage virtualization box, and on the XIV Storage System.
Along with thin provisioning, IBM is making software upgrades for the DS8000 that are intended to improve the speed of volume initiation and provide better throughput for systems using FICON on IBM mainframes.
Read the full story on IBM's DS8000 and XIV Storage System.
Hewlett-Packard launches first external 6 Gbps SAS enclosures
Hewlett-Packard (HP) Co. will begin updating its external disk arrays to 6 Gbps Serial Attached SCSI (SAS) with the new HP StorageWorks D2000 series this fall.
Hewlett-Packard has pledged to upgrade its entire storage line to 6 Gbps small form factor (2.5-inch) Serial-Attached SCSI drives, and many expect the whole data storage industry to follow by offering 6-gig SAS as an alternative to Fibre Channel (FC) in enterprise data storage systems.
The StorageWorks D2000 is an update to the low end of the HP Modular Smart Array (MSA) line. The D2600, a 2U enclosure with support for up to 12 large form factor (3.5-inch) 450 GB 6 Gbps SAS and/or 1 TB 3 Gbps SATA drives, is an update to the 3 Gbps SAS and SATA MSA 60. The D2700, also a 2U enclosure with support for up to 25 small form factor 300 GB 6 Gbps SAS and/or 500 GB 3 Gbps SATA, is an update to the MSA 70.
Read full story about HP's 6 Gbps SAS enclosures.
Barracuda Networks adds data deduplication with Yosemite integration
Barracuda Networks is adding data deduplication into its Barracuda Backup Service and the BarracudaWare Yosemite Server data backup product.
Barracuda's move into the hot deduplication space is driven by acquisitions. Barracuda acquired dedupe IP when it bought BitLeap LLC last November, and the BarracudaWare Yosemite Server Backup comes from the acquisition of Yosemite Technologies in January. The new Yosemite product uses the BitLeap deduplication with Yosemite's application-aware backup software agents for granular backups of Microsoft Exchange, SQL and Windows system state information.
Learn more about data deduplication.
Managing snapshot data is a balancing act
Snapshots are a handy tool for storage managers, offering a neat point-in-time recovery ability that users love. But they're so easy to make that if they're not carefully managed, they can end up taking up too much space in storage managers' systems.
"I don't think we're seeing enough discussion around image sprawl," said Andi Mann, Enterprise Management Associates VP of research, storage management. "We're starting to see snapshots and image sprawl as a major storage issue. The idea that you can restore critical data, from a compliance perspective, it's overkill. You end up storing and restoring 10Gb even though you want to get at one file."
So how many snapshots should a storage manager save? "There's not any one rule for that," said Lauren Whitehouse, Enterprise Strategy Group analyst. "It's so environment-specific, use-case-specific, and it could even be compliance-specific."
Read the full story on managing snapshot data.
DataCore splits disaster recovery load among remote sites with Advanced Site Recovery
DataCore Software Inc. rolled out new software at the Microsoft Worldwide Partner Conference that allows organizations without a secondary data center devoted to disaster recovery (DR) to fail over physical and virtual servers to multiple remote or branch offices (ROBOs) in the event of a disaster.
The new software, called Advanced Site Recovery, or ASR, requires DataCore's SANmelody or SANsymphony storage virtualization software to be installed on all storage nodes involved in the disaster recovery plan. The customer would also install Advanced Site Recovery on each DataCore node and decide which remote sites should take over each workload in case of failure.
This requires detailed planning and knowledge of the capacity available at each remote site, but DataCore director of product marketing Augie Gonzalez pointed out that the software will only be available through DataCore-certified Advanced Site Recovery implementation channel partners, who will assist with the planning and deployment of Advanced Site Recovery.
Read the full story on DataCore's Advanced Site Recovery.
Disaster recovery testing strategies
At a time when businesses are more dependent than ever before on automation to enable fewer people to be more productive, disaster recovery (DR) planning is more important than ever. Even a minor disruption can have major consequences for business continuity.
That said, the truth is that many organizations have downsized their planning efforts in response to economic pressures. One significant area where cutbacks are occurring is in the allocation of funds to subsidize plan testing.
Testing is the long tail cost of disaster recovery planning. Once the critical assets of the company have been identified and objectives have been set for their timely recovery following an interruption event, planners typically go on a hunt for the right recovery technique to safeguard and restore the assets within the limitations imposed by technology availability and budget. Settling upon the techniques that fit the need, the plan is documented and bound and we get down to the real work of disaster recovery: routine testing.
Cloud data backup caution is advised by new CA recovery management head Don Kleinschnitz
Don Kleinschnitz became the senior vice president of engineering at CA Inc. last month, and has been charged with leading a new product development team overseeing strategy, design and launch of new data recovery management products.
Kleinschnitz previously held a product development position within CA rival Symantec Corp., and before that he held positions with StorageTek and Hewlett-Packard (HP) Co. Kleinschnitz said CA is gung-ho about supporting server virtualization backups, having recently released day one support for VMware Inc.'s vSphere 4.
But when it comes to cloud data backup, another hot technology topic, Kleinschnitz said he believes customers are looking for a gradual, lengthier transition than many of his competitors anticipate
Read full Q&A with CA's Don Kleinschnitz.
Acronis looks to scale data backup software to enterprise with Backup and Recovery 10
Acronis Inc. has rechristened its data backup application for businesses Backup and Recovery 10, and given it a new policy engine and data deduplication to try and bring it deeper into the enterprise.
Acronis is best known in the SMB/SME space for image-based bare-metal backups and restores of servers and PCs. The product that Backup and Recovery 10 replaces, Acronis True Image, represents 87% of the company's total revenue, Acronis CEO Jason Donahue said.
"Traditionally, 20 percent of our business has been in the consumer space," Donahue said. "Another 20 percent has been in the traditional enterprise, while the majority has been small to medium enterprises. Backup and Recovery 10 is replacing our SMB and enterprise suite of products, and is designed to address a wider market."
Read the full story on Backup and Recovery 10.
CommVault enhances PartnerAdvantage channel program with online accreditation and training
Storage software vendor CommVault is expanding its PartnerAdvantage program by adding online sales and technical accreditation capabilities. The company's channel partners now have access to self-paced, multimedia instructional modules and supporting documents designed to broaden their CommVault product knowledge, identify and close business more quickly.
CommVault partners can access the online accreditation system through the company's InnerVault partner portal. Partners can assess their product knowledge through a series of tests that gauge competency in various areas.
Find out more about CommVault's channel support.
Forsythe acquires Paragon Solutions Group
Systems integrator Forsythe Solutions Group Inc. announced it has acquired Paragon Solutions Group Inc., an IBM server and storage solutions provider. This transaction is Forsythe's sixth purchase in the past nine years.
Previous acquisitions include More Group Inc.; Information Security Technology (IST); National Business Group Inc. (NBG); and Enterprise Computing Inc. (ECI).
Headquartered in Illinois, Forsythe employs more than 900 people throughout North America. The company is privately held and 100% employee-owned. In 2008, Forsythe had its 38th consecutive year of profitability with revenues of $700 million.
Additional storage news
Check out last week's storage channel news roundup here.
Dig Deeper on Data Management Technology Services