News
Stay informed about the latest enterprise technology news and product updates.
Trend Micro's Worry-Free Business Security 6.0 extends partner opportunities
Trend Micro small business desktop security suite takes processing burden off the PC and adds URL filtering and SaaS email security.
While desktop antivirus is generally regarded as a commodity product, Trend Micro's latest release of its Worry-Free Business Security (version 6.0) underscores the message that there is still plenty of business out there.

Download this free guide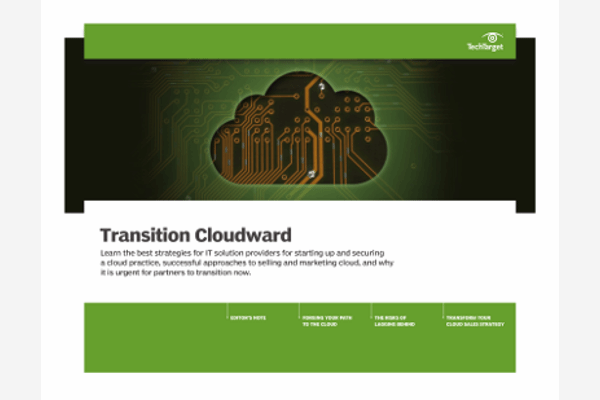 Could Securing Your Channel Business Be Easier? We Can Help.
Download our latest guide to the top strategies solution providers can leverage for starting up and securing a cloud practice, successful approaches to selling and marketing cloud, and why it is urgent for partners to transition now.

By submitting your personal information, you agree that TechTarget and its partners may contact you regarding relevant content, products and special offers.

You also agree that your personal information may be transferred and processed in the United States, and that you have read and agree to the Terms of Use and the Privacy Policy.

Worry-Free Business Security is generally aimed at companies with 100 or fewer employees. They face most of the same Internet-based threats their enterprise counterparts have to deal with -- Web-based malware, phishing, email-borne malware, spam and a highly mobile workforce with laptops exposed to the world.

Unlike enterprises, though, their antimalware protection is often surprisingly spotty, relying on freeware or shareware, or whatever antivirus product came installed on their PCs.

"We have customers who were using freeware antivirus," said Art DeKneef, owner of Mesa, Ariz.-based Avanti Computers, which offers a wide range of IT and security services and products to small businesses, primarily in the greater Phoenix area. DeKneef said he can sell into this market by demonstrating the commercial products' central management, stronger antimalware capabilities and email protection.

"Once we explain the benefits, they usually do not have much hesitation about the comprehensive package," he said.

He said he finds new clients depending on whatever came installed on their new PCs. Surprisingly, they think they're protected, even though the security products trial period has long expired.

"I tell them their subscription expired six months ago," he said. "But they don't realize it, and users turn off pop-up reminders to make them go away."

Extended partner opportunities


For channel partners, the Worry-Free Remote Manager is the key to supporting Trend small business customers. It's free to resellers, who can use it to manage single or multiple customers remotely. This extends partner opportunities by allowing channel partners to offer extended services at little expense to themselves, managing more customers than their limited staff and resources might otherwise allow. They can check in on customers without dialing in individually and perform a number of services without site visits.

"Worry-Free Remote Manager gives partners the ability to manage customers from the console. That's why it's been so successful with partners," said Dan Woodward, Trend's director of marketing for SMB. "They know what the customer is up against, what the challenges are. It allows them to provide the best possible solution for the price."

Trend Micro integration with Microsoft Small Business Server has been a key to servicing customers, DeKneef said. Most of his customers use Small Business Server, and the tie-in with Worry-Free Business Security, which allows him to leverage group policy to push out updates.

Worry-Free Business Security 6.0 offers a couple of significant new features.

SmartScan improves desktop performance and allows Trend to bring greater resources to bear on malware detection. Given the staggering volume of new malware that appears daily, security vendors are moving the bulk of detection resources off the desktop. SmartScan stores about 20% of its detection information (signatures, etc.) locally, and the rest on the company server.

SmartScan leverages what Trend Micro calls File Reputation, similar to the reputation-based detection technologies for spam and Web threats that have been developed by Trend and other security vendors.

Trend Micro also offers a hosted version of Worry-Free for the smallest businesses -- those with 10 or fewer employees. In this case, there is no server on premises, and SmartScan is enabled in the cloud.

The new version also includes URL filtering for the first time. Larger companies typically implement URL filtering through a separate product, usually as part of a Web security gateway in recent years. Most small businesses either don't feel the need for it or simply can't afford a separate product, especially if the traffic volume requires a Web proxy, such as a Blue Coat appliance.

URL filtering adds some security effectiveness, but its primary role is to enforce policy to keep employees away from undesirable websites, such as porn or gambling, and/or to improve productivity by restricting Web usage for business purposes.

Avanti's DeKneef said his smallest customers have little or no use for it, but others may find it useful.

"It's nice to have, a few clients are using it," he said. "In small shops, everyone knows everyone; they're all just pretty much doing their work. Larger organizations have more interest in acceptable use policy to spell things out on limits on going to websites and reporting on what employees are doing."

Worry-Free Business Security 6.0 comes in standard and advanced editions. The latter includes InterScan Messaging Hosted Security, Trend's SaaS email security offering.
Dig Deeper on Threat management and prevention