News
Stay informed about the latest enterprise technology news and product updates.
EqualLogic partners: So far, so good with Dell
A year after Dell's $1.4 billion acquisition of iSCSI storage vendor EqualLogic, nervous channel partners say Dell has made the right moves so far.
Dell has managed to alleviate many of the fears of its channel partners in the year since it acquired iSCSI vendor EqualLogic, although it will take awhile for all of the apprehension to go away.

Download this free guide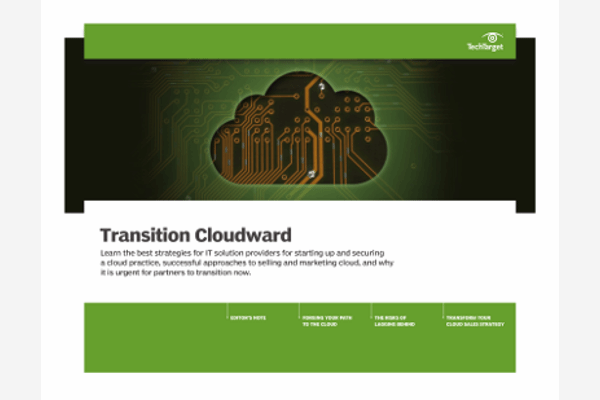 Could Securing Your Channel Business Be Easier? We Can Help.
Download our latest guide to the top strategies solution providers can leverage for starting up and securing a cloud practice, successful approaches to selling and marketing cloud, and why it is urgent for partners to transition now.

By submitting your personal information, you agree that TechTarget and its partners may contact you regarding relevant content, products and special offers.

You also agree that your personal information may be transferred and processed in the United States, and that you have read and agree to the Terms of Use and the Privacy Policy.

Despite defections after the $1.4 billion acquisition, Dell claims the EqualLogic channel has more than doubled and some of the anxious partners report their EqualLogic business increased last year.

Bernard Westwood, chief financial officer (CFO) of Syscom Technologies in Marietta, Ga., said he's been pleased so far.

"It's gone better than we thought it would go," Westwood said. "The fact that they kept EqualLogic folks intact in the channel organization helped out quite a bit. They implemented lot of things EqualLogic had been doing prior to the acquisition. It hasn't impacted our business. We did better in 2008 than we did in 2007."

Ron Dupler, CEO of Kittery, Maine-based GreenPages Technology Solutions, has had a similar experience working with Dell.

"We were more optimistic than most because we had been working with Dell, but still a little apprehensive," Dupler said. "EqualLogic was such a key partner and Dell has had more of a direct model and didn't have a formal channel partner program. But the Dell management team has been eager to understand what they need to do to be a good partner, and spent lot of time over last year making sure they were doing the right thing and understand what their channel needed. I was impressed."

He said it took Dell about a quarter to smooth over "a few bumps in the road," before fully mapping out its channel registration programs and pricing models but the second half of last year went smoothly.

GreenPages also sells storage from Hitachi Data Systems and some from IBM and NetApp, as well as HP's LeftHand iSCSI, although Dell EqualLogic is its major iSCSI partner.

Dupler says GreenPages' EqualLogic business doubled last year but that it also grew significantly every year before Dell took over.

"I do not credit the acquisition for this trajectory," Dupler said. "I do credit the successful integration with allowing us to maintain our momentum with EqualLogic."

Dupler says GreenPages sells other Dell products, but not as much as it sells EqualLogic. "We probably aren't as proactive as Dell would like with non-EqualLogic products, but we've moved from selling only when requested to more of a neutral stance," he said.

John Joseph, vice president of Dell EqualLogic marketing, says keeping channel partners happy was the biggest challenge associated with the acquisition.

"I think there was more trepidation in the channel situation than was necessary, but that's just natural," he said. "There were those who were disenchanted by Dell and went away, and those who viewed it as an opportunity. Most of our channel has been retained."

While some large channel partners such as CDW – which offers iSCSI from HP's LeftHand Networks – dropped EqualLogic after the deal, Dell claims EqualLogic channel partners increased from 185 to almost 400 in North America.

Joseph admitted there was "a mild chop in the water early where Dell direct and our channel partners were in competition" before the registration program kicked in. Now every deal must be approved first to avoid conflict.

Westwood agrees that Dell has done a good job avoiding conflict.

"They did a strong job the first year with the registration process they implemented, and helped us maintain our deals even if we go up against a Dell sales team," he said. "We were worried about the Dell low-cost, high-volume model eroding our margins in the channel."

However, he says, challenges remain. As pressure increases on Dell's salespeople to hit their numbers, they offer discounts, and "that's not good for us in the channel."

"We enjoy working with them, and they put lot of effort into it. But we'll probably always be cautious," Westwood said. "Dell has such a large sales organization that there are still challenges. Now they have a reorganization, and we don't know how that's going to work out."

Customer service was another question that surfaced with the Dell-EqualLogic deal. EqualLogic customers gave their vendor high marks for support when it was a startup and were worried about Dell's penchant for outsourcing support.

Brian Perry, senior software architect for Plano, Texas-based mortgage lender service provider Optimal Blue, says he's been satisfied with support since buying an EqualLogic iSCSI array and Dell PowerEdge blade server directly from Dell last year.

"Any time we've called and the person we called hasn't known the answer to our question, they were quick to get back, and every time they got somebody who knew how to guide us through what we were trying to accomplish," he said.

Perry said he was never able to get his Dell-EqualLogic setup to boot from the SAN, and might go back and try again eventually. But he says the SAN is a big improvement over the direct-attached storage Optimal Blue had used, and he's considering adding a second SAN for disaster recovery.

"The speed at which we can get new hardware in place for adding capacity or upgrading capacity has increased tremendously," he said.
Dig Deeper on Technology Vendors-OEMs