News
Stay informed about the latest enterprise technology news and product updates.
IT Channel News Briefs, Nov. 24
Today's headlines: IT spending will decline in '09, and Agito names a new CEO.
Information technology (IT) channel news in brief for Monday, Nov. 24, 2008.
IT will slow to a crawl in coming quarter, report shows
Since the start of the economic downturn, most solution providers and enterprise IT shops have reported a decrease in IT spending. Now, two recent research reports show technology spending may drop to cover only the bare bones in coming quarters.

Download this free guide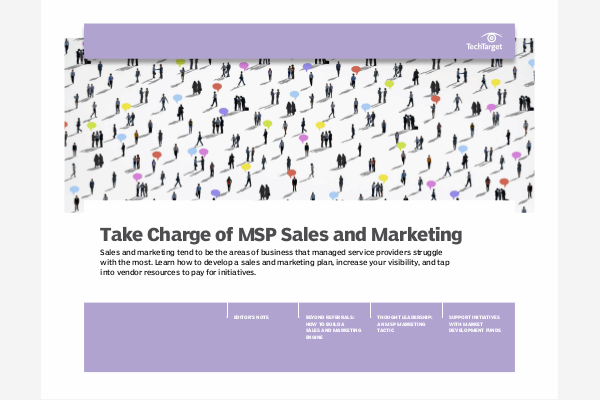 Expert Guide: Creating an MSP Sales and Marketing Plan
Sales and marketing tend to be the areas of business that managed service providers struggle with the most. Learn how to develop a sales and marketing plan, increase your visibility, and tap into vendor resources to pay for initiatives.
Nearly half of 1,926 executives involved in enterprise IT spending interviewed by ChangeWave Research said they would decrease spending on IT or purchase nothing at all in Q1 of 2009. The study, released Friday, shows the worst results since the tech bubble burst in 2001.
In another study, Infonetics Research shows that telecom service providers are slowing their investments in VoIP equipment, with the overall market dropping 8% to $816 million in Q3 of 2008. A number of telecom service providers sell VoIP services and equipment directly into the enterprise or partner with solution providers.
Agito Networks appoints new CEO
Wireless company Agito Networks named Amit Chawla its new CEO, replacing the acting CEO, chairman Dave Leonard. Leonard took over for former CEO Ron Markovich, who left earlier in the year.
Chawla is a telecom industry veteran who spent 13 years at Nortel Networks and held senior executive positions at Veraz Networks, ECI Telecom and NexVerse. Just last month, Agito named Sheila Kuri the new director of the North American channel. Agito makes the RoamAnywhere Mobility Router, which enables fixed-mobile wireless.
Net@Work buys Business Technology Solutions
Net@Work has acquired Business Technology Solutions as part of its plans to build a national presence. New York-based Net@Work, which implements a wide range of Sage applications, said BTS will strengthen its existing MAS 90 and MAS 200 bench and also bring expertise in human resource management systems and automation.
Details of the deal weren't disclosed. BTS, based in Raleigh, N.C., claims more than 350 customers, which can now tap into Net@Work's CRM, accounting, human resources and infrastructure offerings. BTS founder, president and CEO Lissa Johnsen will head Net@Work's new HR practice from its North Carolina office. All BTS employees will stay on, Net@Work said in a statement.
Check out Friday's IT channel news briefs.
Dig Deeper on Sales and marketing strategies