News
Stay informed about the latest enterprise technology news and product updates.
IT Channel News Briefs, Nov. 21
Today's headlines: BlackBerry Storm hits shelves, and Salesforce.com's revenue rises.
Information technology (IT) channel news in brief for Friday, Nov. 21, 2008.
BlackBerry Storm reviews are in
Bad economy? Pshhaww! Research in Motion is banking on consumers tossing aside their buying insecurities and snapping up the BlackBerry Storm, which goes on sale today. Verizon, the exclusive carrier of the Storm, has been blasting users with ads for weeks, but it may be the reviewers that have more influence. The reviews range from PC World's "awkward and disappointing" to Wired.com's claim that the Storm "almost eclipses the iPhone." And there's a whole lot in between.

Download this free guide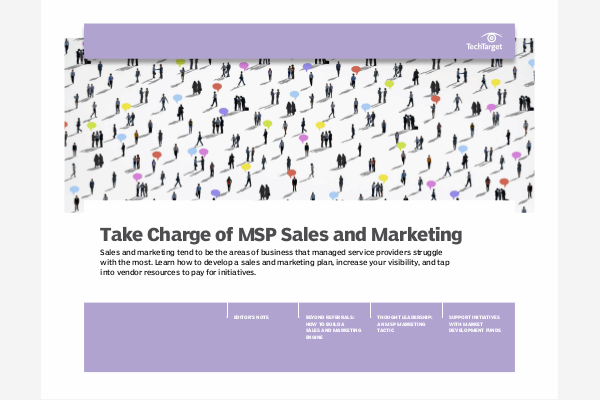 Expert Guide: Creating an MSP Sales and Marketing Plan
Sales and marketing tend to be the areas of business that managed service providers struggle with the most. Learn how to develop a sales and marketing plan, increase your visibility, and tap into vendor resources to pay for initiatives.
By submitting your personal information, you agree that TechTarget and its partners may contact you regarding relevant content, products and special offers.
You also agree that your personal information may be transferred and processed in the United States, and that you have read and agree to the Terms of Use and the Privacy Policy.
But U.S. News and World Report had the review probably most important for business folks who are tied to their CrackBerry's anyway: "It's a fun BlackBerry, but no iPhone Killer." Either way, Friday morning customers were lining up outside Verizon stores for day-one sales. It remains to be seen how long the clamor will last.
Salesforce.com ratchets up guidance
Software as a Service (SaaS) bellwether Salesforce.com reported revenue of $276 million for its third quarter yesterday, up 43% over the year-ago figure. The company said it expects to earn between $1.35 billion and $1.36 billion.
Salesforce.com posted lower-than-expected deferred revenue numbers, but guidance for the year was an upside surprise, and the company's shares climbed in after-hours trading to $24.60 a share -- up from the close of $22.83. Overall, however, the company's stock has fallen nearly 60% since its last quarterly call.
Analysts keep a close watch on deferred revenue as an indicator of new subscriptions and contracts. Earlier this fall, other SaaS players raised red flags about sales in this tough economy. RightNow Technologies cited collection difficulties, and NetSuite and some other players tamped down expectations and guidance for the upcoming quarters.
Silver tech lining in dark economic cloud
All is not completely lost on the IT spending front, according to CDW's first annual IT Industry Straw Poll. Of respondents, 59% saw healthcare and energy as strong growth segments for 2009, and 40% cited government as a secondary IT growth market. CDW queried 273 IT leaders at its annual Partner Summit in Las Vegas, and 60% predicted overall IT spending in their arena will either remain stable or perhaps grow next year. Not surprisingly, they expect IT spending in financial services and retail to suffer. Nearly 80% said the weak economy will be their biggest hurdle in the upcoming year.
Watch out for infected USB sticks this holiday season
Consumers and businesses alike should be on the lookout for infected USB sticks, SearchSecurity.com reported this week. IBM's Internet Security Systems division is warning that USB sticks and other gadgets that use USB drives could turn up as malware-laden Christmas gifts this year. Already the U.S. military has banned the USB sticks and other removable storage devices from its networks.
Tainted USB sticks aren't a new phenomenon, and sometimes they come from the most reputable sources. High-profile cases include infected USB floppy drive keys shipping with Hewlett-Packard's ProLiant servers in April, and a small amount of tainted Apple iPods shipping back in 2006.
IBM hits competitive milestone
IBM announced yesterday that 5,000 companies have switched from Hewlett-Packard, EMC and Sun Microsystems to IBM systems and storage since 2004. The company also highlighted its Migration Factory programs, which perform competitive server assessments and migration services.
Check out yesterday's IT channel news briefs.
Dig Deeper on How to Choose the Right Technologies