News
Stay informed about the latest enterprise technology news and product updates.
Lenovo, Synnex offer ThinkServers to VARs on free trial
Lenovo and Synnex launch a risk-free trial to let VARs try ThinkServers for 60 days without payment.
Lenovo and Synnex are giving value-added resellers (VARs) and their customers a risk-free opportunity to test out new Lenovo ThinkServers.
The try-before-you-buy promotion will let VARs source up to five Lenovo ThinkServers from Synnex and then let their customers try them out for up to 60 days -- free of charge. Lenovo, which bought IBM's prestigious ThinkPad laptop brand three years ago, started in the server business last year, using licensed IBM System X technology.

Download this free guide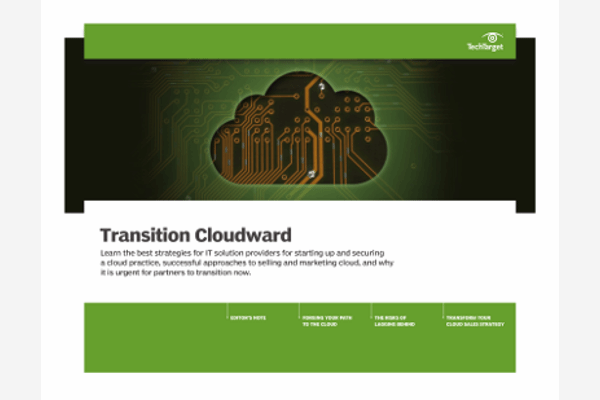 Could Securing Your Channel Business Be Easier? We Can Help.
Download our latest guide to the top strategies solution providers can leverage for starting up and securing a cloud practice, successful approaches to selling and marketing cloud, and why it is urgent for partners to transition now.
There are five Intel Xeon-based models available with list prices starting as low as $629, said Sammy Kinlaw, director of distribution for Lenovo. The company is based in China, where the servers are manufactured, with U.S. operations based in Morrisville, N.C.
Lenovo servers come with 90 days of priority support, and Synnex can configure the units for VARs.
"We chose them [for this trial] because of their capabilities and flexibility and how quickly they can roll out the program," Kinlaw said.
The move comes just weeks after the shocking news that IBM de-authorized Synnex from selling its System X server line. Both Kinlaw and Synnex senior vice president Bob Stegner said the Lenovo deal was in the works well before Synnex got that news.
The free trial could be a big bonus for VARs who have desktop and notebook customers already, but who do not yet offer servers, Stegner said.
"If I'm a VAR, this is an ideal program to test the market with Lenovo servers at no risk to me," Stegner said. "There are other [vendor] demo programs, but they typically require you to pay 50% or some [percentage] toward the server up front."
Jim Thommassen, president of MyrtleTech, a VAR in Newnan, Ga., is jazzed about the opportunity.
"Historically, a customer had to commit to the hardware, and then if it didn't work out, it would be a little bit of a battle between the end user and the VAR, and the VAR sometimes had to eat some of the cost," he said. "This lets the customer really try it out without that risk."
Thommassen has already had a big win with Lenovo servers. A customer had another name-brand server that died, and the tier-one manufacturer was unable to figure out the problem. MyrtleTech happened to have a Lenovo server arrive that day for another customer who didn't need it right away.
"It was a little scary," Thommassen said. "It was the first time we looked at Lenovo servers, but the engineer who broke it open and set it up had no problems. It was very straightforward, and it worked beautifully,"
MyrtleTech has other ThinkPad customers who were excited to hear about the ThinkServers and want to give them a try, he said.
"Pricing is really good, and what I like about them is they have a few models loaded up the way they need to be," he added. "We don't have to pick a RAID card, etc. It's like when Honda started here. There were three choices at great prices, and all were attractive."
The server pricing is very competitive, and the ThinkServer brand already has traction because of the popularity of ThinkPads, Thommassen said.
"We can compete with Dell with these servers," Thommassen said.
Customers who would normally buy directly from Dell might instead source Lenovo servers from their VARs.
Dig Deeper on MSPs and hardware technology