News
Stay informed about the latest enterprise technology news and product updates.
IT Channel News Briefs, Nov. 4
Today's headlines: Salesforce.com sends in the clouds; moving and shaking at Apple.
Information technology (IT) channel news in brief for Tuesday, Nov. 4, 2008.
Salesforce.com event brings in the clouds
Salesforce.com wants its cloud to work with other clouds and said on Tuesday that its infrastructure will interact well with other "cloud-based services namely Facebook and Amazon.com ecosystems.

Download this free guide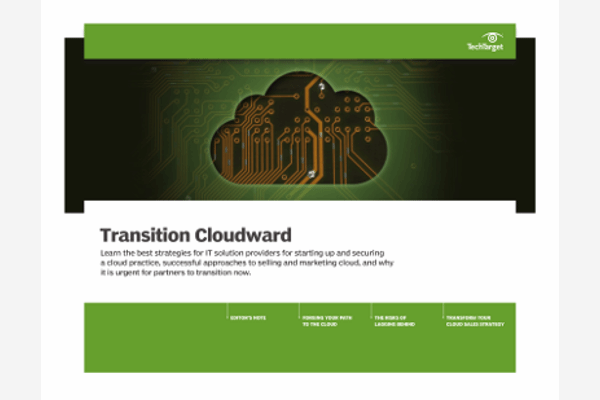 Could Securing Your Channel Business Be Easier? We Can Help.
Download our latest guide to the top strategies solution providers can leverage for starting up and securing a cloud practice, successful approaches to selling and marketing cloud, and why it is urgent for partners to transition now.
The company, which hosts customer relationship management (CRM) on its servers, announced a collaboration with Facebook and Amazon.com on Monday. A Salesforce.com customer or partner working for the customer will be able to offload data to Amazon.com's S3 service from Salesforce.com, for example. The news was unveiled by Salesforce.com CEO Mark Benioff at the annual Dreamforce show in San Francisco.
The news comes a week after Microsoft sketched in some details of its own cloud plan, announcing Windows Azure services.
Microsoft is playing catch-up here. Salesforce.com has offered its hosted applications and services for more than five years. Amazon.com will have Microsoft Windows and SQL Server running in its Elastic Compute Cloud long before Microsoft will have production-ready versions of its own services.
iPod innovator exits, IBMer enters Apple
Tony Fadell is leaving the Apple as a full timer. Apple confirmed the news, broken earlier by the Wall Street Journal, in a press release Tuesday. Apple said that Fadell, senior vice president of the iPod division, will reduce his role at the company while his wife Danielle Lambert, vice president of human resources, will leave at year's end. Fadell will continue to advise Apple CEO Steve Jobs, Apple said. Apple also confirmed rumors that Mark Papermaster, a former IBM exec, is joining the company as senior vice president of devices hardware engineering. He will report to Jobs and will lead the company's iPod and iPhone hardware teams.
IDC forecasts drop in chip demand for 2009
IDC predicts a downturn in demand for chip sales worldwide despite current growth in PC microprocessor shipments. According to a new report by IDC released this week, PC microprocessor shipments in the third calendar quarter of 2008 reached record levels, growing 14% quarter over quarter (QoQ) and 15.8% year over year (YoY). Intel's new Atom processor for ultra low-cost mobile PCs made a notable difference in the overall market performance; without Atom, unit shipments grew 8.3% QoQ and 8.7% YoY. But IDC doesn't see demand continuing into 2009 at the same rate and said it will lower its forecast for the coming year. The research firm didn't release exact forecast numbers yet. "The worldwide demand environment looks weak, and both Intel and AMD indicated an uncertain outlook for the market. As a result, IDC is conservative about 2009 and will be lowering its upcoming unit forecast for the year," the company said in a statement.
AT&T uses election day to launch BlackBerry Bold
AT&T Wireless is using Election Day and the buzzword "choice" to spin the release of the new BlackBerry Bold smartphone. The phone, launched Tuesday, will take on the iPhone directly since it now has a range of consumer applications in addition to its business applications. On the consumer side, BlackBerry Bold comes preloaded with AT&T Navigator, YellowPages.com and a mobile XM radio service, as well as access to AT&T Media Mall, Napster Mobile, dozens of games and more. On the business end, the Bold offers users access to dozens of third-party applications in healthcare, financial services, sales and customer relationship management, among others. "Election day is all about choice," AT&T said in a statement. "BlackBerry Bold … gives AT&T customers yet another fantastic choice."
Check out yesterday's IT channel news briefs.
Dig Deeper on Channel partner program news