News
Stay informed about the latest enterprise technology news and product updates.
Symantec partners see economy's effect on IT spending decisions
Solution providers at Partner Engage 2008 say they have to work harder for deals in this failing economy.
WASHINGTON, D.C. -- There's more scrutiny around IT spending decisions now, thanks to the economic downturn, but business customers are still buying, according to solution providers at Symantec Partner Engage 2008.

Download this free guide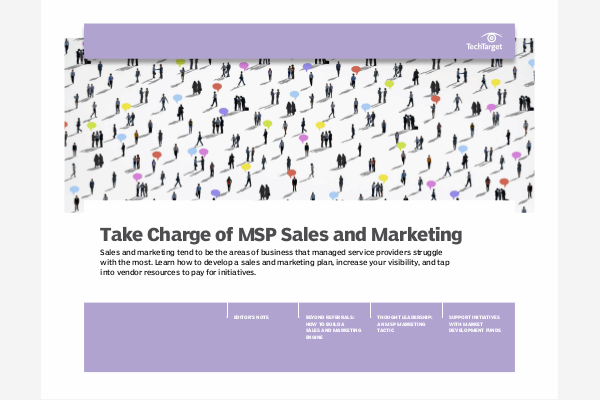 Expert Guide: Creating an MSP Sales and Marketing Plan
Sales and marketing tend to be the areas of business that managed service providers struggle with the most. Learn how to develop a sales and marketing plan, increase your visibility, and tap into vendor resources to pay for initiatives.
By submitting your personal information, you agree that TechTarget and its partners may contact you regarding relevant content, products and special offers.
You also agree that your personal information may be transferred and processed in the United States, and that you have read and agree to the Terms of Use and the Privacy Policy.
Still, most Symantec partners said they're concerned about the economy's future, and they're taking steps to protect themselves if -- or when -- it does start affecting IT spending decisions.
"Living through 2000, the tech wreck, you learn," said Mike Shook, CEO of Consonus Technologies in Cary, N.C. "You don't sell your way out of these things."
For now, Symantec partners said there is extra pressure to show their customers immediate returns on their investments. More IT spending decision-makers are getting involved in the sales cycle at customer sites, as well.
"We're seeing a lot more scrutiny from the CFO level," said Tom Maloney, director of software sales for CDW, a Symantec distributor. "They're just very cautious right now."
Aside from the economy's effect on IT spending decisions, another major concern is whether the nation's credit crunch will affect customers' ability to pay. Mike Clesceri, vice president of marketing for Laurus Technologies in Itasca, Ill., said payments aren't slowing down yet. But the company is putting controls in place to cover itself in case customers do have a hard time making their payments.
And at Advanced Internet Security in Colorado Springs, Colo., president Gary Cannon said he may have to start scrutinizing customers' credit reports more before making deals.
"Usually we're pretty trusting, and maybe we shouldn't be," he said.
Most Symantec partners said they're well positioned to weather the economic downturn, because security and storage -- Symantec's bread and butter -- are technologies that businesses have to buy for compliance reasons.
Chief operating officer Enrique Salem warned during his keynote address that "no company is immune to what's happening." But he also expressed optimism for both Symantec and its partners.
"With the breadth of technologies we have in place, we should be able to outperform the market," he said.
Dig Deeper on How to Sell Technology in the IT Channel