News
Stay informed about the latest enterprise technology news and product updates.
IT Channel News Briefs, Oct. 3
Today's headlines: DataCore asks LeftHand Networks VARs to step on up; HP and Nokia release touch-screen smartphones.
Information technology (IT) channel news in brief for Friday, Oct. 3, 2008.
DataCore to LeftHand VARs: Come on over
DataCore will make it worthwhile for LeftHand Networks value-added resellers to switch over to its own "hardware-independent" storage virtualization and management software. As part of the company's new "Step up to DataCore" program, it will offer discounted software and extra margin to VARs who register and move their LeftHand customers to DataCore. On Wednesday, Hewlett-Packard announced plans to buy LeftHand, a maker of iSCSI storage, for $360 million, a move welcomed by many HP VARs. Datacore is betting that LeftHand VARs aren't feeling so warm and fuzzy about it. Datacore will pay eligible partners 15% lead registration fee if they provide some documentation that the customer is moving from LeftHand. The program runs through the end of 2008.

Download this free guide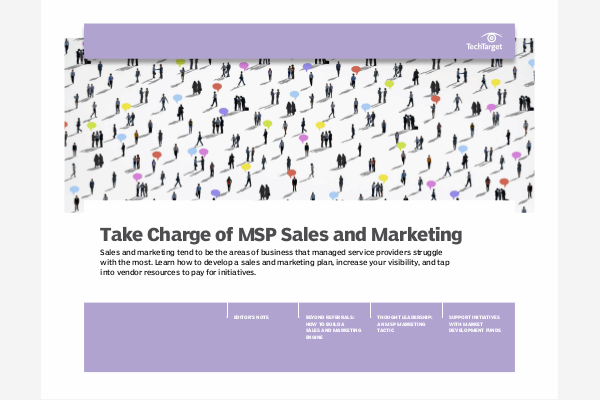 Expert Guide: Creating an MSP Sales and Marketing Plan
Sales and marketing tend to be the areas of business that managed service providers struggle with the most. Learn how to develop a sales and marketing plan, increase your visibility, and tap into vendor resources to pay for initiatives.
"HP is a terrific company," said James Price, DataCore's vice president of product and channel marketing. "However, many LeftHand resellers, like our own partners, differentiate themselves … by tailoring their solutions to the specific needs and budgets of their customers. Freedom from hardware tie-ins is critical to delivering these solutions."
HP battles BlackBerry; Nokia takes on iPhone
The smartphone wars got even hotter this week. Hewlett-Packard announced it will release a touch-screen smartphone using Microsoft's Windows Mobile 6.1, The Wall Street Journal reported Thursday. Aimed at battling Research in Motion's BlackBerry, HP's consumer-targeted phone will enable email and Internet access and be similar to HP's business-class iPaq devices. HP has been selling iPaqs since it acquired Compaq Computer in 2002, but the phones have never been available in retail stores. Meanwhile, Thursday Nokia unveiled a touch-screen smartphone that takes direct aim at the iPhone. Nokia's 5800 XpressMusic has a music and video player, surround-sound speakers, 8 gigabytes of memory, a 3.2-inch screen, and a 3.2 megapixel camera. Samsung Electronics, Sony Ericsson and HTC Corp. have already released iPhone rivals.
IBM updates Cognos 8
A new version of Cognos 8 analytics software adds support for annotations so users can add explanations and notes to reports and charts. With Cognos 8 version 4, authors and data modelers can now see the "business lineage" or sources of relevant data. IBM, which bought Cognos a year ago, tightened up the links to its own InfoSphere Warehouse by adding support of InfoSphere OLAP cubing as a data source for Cognos reports and links to InfoSphere's Business Glossary. Cognos 8 version 4 will be available in the fourth quarter.
Global chip sales grow along with PC and cellphone sales
Global chip sales grew 5.5% in August from a year ago as a result of strong cellphone and personal computer sales, according to the Semiconductor Industry Association (SIA), The Wall Street Journal reported Thursday. Global chip sales totaled $22.7 billion in August, up 2.4% from July. The Asia-Pacific region posted the biggest increase at 12%, while sales in the Americas slumped 7.3%. The SIA cited information from a recent Credit Suisse report that showed PC unit sales up 9.1% in August with a projected growth of 13% this year. The same report shows cellphone sales rising 10% in emerging markets.
Check out yesterday's IT channel news briefs.
Dig Deeper on Sales and marketing strategies