News
Stay informed about the latest enterprise technology news and product updates.
ProCurve-Colubris deal spurs excitement, speculation in both channels
HP ProCurve's proposed acquisition of WLAN company Colubris Networks has partners from both channels excited but wondering how their businesses will change.
HP ProCurve's proposed acquisition of Colubris Networks, a wireless LAN company, has channel partners from both camps abuzz over the prospect of new product offerings -- but for now the deal means different things for each set of solution providers.

Colubris partners, while hopeful about new opportunities, are keeping an eye on just how much being folded into a much larger channel will affect their businesses.

Download this free guide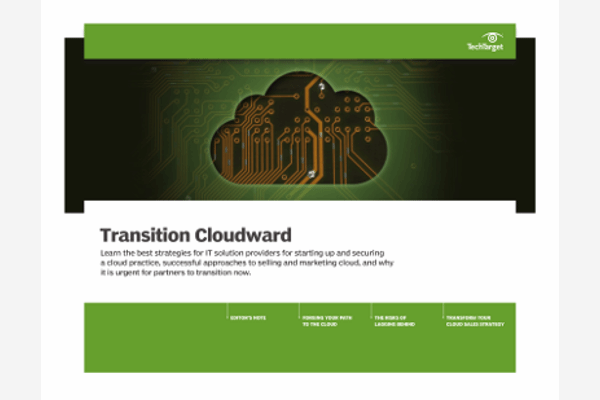 Could Securing Your Channel Business Be Easier? We Can Help.
Download our latest guide to the top strategies solution providers can leverage for starting up and securing a cloud practice, successful approaches to selling and marketing cloud, and why it is urgent for partners to transition now.

By submitting your personal information, you agree that TechTarget and its partners may contact you regarding relevant content, products and special offers.

You also agree that your personal information may be transferred and processed in the United States, and that you have read and agree to the Terms of Use and the Privacy Policy.

"I know that we get great service and support from Colubris, and that's one reason we utilize their equipment. I hope that doesn't change," said Gary Patrick, president of Hotel Internet Services, a Colubris partner in Clearwater, Fla. "We have had excellent experiences with large companies in the past, but then there are others that it takes an act of God to get a hold of somebody."

Ironically, Hotel Internet Services brought much of its wireless practice to Colubris after another vendor,

Nomadix, was acquired and the service suffered, Patrick said. Colubris, on the other hand, offered engineering support and "a willingness to go out and close big projects," he said.

The companies haven't revealed much about how the two channels will be integrated when the ProCurve-Colubris deal closes, but Marius Haas, HP ProCurve senior vice president and general manager, said the Colubris channel, technology and brand will be folded into ProCurve. Details won't be released until the acquisition is finalized in October. Until then, there will be plenty of speculation among Colubris partners and distributors.

"We hope to see a sharp increase in our sales of Colubris products, provided HP will retain our distributor status and grant us access to the product," said Edward Gurary, vice president of sales and business development at Winncom Technologies, a Colubris distributor based in Solon, Ohio. "Considering our loyal expertise in the marketplace, we see it as a feasible outcome.

For ProCurve partners, the Colubris acquisition is a sign that HP is taking its networking arm more seriously.

In the past, there was a feeling at ProCurve that the company was "more of an independent than being part of HP, but with recent developments … they are more integrated into HP," said Don Wisdom, president of ProCurve partner Datalink Networks in Santa Clarita, Calif. "This signals that they are serious about the enterprise network space and about competing with Cisco."

ProCurve said earlier this week that it would acquire Colubris to round out its portfolio with high-speed 802.11n wireless technology. Colubris can also bring ProCurve into new vertical markets, including hospitality, transportation and manufacturing.

"HP now has a full set of wired and wireless capabilities that few in the market can deliver on," Haas said.

In recent months, major vendors -- including Cisco, Motorola and cabling company Belden -- have acquired WLAN players. This deal also comes at a time when networking companies are racing to build end-to-end portfolios. Brocade recently acquired Foundry Networks, combining storage with core and edge networking. Juniper Networks plays in all parts of enterprise and carrier networks, including new Ethernet switching. Nortel is expanding further into unified communications and software offerings. Cisco has pushed into most of these categories.

Now, HP seems to be fleshing out ProCurve with wireless. ProCurve partners can also align themselves with HP's mighty data center offering. Wisdom noted that recently ProCurve changed its name and tag from "ProCurve: Networking by HP" to "HP ProCurve," which he sees as a sign of the strategy shift.

"There's a lot of momentum for virtualized servers and storage, but the networking of those two elements is coming together," Wisdom said.

Combining the product sets should help Colubris partners as much as it does ProCurve providers.

"Today I can buy ProCurve and Colubris separately and put them together," Patrick said. "Perhaps if they bundle pricing there will be some advantage to that."

Beyond that, Patrick and Gurary aren't concerned about the ProCurve-Colubris deal causing competition between the two channels, even though the Colubris faction is much smaller.

"Colubris products require significant technical expertise, and we feel it should be one of the critical activities for HP to obtain it or to maintain the existing possessors, like Winncom for example," Gurary said in a statement.
Dig Deeper on Technology Vendors-OEMs