News
Stay informed about the latest enterprise technology news and product updates.
Juniper Partner Summit takes on networking, competition in Vegas, baby
Juniper Networks will preach enterprise networking while resellers seek ways to overcome stiff competition at this week's Juniper Partner Summit.
Juniper Networks Inc. will spend the next couple of days proselytizing.
The gospel at Juniper's Partner Summit in Las Vegas, which began yesterday, will be high-performance networking -- using the company's portfolio.

Download this free guide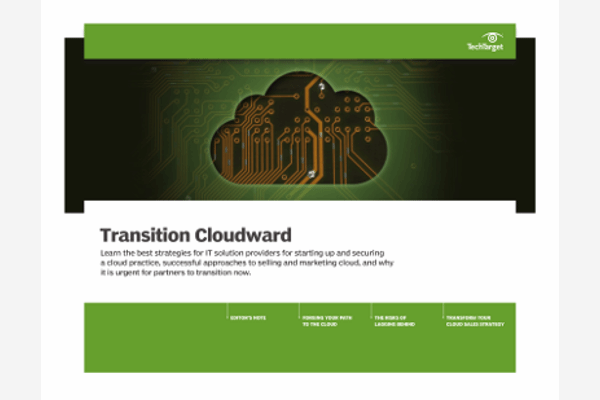 Could Securing Your Channel Business Be Easier? We Can Help.
Download our latest guide to the top strategies solution providers can leverage for starting up and securing a cloud practice, successful approaches to selling and marketing cloud, and why it is urgent for partners to transition now.
Juniper will also discuss a series of four new initiatives to help partners more easily sell, implement and maintain infrastructure.
In an industry where everything is about high-performance data and applications, Juniper's mantra may seem obvious, but company executives say partners are only now able to fully take on heavy competition like Cisco Systems Inc. in enterprise networking, with the addition of Juniper's new EX-series Ethernet LAN switch.
"We are going to lay out a vision for what we would call an evolution from product to portfolio to solution," said Steve Pataky, Juniper's vice president of channel development and programs. Now partners can sell to the data center, the branch and the campus, he said.
Executives will specifically look to woo partners who sell only segments of Juniper's line -- namely its superior security products -- but don't necessarily lead with its enterprise networking products.
Juniper may find its hardest target this week among large, multi-vendor value-added resellers (VARs). Although executives at large solution providers admit to Juniper's technical superiority, they often lead with Cisco anyway. During the Juniper Partner Summit, they're looking to hear just why they should change.
"We know Juniper has better speeds and feeds top to bottom, but it's hard to get into some of those contests [with larger companies]," said Wayne Ianaurio, vice president of sales at Relational Technology Solutions, a VAR based in Rolling Meadows, Ill., that works with both Cisco and Juniper. He said that Juniper needs to support partners more heavily when it comes to inking big contracts. "They are going to have to get out some of their own engineering and manufacturing reps and be more engaged on some of those larger deals."
Ianaurio suggested that Juniper could "put out the bait" for a sale and then bring in heavyweight partners to handle the ongoing services. "For us to find a Juniper-only deal or to replace Cisco, that's a hard market," he said.
Juniper executives stress the importance of the JUNOS operating system, which runs on all of its equipment, so one initiative is the JUNOS Knowledge Transfer Toolkit, which enables partners to educate customers on the software. Another is the Juniper Networks J-Partner Virtual Lab, which offers free "hands-on" access to the company's product portfolio for training and customer demos.
Juniper will also offer the Network Sales Specialist Advanced Course, which includes a playbook for designing and configuring network infrastructure. The final initiative is the J-Partner Solutions Configurator, a configuration tool that enables partners to more smoothly implement networking software and hardware.
"Enablement is critical," said Pataky. The new initiatives play well with Juniper's recently announced specialization in infrastructure implementation and upcoming specializations in services and maintenance. Services are "the glue that holds together" long-term deals, he said.
David Lesser, president and chief technology officer of Chicago-based Juniper partner Nexum Inc., said that, "without casting a negative light," channel partners will look to hear about "further refinement of their process, how they're working with renewals, improvement of the portal and being more efficient in working with the channel." But more importantly, he said, partners will be concerned about the "competitive landscape."
Lesser agreed with Ianaurio that Juniper being "far superior" technically to Cisco isn't always enough, given Cisco's marketing and sales might. "We see consistently people that accept the technology from Juniper and then they get a call from Cisco," he said. Lesser claimed he has seen it go as far as Cisco CEO John Chambers calling a client himself at the "23rd-and-a-half hour." That's why competitive strategizing will be the most important thing at the summit, Lesser said.
When it comes to competition, Pataky stressed that Juniper is serious about maintaining large partner margins and enabling resellers to lead with their own brand on products. But more importantly, partners have to consider the negatives of Cisco's market saturation, he said. "OK guys, you've got to step back for a minute and say, 'Yes it's easier to sell the big brand, but how much do I make on that?'" He added that Juniper does not have a direct sales team competing with partners as other companies do, and the company avoids pricing wars among partners.
"It becomes a race to zero," Pataky said. "If you're one of 50 or 60 partners in a metro area, what's your differentiator? Then you're competing with other partners and also the vendors themselves."
It remains to be seen how that message will carry at the Juniper Partner Summit. That said, Juniper executives and partners are going into the summit in the glow of earnings numbers that surpassed analyst expectations -- something Cisco and Lucent-Alcatel have not been able to pull off. Last week Juniper reported first-quarter earnings of $149.5 million or 27 cents a share, sailing past analyst expectations of 25 cents a share.
Pataky attributed quarterly earnings to robust sales and to the world "getting" Juniper's vision.
Dig Deeper on Channel partner program news